---
Ozona Chamber
505 15th Street
Ozona, TX 76943
325-392-3737
www.Ozona.com/
Attractions in Ozona
---
Crockett County Museum
While in Ozona you are invited to visit the three-story Crockett County Museum – a place where you can experience centuries of exciting local history. See an entire room filled with fossils found throughout the county. Or let your imagination take you back to the Stone Age as you view actual mammoth bones and award-winning Native American artifacts. Historical time periods and local heritage are showcased throughout the museum with rooms filled with furniture and tools donated by area families and local businesses. Enjoy exhibits of early photography tools, merchandise in a mercantile store, memorabilia from local schools and businesses, tools of a working cowboy, relics from doctors and dentist offices and much more. Take a moment to have your picture made with our life-sized mannequin dressed as Davy Crockett! The museum also has several areas where children can touch and experience authentic items in our hands-on exhibits, including digging for arrowheads! Don't miss the gift shop filled with unique and interesting souvenirs including wool and mohair garments, jewelry, beaded satchels, books and more!
Museum hours are Monday through Friday 9:00 a.m. to 5:00 p.m. and Saturday 10:00 a.m. to 3:00 p.m.
Closed on Sunday and all County-observed holidays.
$3.00 per person. Children 5 and under are free. Children under 15 must be accompanied by an adult.

For more information visit www.OzonaMuseum.com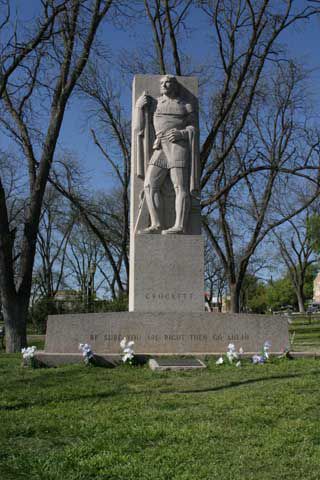 ---
Davy Crockett Monument
David "Davy" Crockett was born in Tennessee on August 17, 1786 and died a hero on March 6, 1836 at the Battle of the Alamo in San Antonio, Texas.
A memorial to Davy Crockett stands at the south end of Ozona's town square, and Crockett County, formed in 1875, was named in honor of the Texas hero.
Placed on its base on December 31, 1938, the granite statue was carved from two slabs of granite weighing nearly 20 tons. Inscribed at the base of the statue is Crockett's motto, "Be sure you are right, then go ahead."
Visitors from throughout the world have been photographed at the Davy Crockett Monument.
Take the time to see even more by using our History on the Square downtown walking tour.
---
Escondido Draw Recreation Area:
Crockett County is home to the Escondido Draw Recreation Area, a 3,400 acre park. The park is open to all-terrain vehicles and includes a 35+ mile single track trail for dirt bikes and 23+ miles of scenic trails and challenging hills for ATVs and OHVs.
Primitive campsites and RV spots are available. Other amenities include showers, restrooms, and a bunk house. Water, sewer, and electrical services are still under construction.
The park facilities and trail systems were designed and constructed specifically for motorized off-road purposes. The trail system is being developed by the all-volunteer TMTC membership and will be mapped and rated with proper signage.
Whether you are an off-road pro, a novice, or something in between, you will find fun and adventure for the whole family in a unique and beautiful outdoor setting at Escondido Draw.
The park is open Fridays and Saturdays a number of months out of the year.
For more information visit www.escondidodraw.org or www.texasmotorizedtrails.com
---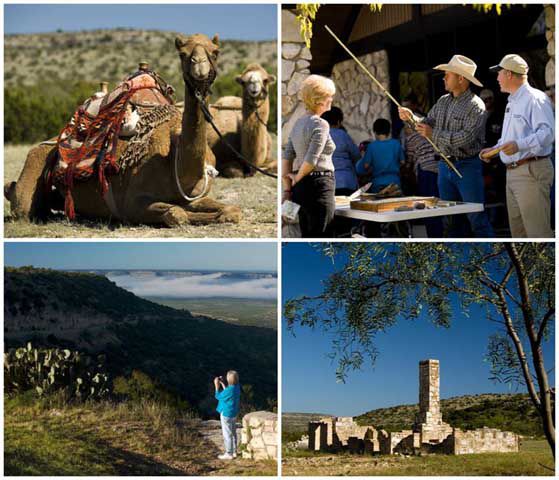 Fort Lancaster State Historic Site
The 82-acre park was originally donated to Crockett County in 1965 by the Meadows and Benckenstein families for preservation and public use of the site and was transferred to the Texas Parks and Wildlife Department in 1968. Today it is managed by the Texas Historical Commission. Originally established as Camp Lancaster in 1855, the fort was strategically located on the military road between San Antonio and El Paso, near an important river crossing which an early surveyor called Indian Ford. Fort Lancaster was one of four posts placed to protect the route. At the height of development, it consisted of 25 permanent buildings and had an average complement of 72 men and four officers. During the Civil War, the fort was abandoned by the federal troops to be manned for a very brief period by the W. P. Lane Rangers (Texas Rangers). Company K of the 9th Cavalry (Buffalo Soldiers) occupied the Fort in 1867 and 1868. During their occupancy, a fierce and deadly one day battle was fought on the fort site, when a large party of Kickapoo attacked. They were repelled, but took 38 head of horses and mules after killing three civilian laborers. Eventually Fort Lancaster was abandoned and never garrisoned troops again.
Located approximately 33 miles west of Ozona, this site is open daily from 9:00 a.m. to 5:00 p.m.
Closed: Thanksgiving Day, Christmas Eve, Christmas Day, New Year's Eve and New Year's Day
Note: The Visitor Center at Fort Lancaster is currently under renovation. The site remains open for free tours of the fort ruins.
Facilities include Visitor Center, Picnicking, Trails, Nature Trail and Wildlife Observation and Photography. For more information, visit www.visitfortlancaster.com, call (432) 836-4391 or email: ft-lancaster@thc.state.tx.us
For suggestions on how to incorporate a trip to the fort into your travel plans, visit our Travel Itineraries pages.
---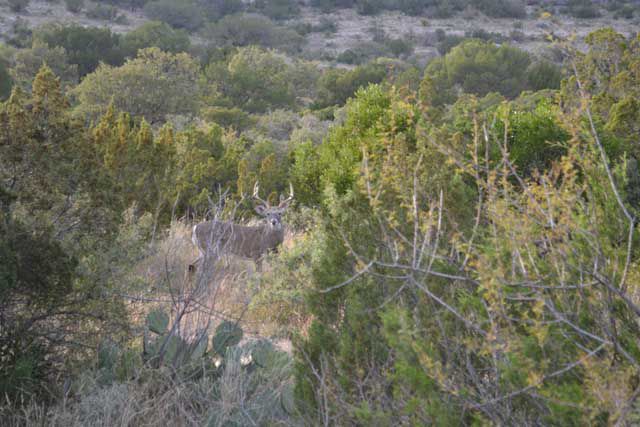 Hunting
With 1,800,000 acres and only one town, Crockett County offers those interested in hunting sports ample opportunity to practice their skills. Leases may be obtained on numerous ranches where animals, including deer, quail, turkey, javelina and more may be hunted. These leases range from a single day to an entire season with many different terrains and facilities offered. A hunting lease availability list may be obtained by contacting the Ozona Chamber of Commerce at (325) 392-3737 or by checking the Hunting Leases page at www.Ozona.com.
---
Ozona's Historic Town Square
Ozona's Historic Town Square provides a place to relax, shop or enjoy a peaceful afternoon. Surrounded by beautifully preserved buildings and historical markers, visitors and residents can browse through local shops, stop for a snack or picnic, learn about the area history, or spend time watching the towering pecan branches sway in the West Texas breezes.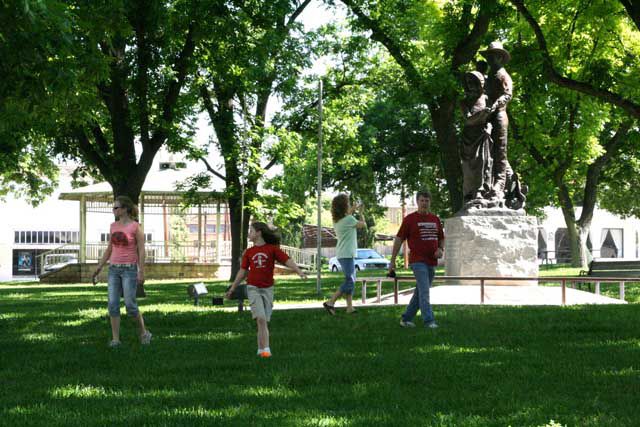 Established in 1891, the Crockett County founding fathers met under the Commissioner's Oak located across from the northeast corner of the Square. One of their initial votes placed the first water well in Ozona under the protection of the sheriff. This well, drilled and donated for public use on the site north of the present day Courthouse, drew early settlers from all over the region. Next to the well, the Square became a place to park wagons and camp during social events. With great foresight, these early community leaders also planted the now stately pecan trees which continue to provide shade and a meeting place for festivals, concerts, dances and many other activities.
"The Tie That Binds" sculpture, by artist Judy Black, stands in the Square's center honoring the pioneers who looked westward and settled the land. On the south end is the Davy Crockett Monument recognizing the famous hero of the battle of the Alamo, whose motto was "Be sure you are right, then go ahead." The Crockett County Museum is located across from the Square to the east, along with the Crockett County Courthouse designed by the renowned architect, Oscar Ruffini. Justice for both Crockett County and U.S. District 112 is still served today in this beautifully restored courthouse.
Take the time to see even more by using our History on the Square downtown walking tour.
Whether you are looking for gifts, history or just a place to sit a while, Ozona is a great place to "Hang Your Hat in History!"
---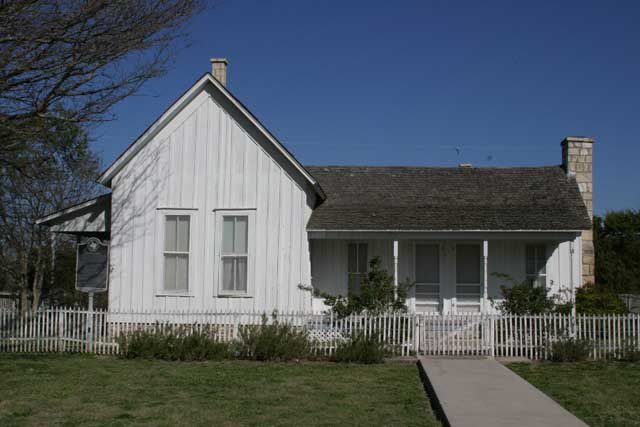 Emerald House
Although the history of this structure is unrecorded, it is known the house was originally built in the town site of Emerald, which was nine miles east of the present site of Ozona. Emerald was established in 1889 as Crockett County's first settlement as a colonization project of railroad agent T. A. Wilkinson.
When Crockett County was organized formally in 1891, an election was held to determine the site of the county seat. Emerald lost its bid to the newly developing area that became the site for Ozona. Within a few years, many of Emerald's buildings, including this house, were moved to the new county seat. As a result, Emerald eventually disappeared. This house was located on one of Ozona's main streets until 1981, when it was moved to its present site in the county park. It has been owned by many of the town's prominent citizens through the years, including E. M. Powell, Phil Perner, W. A. Cochran, George L. Harrell, J. W. Friend, and E. B. Deland.
---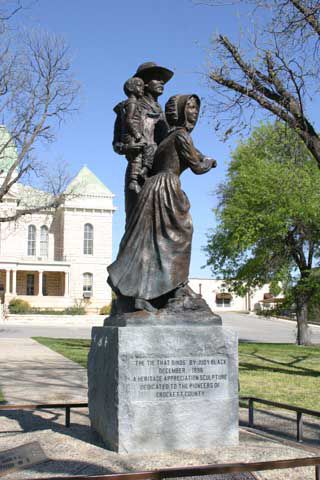 "The Tie That Binds" Sculpture
This is a memorial to the pioneer families that came to settle this land and those that followed. It serves to remind us of the determination and perseverance these ancestors embodied as they looked ever westward until settling here in Crockett County. It was sculpted by Judy Black, a native of Crockett County, and is cast in bronze in life-and-a-quarter size. It may be found in the center of Ozona's Historic Town Square.
---
Dine in Ozona
Whether you want a juicy piece steak, a cheesy enchilada, or a dinner just like Grandma used to make, you can satisfy nearly every hankerin' your taste buds might have. Ozona offers diners a chance to enjoy barbecue, home-style cafes, pizza, steakhouses, seafood, Mexican restaurants and more. Exit I-10 365 and see what we have to offer!
---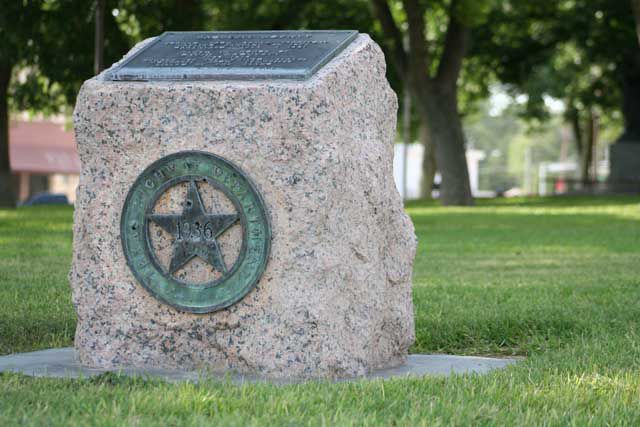 Crockett County Historical Markers:
Ozona and Crockett County are rich in history. With dozens of historical markers commemorating events dating back centuries throughout the county, you can take a step back in time. Travel to these markers and find yourself standing in the places visited by Native Americans, Spanish explorers, soldiers and pioneers. For a list of Crockett County's markers visit www.Ozona.com/HistoricalMarkers
---
Crockett County Interpretive Trail
This exhibit is an interpretation of plant material in its native habitat within a 100 mile radius of Ozona. The trail includes a Rain Harvest Exhibit with signage on the process of collecting water for landscaping, livestock watering or home use. There is also a wildlife viewing area and a watering hole for birds and butterflies. The trail is located across the parking area at the Ozona Chamber of Commerce and Visitor's Center (the intersection of I-10 and State Hwy 163 S). For more information, please visit www.Ozona.com/InterpretiveTrail
---
Crockett County Courthouse
Designed by Texas pioneer architect, Oscar Ruffini, this American Gothic style building was completed in 1902 for a cost of $30,000 and replaced the earlier wooden frame courthouse. Listed on both the U.S. National Register of Historic Places and the Recorded Texas Historic Landmarks, this building served the local county government and was an early gathering place for community functions, including cowboy dances, box lunches, and roundup celebrations. The limestone materials used to construct the courthouse were quarried from the local Myers and Couch estates. Still used in county government today, the building underwent a total restoration that was completed in 2011. Located on the town square, the courthouse is just one of several buildings in the area recognized with Texas historical markers.
Take the time to see even more by using our History on the Square downtown walking tour.
---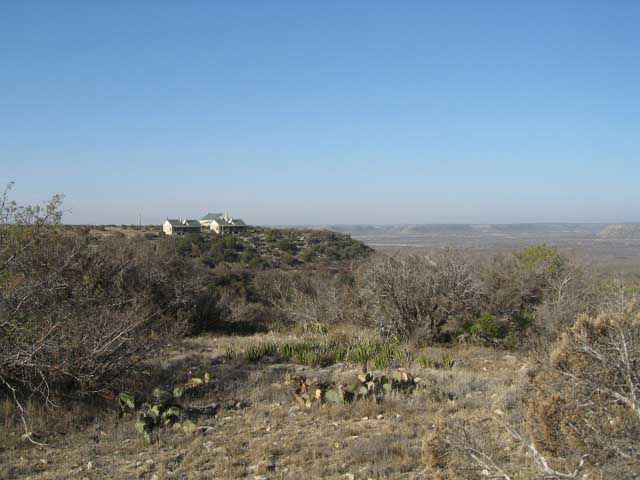 Twistflower Ranch
Located northeast of Ozona, the Twistflower Ranch offers an excellent opportunity for the nature tourist to get out into the country to observe some of the local wildlife. It also offers star gazing into a night sky that is 20 miles away from city lights. You can hike, ride bicycles, swim, bird watch, and observe over 100 different species of wildflowers. Archaeological tours allow you to visit Native American sites dating back thousands of years. For more information visit www.twistflowerranch.com
---
Lancaster Hill Scenic Drive
Dropping over 500 feet within a little over two miles, the Lancaster Hill Scenic Drive takes the traveler from the high flat rangeland into a vast canyon which opens into the Pecos River Valley. The canyon has been a thoroughfare for centuries, beginning with nomadic Native American tribes that crossed the Pecos River at a nearby ford. The Spanish explorer Gaspar Castaño de Sosa is believed to have traveled through the region on his trek in 1590. By the mid-1850's the United States government set up Fort Lancaster in the valley, strategically placed to guard the mail route from San Antonio to El Paso from Comanche and Apache tribes. The canyon proved a difficult place for the travelers to cross. The bluffs north of the scenic drive are still marked where the wagons were lowered and can be viewed from the grounds of the Fort Lancaster State Historical Site.
By the early 1900's the area had become more settled and the need for reliable travel routes was evident. With the discovery of oil in the region in the 1920's, it became critical. During the Depression, construction corps were sent into the area to build the highway now known as the Lancaster Hill Scenic Drive. Much of the beautiful rock retaining walls beside the highway were built at this time. At the bottom of the canyon, travelers cross the famous Pecos River on a historic covered steel bridge completed in 1932. The finished highway, originally called US 290, continued to carry the majority east-west traffic through the region until Interstate 10 was completed in the early 1980's. Redesignated as State Highway 290, the highway still carries travelers and locals alike through this historical area.
For suggestions for incorporating the scenic drive into your travel plans, visit our Travel Itineraries page.
---
---
Ozona Chamber
505 15th Street
Ozona, TX 76943
325-392-3737
www.Ozona.com/