---

Attractions in Round Rock
Sprawling parks, a picturesque downtown area, and a first-rate minor league baseball team are among the attractions in Round Rock. Whether you're looking to escape the hustle and bustle of the big city, a great place to get outdoors, or something a little out of the ordinary, head to Round Rock. Located just 20 miles north of Austin, see what Round Rock has to offer below and start planning your visit today.
---
Centennial Plaza
Round Rock's Centennial Plaza is an outdoor performing arts venue and public hangout spot located just a few blocks south of the downtown area. Throughout the year, the plaza hosts concerts on its performance stage and various other special events. Sculptures can be found throughout the plaza, as well as a bat observation overlook, water feature, and an amphitheater.
301 West Bagdad Avenue
Round Rock, TX 78664
(512) 218-5540
---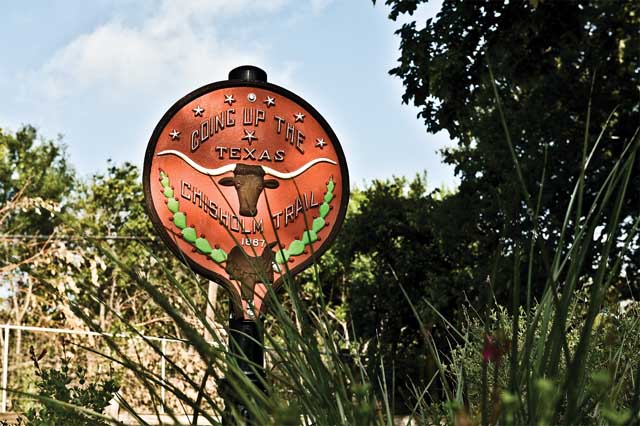 Chisholm Trail Crossing Park
Many years ago, the storied Chisholm Trail once passed through the area now known as Round Rock. Get a glimpse into this legend of the American West at the Chisholm Trail Crossing Park.
Check out the sculpture exhibit and the plaques that tell the story of the role Round Rock played in the trail's history.
500 Chisholm Trail Road
Round Rock, TX 78681
(512) 218-5540
---
The Round Rock Express at The Dell Diamond
Watch the future stars of baseball and take part in a true American tradition when you catch a Round Rock Express game at the state-of-the-art Dell Diamond. The Round Rock Express, the AAA affiliate to the Texas Rangers, has fielded such notable players as three-time MLB All Star Roy Oswalt and World Series champion Hunter Pence. Baseball season runs from April through September and tickets are available on the team's website.
3400 East Palm Valley Boulevard
Round Rock, TX 78665
(512) 255-2255
---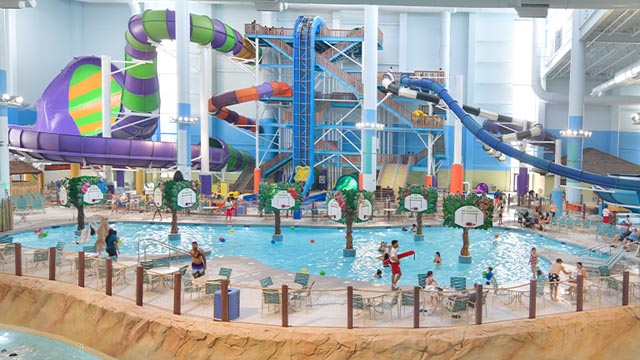 Kalahari Resorts & Conventions
Splash the day away at the Nation's Largest Indoor Waterpark at Round Rock's Kalahari Resorts & Conventions. This 223,000-square-foot waterpark boasts 30 thrilling waterslides, 20 pools, a wave pool, lazy river, adult-only swim-up bar, and much more. Kalahari is an authentically-African themed resort so after you dry off, take a walk around the resort and spot 22 life-size animal sculptures of animals you would see on an African safari.
When you are ready for more adventure, get your game on at Tom Foolerys, Kalahari's indoor adventure park. This park features attractions like thrill rides, escape rooms, an indoor zip line, and a gift shop to name a few. After you have worked up an appetite make sure to enjoy the award-winning dining options and then explore the unique retail shops where you can pick out the perfect memento of your visit. Kalahari also has a spa that offers treatments ranging from deep tissue massages to salt therapy sessions that will help you unwind after a day of fun. All of this and more is found at Round Rock's Kalahari!
3001 Kalahari Blvd
Round Rock, TX 78665
(877) 525-2427
---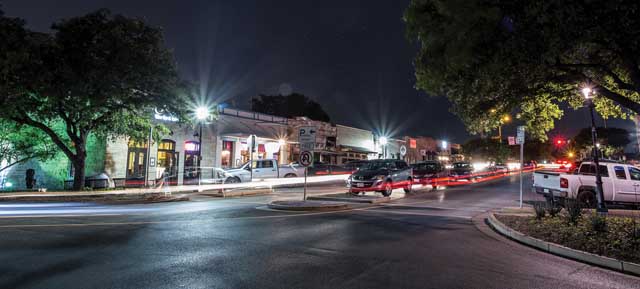 Downtown Round Rock
Round Rock's charming downtown area is full of surprises. Italian and Tex-Mex restaurants stand alongside coffee shops and enticing bakeries like the famous Round Rock Donuts. Browse candy, clothing, and flower stores before enjoying a night out at the bars, saloons, and taverns. Whether you're here when the sun is up or after it has set, you'll always find something to experience.
East Main Street
Round Rock, TX 78664
---
Home Run Dugout
Round Rock's Home Run Dugout gives everyone an opportunity to be a baseball star. Located near the center field at Dell Diamond, this innovative batting cage experience is safe and fun for all skill levels. The soft-toss pitching machine pops up the ball and sets you up for the perfect hit so you can have your own home run experience. With a full bar & grill, and a view of Dell Diamond, you and your crew will be hitting home runs all night.
3400 E. Palm Valley Blvd
Round Rock, TX 78665
(512) 238-2288
---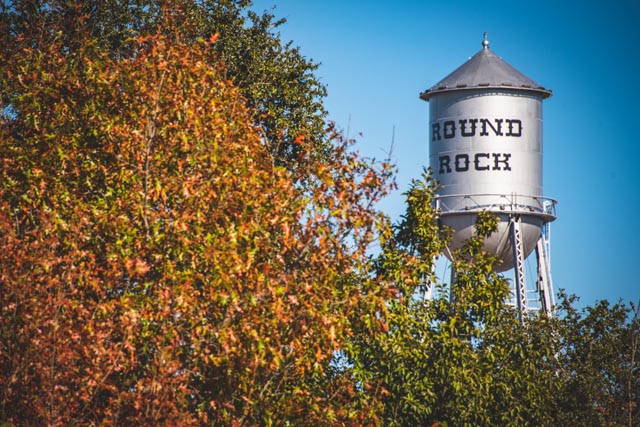 Koughan Memorial Water Tower Park
The Koughan Memorial Water Tower Park is home to the town's historic water tower, a landmark that has been around since the 1930's. Towering above downtown Round Rock, it makes for an essential photo-op while you're here. Stop by during the holidays and you'll see it decorated with Christmas lights, a truly festive sight.
200 Round Rock Avenue
Round Rock, TX 78664
(512) 218-5540
---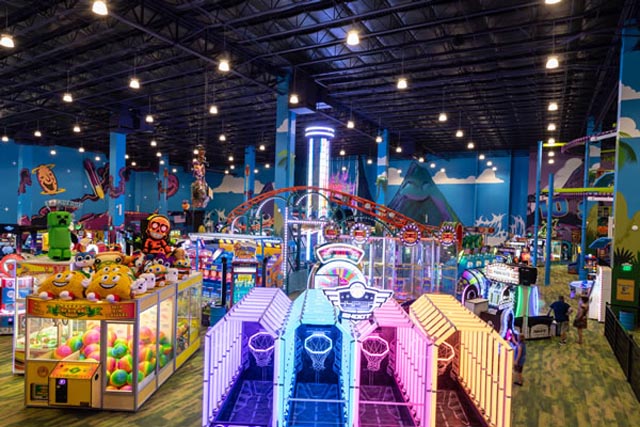 Tom Foolerys Adventure Park
Located in Kalahari Resorts & Conventions, Tom Foolerys is 80,000 square feet of indoor adventure park fun. Test out your gaming skills with over 250 arcade games or hit the climbing wall and ropes courses when you are feeling adventurous. Family and friends will love teaming up to solve escape room puzzles and scoring points with a round of laser tag. You can even practice your strike at the bowling alley and your swing at the mini-golf course. All of this and more is found at Tom Foolerys!
3001 Kalahari Blvd
Round Rock, TX 78665
(877) 525-2427
---
Old Settlers Park
Old Settlers Park offers one of the best ways to enjoy the outdoors in Round Rock. Spanning 645 acres, the park features 20 baseball fields, 12 tennis courts, five regulation soccer fields, three miles of trails, and more. Bring your fishing rod and try your luck at the small lake or your swimming gear for a splash at the Rock'N River Water Park.
3300 East Palm Valley Boulevard
Round Rock, TX 78664
(512) 218-5540
---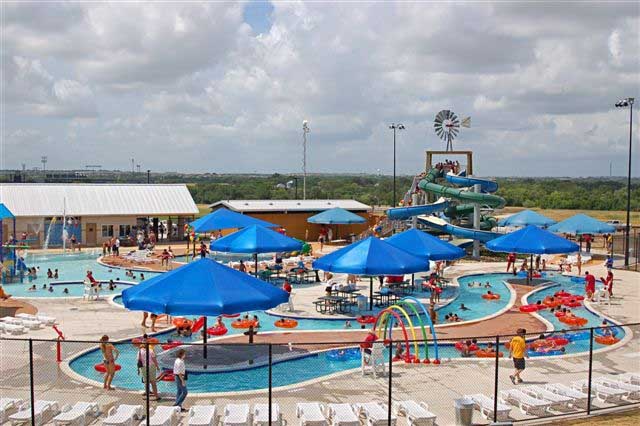 Rock'N River Water Park
Beat the Texas summer heat at this family-friendly water park in Round Rock.
Float the lazy river, enjoy the thrills of the crazy slides, and let your kids play in the spray ground with 51 features.
The park is open from early June through late August with limited hours in early September.
3300 East Palm Valley Boulevard
Round Rock, TX 78664
(512) 671-2737
---
The Round Rock at Brushy Creek
See the round rock that the city of Round Rock was named after at this local landmark in Brushy Creek. In the town's earliest history, the rock marks a low point in the creek that provided easy crossing for Native Americans, cattle drives, and wagons. Look close enough and you'll see the imprints of wagon wheel ruts that are still visible on the exposed rock.
654 Chisholm Trail Road
Round Rock, TX 78681
---
Round Rock Donuts
Locals and visitors alike line up early in the morning for this institution of the Round Rock dining scene. Opened in 1926, Round Rock Donuts is best known for its famous Round Rock Donut, a Texas-sized confection that will no doubt leave you stuffed.
106 West Liberty Avenue
Round Rock, TX 78664
(512) 255-3629
---
Round Rock Honey
Looking for a fun and un-bee-lievable outing? Round Rock Honey offers a Honey House Tour and Beekeeping Course right here in Round Rock. Learn all about the basics of beekeeping from a Master Beekeeper and suit up with your own beekeeping suite to explore an active hive!
1308 Chisholm Trl
Round Rock, TX 78681
(512) 828-5416
---
Round Rock Memorial Park
Looking for a place to have a picnic in Round Rock? Head over to Round Rock Memorial Park, a verdant green space situated on the banks of Brushy Creek. Hike the park's trails that lead to the City's famous round rock and enjoy your own escape to nature.
600 Lee Street
Round Rock, TX 78664
(512) 218-5540
---
---

Round Rock, Texas
231 E. Main St Suite 150
Round Rock , TX 78664
512.218.7023
goroundrock.com