---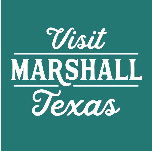 Things To Do in Visit Marshall
Marshall offers a multitude of experiences, outdoor activities, festivals and fun things to do year round. Discover Marshall's rich history, take part in annual events like Wonderland of Lights and the Fire Ant Festival. Tour any of the four museums, Starr Family Home State Historic Site, or catch a performance at Memorial City Hall Performance Center. You'll find plenty to keep you busy at these great places but there's plenty more to do in Marshall. Shop at any of the many charming boutiques, specialty shops and antique stores found in our picturesque downtown. Get your fill of delicious dishes served with friendly smiles at the locally owned restaurants and coffee shops just off the square. Explore beyond downtown and experience southern hospitality and friendly faces at Bear Creek Smokehouse or venture out a bit further to Caddo Lake State Park.
---
What many would call the most recognizable building and crown jewel in Marshall, the 1901 Harrison County Courthouse is situated in the center of downtown. The courthouse is the perfect backdrop for selfies, picknics on the lawn, family gatherings and is a shining beacon during the annual Wonderland of Lights Festival. J. Riely Gordon designed his first Neo-Classical Beaux Arts-style Texas courthouse in 1899. Two years later, the Harrison County Courthouse was constructed of corn yellow brick and carved Lueders limestone, with entry and upper porches supported by colossal pink granite columns adorned with terra cotta capitals. Lady Justice sits on top of the cupola and eagles grace the top edge of the roof line. The interior boasts a stunning stained glass cupola and exquisite ornamental plaster and painting in the atrium and district courtroom. Tours of the courthouse are available Tuesday – Friday 10 am-4 pm and Saturdays 11-2.
---
Nestled in the heart of Marshall's museums and cultural activities, Starr Family Home State Historic Site is composed of several elegant structures that map the 150-year history of the Starr family in Texas. Period furnishings, clothing, and antiques trace the transition of the buildings through four generations of the Starr family in Texas history. Stroll through the expansive lawn and gardens, take a guided tour the Maplecroft Mansion and step back in time. Tours are open Tuesday-Saturday 10 am-4 pm and Sundays noon-4 pm.
---
Marshall goes big for Christmas and has been since 1987 during the Wonderland of Lights Festival. Described as a "Hallmark Movie" downtown Marshall is illuminated by the 1901 Harrison County Courthouse during the month long festival. Enjoy our outdoor ice skating rink, catch a ride on the Holly Trolley, Wonderland Express, or our beautifully restored vintage 1948 Herschel carousel. Make precious memories in Santa's Village, a collection of tiny homes each featuring a fun, free activity; Build a train, decorate a cookie, and visit with the big guy himself! Bundle up and enjoy a horse-drawn carriage ride on one of three carriages through Historic Downtown Marshall, then grab your dancing partner and listen to live music at Telegraph Park downtown performed by local musicians, area churches and school choirs.
---
With bragging rights to close proximity to the only manmade cypress lake in Texas, Caddo Lake, outdoorsy types will find ample ways to relax or have exhilarating fun in Marshall. You are sure to find the right spot to launch your ideal outdoor adventure. Didn't come with your own boat? No problem! One of the many outfitters can hook you up with a ride of your choice, or even provide a guide. Rent a canoe and explore the twists and turns of Caddo Lake or venture onto more than 50 miles of paddling trains in the Caddo Lake area. Access the 26,810 acres of Caddo Lake which is home to more than 70 species of fish. Spend the night under the stars upon among the Cypress Trees at a Caddo Lake State Park Campsite and connect with nature. Choose from 46 campsites ranging from water only to full hookup sites. Need a little more cover? Stay in a screened shelter or rent one of the Historic Cabins.
---
Enjoy the Arts in Marshall
Cultural aficionados will want to pop into one of our 4 world class museums in downtown including The Michelson Museum of Art or visit the Memorial City Hall Performance Center for a spectacular musical or theatrical performance. While there, visit the newly opened Harrison County at War: Service and Sacrifice Museum located in the basement level of Memorial City Hall. Become your own version of Picasso at Create Art at the Visual Arts Center and take home your masterpiece.
---
In 1943 Hick & Nellie Shoults started raising turkey's to make ends meat, now 75 years, and five-generations later Bear Creek Smokehouse is a nationally recognized company with award-winning, delicious, premium smoked meats. Recently to celebrate their 75th year the Shoults family opened a brand-new general store. Using salvaged material from a warehouse built in the late 1800's, the Shoults family and crew managed to bring the material back to life throughout the interior of the store, creating a one of a kind, authentic atmosphere. Now guests can walk around, enjoy bbq or lunch specials, shop their meats, along with a variety of other merchandise including soup mixes, breads, homemade fudge, t-shirts & apparel, and other knick-knacks. Watching the longhorns from the front porch or feeding the turkeys is quickly becoming a right of passage.
---
---