---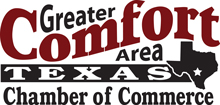 Attractions in Comfort
Comfort has a variety of attractions for visitors to indulge in on their next visit to Texas Hill Country. Explore historic monuments and buildings dating back to the 19th century, outdoor natural wonders, exclusive festivals and celebrations, and a myriad of other fun, educational, and interesting sights to see.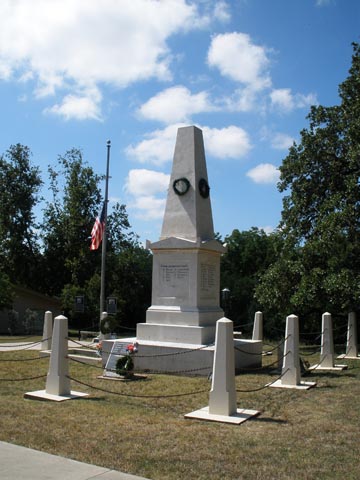 Treue der Union Monument
Visit the oldest Civil War monument in Texas marking the death of 36 German Comfort settlers, who were killed during the Nueces Massacre of 1862. Union sympathizers refused to sign a loyalty oath to the Confederacy and were either shot or drowned in an escape attempt. The downtown Comfort limestone obelisk, erected in 1866, is inscribed with their names.
High Street
Comfort, TX 78013
---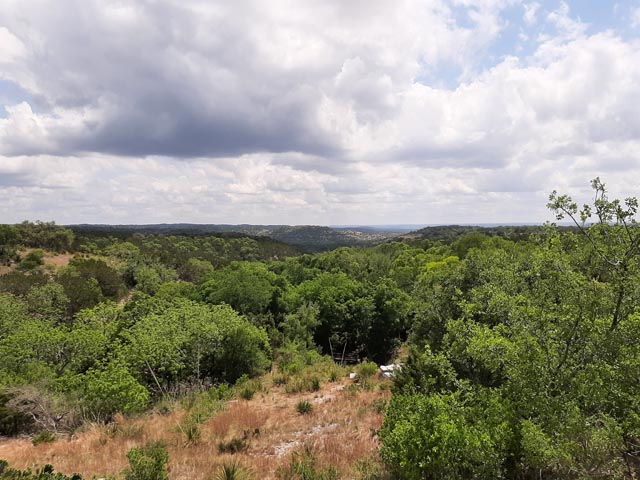 Old Tunnel State Park
Visit this one-of-kind state park to experience a true natural wonder. The former railroad tunnel is now a bat haven, home to three million bats, a key part of the local ecology. During the season, bats emerge nightly from their habitat in a dazzling display of strength and beauty as they head out to search for food. Interpretative programs explain the bats' importance. The park also features hiking, birding, picnicking, and stargazing.
10619 Old San Antonio Road
Fredericksburg, TX 78624
(866) 978-2287
---
October Scarecrow Invasion Displays
Every October in Comfort, residents get serious about scaring away those notorious harvest-time crows. The annual Scarecrow Invasion brings countless decorative scarecrows to the front porches, front yards, rooftops, and community spots around town. Each year, decorations get more elaborate, with decorators competing for top awards for the year's best scarecrow displays. This festive fall phenomenon is something you won't want to miss.
702 High Street
Comfort, TX 70813
(830) 995-3131
---
December Holiday Lighting and Decorating
Everyone knows the holidays feel much more special when decorations are abound. Comfort welcomes the Christmas season with open arms—and with lots of twinkling lights and holiday décor. Book a trip to Comfort during this magical time of year and enjoy decorations displayed on countless residences and businesses. In Comfort Park, see a life-size Nativity scene that was once installed outside of the Sears Building in San Antonio. The renovated figures set the mood for a season filled with "Comfort" and joy!
702 High Street
Comfort, TX 70813
(830) 995-3131
---
Cave without a Name
A true bucket list item, the Cave Without a Name is a fabulous living cave with breathtaking views. Tours bring you through the cave's six rooms and its spectacular formations, including stalactites, stalagmites, delicate "soda straws," cave drapery, and more. Walkways are easy to navigate, the experience is well-lit, and it's always 66 degrees! For a truly moving experience, attend one of the regular live music performances in the cave's Throne Room. The acoustics and scenery are simply unmatched.
325 Kreutzberg Road
Boerne, TX 78006
(830) 537-4212
---
Texas Historic District and Historic District Markers
History is nearly everywhere in Comfort, a town with less than 2,500 people and nearly 100 historic building constructed before 1910. Much of the town is designated as a National Historic District. Feed your curiosity by exploring the 26 historic markers in and around Comfort. They reveal the story of this fascinating place, which was settled by German Freethinkers and abolitionists in 1854.
702 High Street
Comfort, TX 70813
(830) 995-3131
---
Near-by Attractions
Centrally located in the Texas Hill Country, Comfort makes a great home base for exploring the area. Choose from one of many downtown inns, beds-and-breakfast, or the boutique Hotel Giles for your local accommodations, then head out to experience the Hill Country's wild wonder.
The Bandera Natural History Museum in Bandera, Enchanted Rock State Park near Fredericksburg, the Museum of Western Art in Kerrville, Ingram's Stonehenge replica, and the many sites and attractions in nearby San Antonio are all easy day trips.
Return to cheery, welcoming Comfort in the evening for a delicious dinner, a glass or two of local wine, and a great night's sleep.
702 High Street
Comfort, TX 70813
(830) 995-3131
---
---