---
Things to Do in Del Rio
Hike through ancient limestone canyons. Swim in the cool and clear waters of a stunning lake. Sip a glass of locally made wine and browse an art gallery fully stocked with works made by Texan artists. These are just a few of the things to do in Del Rio, a quaint border town situated about 150 miles west of San Antonio. From stunning natural areas to fascinating art galleries, there's much to enjoy about Del Rio. Check out our list of some of the best things to see, do, and experience to get your adventure in Del Rio started.
---
Experience Lake Amistad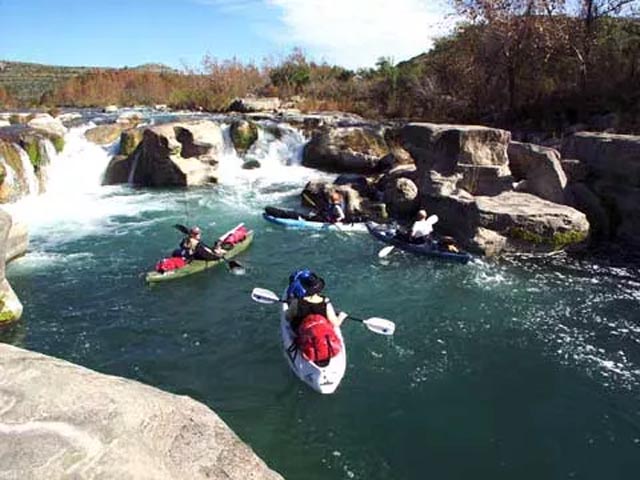 Enjoy spending time outdoors? If so, it doesn't get much better than the rugged limestone cliffs and sweeping arid terrain of the Amistad National Recreation Area. Among other things, the recreation area includes Lake Amistad, the third largest lake in the state that is known as one of the best bass fishing spots in Texas. The lake's clear blue water is fully stocked with other types of fish, including stripers and yellow catfish. Fishing can be done anywhere outside of the lake's harbors and designated swimming areas on the US and Mexican side of the border. Before you load up your tackle box and head out to the lake, you should be aware that Texas and Mexico require fishing permits, both of which you can buy on the Texas side of the border.
The Amistad National Recreation Area has much more to offer than just fishing. Swimming, boating, kayaking, hiking, and even scuba diving are among the many fun things to do here. The sheer natural beauty of the lake and its jagged surroundings makes it a great place to visit for hiking, camping, and photography enthusiasts as well. A diverse population of native wildlife provides ample opportunities for birding and hunting, but you'll need a permit to do that. Amistad National Recreation Area's gorgeous landscape and all the recreational opportunities makes it a must see during any trip to Del Rio.
---
Visit the Oldest Winery in Texas
If you've got a nose for wine, then a trip to the Val Verde Winery, the oldest winery in Texas, is a must during your time in Del Rio. The winery was established in 1883 when Frank Qualia, an Italian immigrant, started using local Lenoir grapes to make wine. That started a family tradition that has lasted more than 130 years. Today, the winery crafts 10 Italian-style wines, including the award-winning Don Luis Tawny Port, that you can try during a tour and tasting. Val Verde Winery's tasting room is full of Texan minimalistic charm, from its red brick archways to its wine cask tables. Want to sample some of these vintages for yourself? Tours and tastings are offered at the winery, located just south of downtown Del Rio, from 10 a.m. to 5 p.m. Monday through Saturday.
---
Check Out Ancient Cave Paintings
Drive 40 miles northwest of Del Rio and you'll find yourself among the limestone canyons and arid grasslands of Seminole Canyon State Park & Historic Site. Breathtaking views are just a part of what makes this place unique. Here you'll find some of the oldest pre-historic cave paintings, and one of the oldest cave dwellings, in North America. Although there are several caves that have spectacular examples of cave paintings, Panther Cave may be the most eye-catching. A 10-foot-long painting of a red panther adorns the rear wall of the cave, but even that is just of one of hundreds of motifs that can be found here. Parida Cave, is another impressive site for cave paintings. Along with all the ancient art, Parida Cave offers great views of the Rio Grande River and it surroundings.
The only way to reach either cave is by guided tour. Those can be arranged with either the National Park Service or the Rock Art Foundation.
---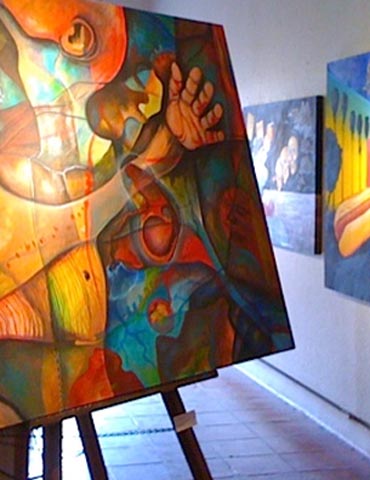 Walk on Del Rio's Artistic Side
Do you consider yourself a lover of the arts? If so, then you'll be delighted by Del Rio's flourishing arts community. There are numerous art galleries full of unique paintings, sculptures, and photography that you can explore. This includes the Del Rio Council for the Arts at the Firehouse Gallery, a public arts facility that has two distinct galleries housed within the town's original firehouse and city hall. For a more hands-on experience, sign up for one of the art classes offered by the Del Rio Council for the Arts. Casa de La Cultura, situated on Del Rio's south side, showcases works created by artists from around the state of Texas in its gallery. Finally, the Lee Bunch Studio Gallery displays, and sells, oil paintings, hand-painted China, and more. You can visit these art galleries in Del Rio on your own or during Del Rio's artwalk, which takes place the first Friday of every month.
---
Cool Off in San Felipe Springs
One of Del Rio's quintessential experiences is swimming in the clear and cool waters of the various swimming holes that are a part of San Felipe Springs. This spring has been an alluring oasis since Spanish explorers and missionaries found their way into Texas in the 17th century. Today, it's a popular place to escape the heat for locals and visitors alike. The most popular swimming holes in Del Rio are Horseshoe Park, Lions Park, and Blue Lake, all of which are on the eastern side of town near the San Felipe Country Club. If you find yourself in Del Rio and you're looking to escape the summer heat, there's no better way to do it than by swimming in the pristine waters of San Felipe Springs.
---
---