---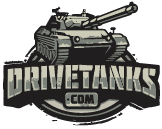 DriveTank.com's Prices, Packages & Accommodations
Hours: 9 AM - 5 PM. 7 days a week.
Offering a huge variety of military experiences and packages, DriveTanks.com has a sure-fire activity tailored to your specific needs. DriveTanks.com, located on Ox Ranch in Uvalde TX, is the only place in the world where you can drive and shoot real tanks, artillery, and machine guns all in one location!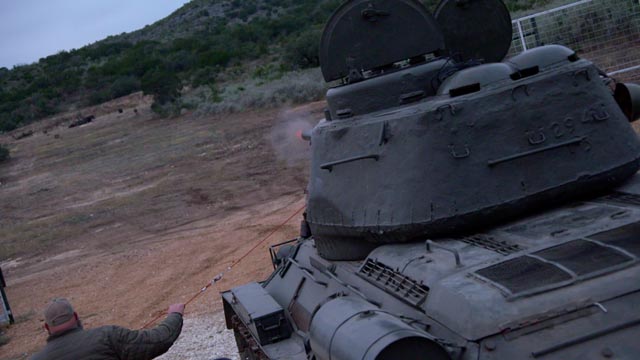 Tanks & Tracks – Drive and shoot real tanks
Choose from vast selection of historic World War II collection armory and military vehicles, such as the most famous U.S. tank of WWII - a United States M4A3E2 "Cobra King" Sherman Medium Tank, a Russian T-34/85 Medium Tank, a German Kettenkrad SD.KFZ.2 Tracked Motorcycle, and a United States M4A2EB Sherman Medium Tank, which is the same model as featured in the American war film, Fury, directed by David Ayer and starring Brad Pitt.
From the modern collection, choose from one of the best tanks of the Cold War - a West German Leopard 1A4 Main Battle Tank, a British Chieftain MK. 6 Main Battle Tank, Russian T-72 Main Battle Tank, Abbot FV433, and a Soviet BMP-1 (Czechoslovakian BVP-1) Tank, which is the world's first true infantry vehicle (IFV) designed to safely transport active troops in an enclosed top tracked vehicle.
All tanks and tracks include a tank course for you to hop on board and feel the power of riding one of these massive, nearly impenetrable military vehicles. Not all tanks and tracks feature shooting capabilities.
Be sure to check out DriveTank.com's Tanks and Tracks official page for more details.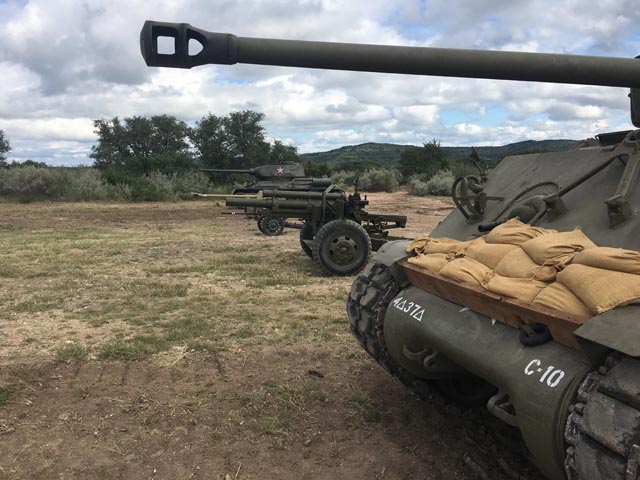 The Big Guns – Fire Anti-Tank Guns, Artillery, and Mortars
Once the military tank was first created, its opponent wasn't far behind. Choose from a variety of historic anti-tank weaponry designed to keep pace with the increasing size and caliber of military tanks. No longer presently in use, these historic, functional artifacts were replaced by self-propelled anti-tank rockets.
Some of these anti-tank guns at your fingertips include a Russian Rocket Propelled Grenade (RPG), a German 3.7 CM Pak (Pak-36), and a German 7.5 CM Pak (Pak-40), which is the only fully functional Pak-40 left in the world that still shoots! All of which can be fired off by you!
If the big guns don't get your adrenaline pumping, pick your power by choosing from a selection of artillery cannons, field guns, howitzers, and mortars. Some of these include a U.S. 60mm Mortar, U.S. M2A1 105mm Howitzer, and a Soviet D-20 152mm Gun-Howitzer M1955, which is the largest cannon owned by a private party in the world.
Be sure to check out DriveTank.com's Big Guns official page for more details.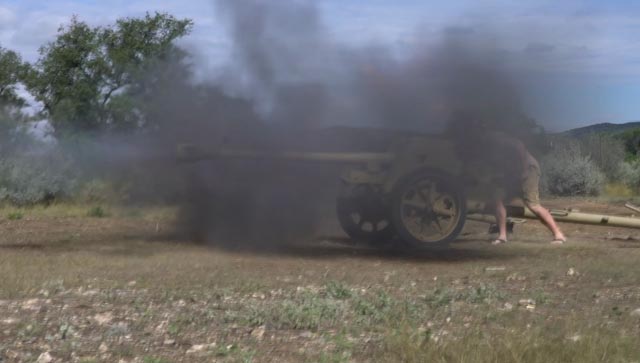 Machine Guns and Light Weapons – Shoot U.S. and German Weaponry
The incredibly extensive list of machine guns and light weaponry at DriveTanks.com will figuratively blow your mind! Both American weapons and German weapons are onsite for your firing pleasure.
From the American weaponry collection, choose from John Browning's iconic heavy machine gun – the M2 Machine Gun (.50 BMG) nicknamed "Ma Deuce," a M9 Vietnam Era Flame Thrower, a Barrett M82 (.50 BMG) Sniper Rifle, a M3 Grease Gun MG (.45 APC), and a M1 Garland (30.06) *Semi, which is the first standard-issue semi-automatic U.S. military rifle.
From the German Collection, choose from one of the highest average cyclic rates of any single-barreled man-portable machine gun – the MG-42 Machine Gun (8mm), the world's first assault rifle used by Nazi Germany – the German STG-44 (7.9 Kurtz), and a K98 Bolt Action Rifle (8mm M/88), which is a K98 collection stamped 1937 infantry weapon.
You can even fire up to two different machine guns with no range fees. Range fees include range maintenance, safety and operations briefing, range time, and range safety officer. Grab ahold of a brazen piece of history and take your best shot on this spacious and safe firing range ranch!
Be sure to check out DriveTank.com's Machine Guns and Light Weapons official page for more details.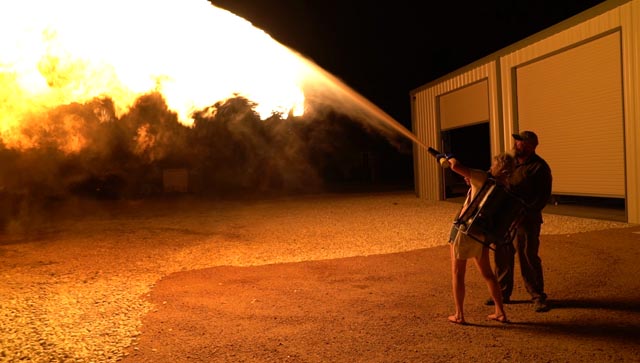 High Explosives – Detonate an actual shaped charge and block explosives
All the bang for your buck! DriveTank.com offers you an opportunity unlike anything you've ever experienced before. Guided by a military trained officer, you will set up three different explosives, including a shaped charge, hand grenade, and a fireball.
Safely behind explosion-proof glass, securely witness real-life, military-grade explosives detonated within their killing radius. Unlike in the movies or in video games, you get to participate in some seriously powerful explosions, including a huge fireball explosive, using a "soap dish" charge, the same as Allied secret agents and French partisans did against the Germans in World War II. For the shaped charge detonation, you will even receive the armored steel disc you blasted through as an experiential souvenir.
You can choose from a reduced-price package of 3 explosives or detonate one explosive each. Be sure to check out DriveTank.com's High Explosives official page for more details.
Pricing & Packages
DriveTank.com offers versatile pricing and packages per experience. All pricing is per activity and up to six participants, this includes one driver and five passengers. This is not per person. Additional person(s) incur an added fee.
Museum tour, water and soft drinks, eye and ear protection, transportation to and from the Tank and Machine Gun Range is included. Beer and alcoholic drinks are free for all visitors 21 and older with valid ID.
Be sure to check out DriveTank.com's Pricing and Packages official page for more details.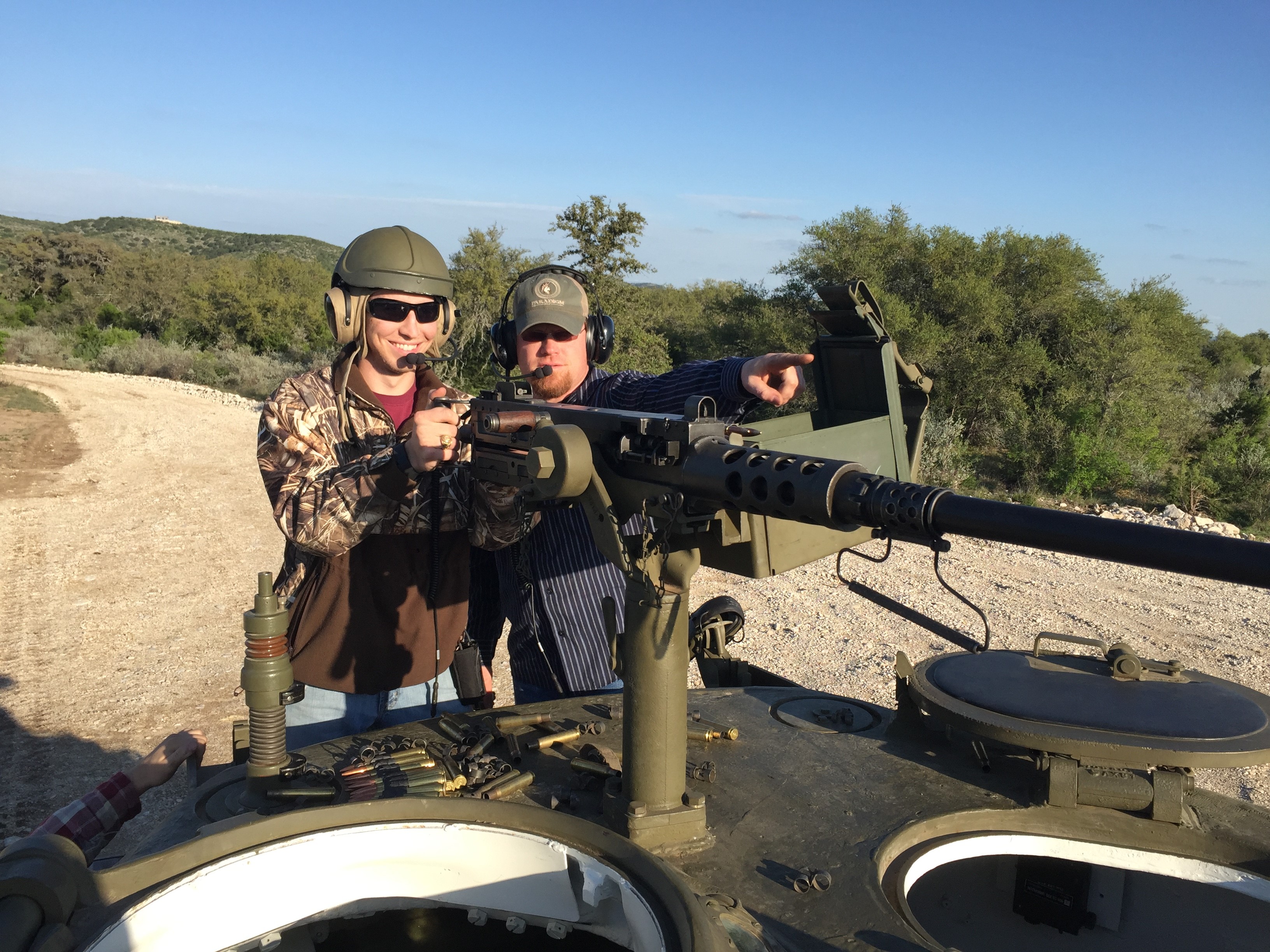 Lodging and Accommodations
DriveTank.com offers a truly unique lodging experience for guests at the "Barracks." This one-of-a-kind WWII themed overnight accommodation enhances your larger-than-life experience during your visit. Each room has two comfortable queen size beds and a roll away bed, if needed. Choose from multiple room rate options, including "Enlisted Room Rate" and all-inclusive "Officer Room Rate."
If you choose to stay in the "Barracks" for an overnight Enlisted Room, your purchase includes one flame thrower experience during operating hours and any additional tanks cost will be discounted. You will also have access to Ox Ranch's amenities and all-inclusive alcoholic beverages.
If you choose the upgraded all-inclusive Officer Room, your stay includes chef-prepared meals, all-inclusive beverages, use of Ox Ranch's amenities, and free group activities. Some of these free group activities include Barrett .50 cal shooting (two rounds per person), Skeet shooting (25 shots per person), Photo Safari Tour, and 4-Wheeler Tour of the Ranch.
Be sure to check out DriveTank.com's Lodging official page for more details.
Ready for some action? Reserve your experience now.
---
FAQs:
What are the age restrictions:
There are no age restrictions. We base it off their ability to follow instructions and physically handle the tank or firearm.
Height and Weight Requirements:
It is true that many tankers are smaller in stature. However, we have had people of larger stature drive even our Sherman Tank. In fact, we have had clients that were 6'6″ tall and over 350 lbs drive the Sherman. We have some tanks that accommodate virtually any size individual. The only tank that has a real limitation, and that is due to driver compartment size, will be the British Chieftain tank that we use for car crushing. The Chieftain is height restrictive to persons under 6'5″. One of may cool things about shooting our Tanks' main guns and our Artillery ("Big Guns"), is that it does not matter how big or how small you are, you'll able to do it and you are guaranteed to have a blast. If you have any question at all regarding size and specific tank requirements please contact us and we will assist you further.
Are the Tank main gun rounds real rounds:
100% Real Tank Round! You will shoot a real round just as they were shot in WW2. Full power loads. We do not shoot any powder-puff or blank load. Let's give you a comparison to something that most people can relate to. Here is the fun fact for how powerful these tank rounds actually are; a standard M-16 or AR-15 .223 round has a muzzle energy of 1300 ft/lbs of energy. The Sherman 76mm main tank gun round that you will fire is 1.5 Million ft/lbs of muzzle energy! That is Million with a capital "M". Did we say full power loads…No fake tank rounds here ever!!!!!
How Long is the tank course:
Times will vary significantly based on how fast or slow you drive the course and which tank is being driven, so we cannot give you an accurate time that it will take to complete the course. However, you will drive through the one of a kind mile long battlefield themed course that will challenge you with steep hills, turns, streams, and a few other surprises. You will utilize all the tank's maneuvering capabilities. You will not simply be driving in a small circle ever here at DriveTanks.com. If you have a tank shooting package with your drive experience, then you will drive to our tank range and then finish the remainder of our tank course after the shooting. Depending on your round count & package, you could be out for a couple hours to all day.
Do you have lodging options:
DriveTanks.com has a one of a kind WWII themed "Barracks" exclusively for our customers. The Barracks offers WWII Historic styling with all modern amenities. It truly is an experience of awe inspiring beauty of the Ox Ranch combined with the Historic Nostalgic flare that only DriveTanks.com can offer. Each room has 2-Queen Size Beds and an available Roll Away Bed. The Barracks Lodging is designed for our clients to be able to stay on the Ox Ranch and continue their adventure by transitioning their experience to some Ox Ranch's activities that have made them World Famous. Your Barracks lodging experience will also include all your meals prepared by the ranches award winning chef. Prepare to make your palate come alive. Lodging can be booked by calling 830-351-TANK (8265).
Is a down payment required?
No, a down payment is not required in order to book. The Barracks and certain other DriveTanks.com items do require a credit card to be placed on file. A DriveTanks.com booking specialist will contact you via telephone to obtain credit card information if you have booked something that requires it. A one cent charge transaction is then conducted to determine if DriveTanks.com has obtained the correct information and to verify that the credit card is valid. The credit card will not be charged further, unless the client fails to appear for their booked appointment or does not cancel the booking within 48 hours. In either of those cases the card will be charged as per our cancellation policy.
---
---