---
Things to Do in Marathon
The fact that the nearest "big city" - Midland - is 163 miles away should give you a general idea of the types of activities to expect in Marathon. You won't find a lot of high-speed, high-dollar diversions out here. You won't see big crowds or long lines. What you'll discover are dark skies and diverse accommodations in a town that's not in a hurry, where you can slow down and take in the beauty of a painting or a sunset without worrying that you'll be late to the next stop on your itinerary. If that's exactly the kind of trip you've been looking for, read on to see some of the best things to do in Marathon.
---
Enjoy the Outdoors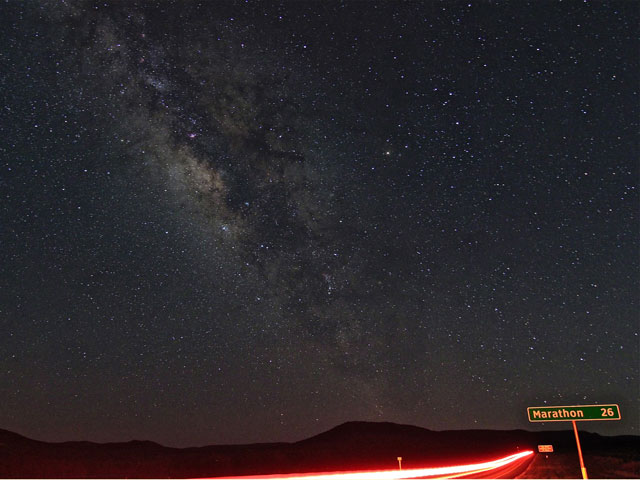 Mother Nature provides some of the best activities in the Marathon area. Of course, the town serves as the gateway to the famous Big Bend National Park, a wild outback of hiking, biking, kayaking, fishing, and wildlife watching. It is designated one of ten Dark Sky Parks by the International Dark-Sky Association and is highly acclaimed for its breathtaking views of the Milky Way at night. Even the community of Marathon is an astronomer's dream, as it has worked hard to keep light pollution out. Step outside after sunset and you'll be treated to a spectacular view of the Milky Way as grand as any you'll see on planet Earth.
Although West Texas is notoriously dry and arid, two spots in town defy expectations with their lush greenery and beauty. Post Park, with its cottonwood trees and spring-fed pond, is a favorite for birders, fishermen, and others looking for a secluded place to kick back and relax. The Post has a quaint dance floor a great location for weddings. As is the 26-acre Gage Gardens; a true oasis in the desert, boasting an orchard, vineyard, pond, green grass, and even a putting green. Regardless of where you end up, by the time your stay in Marathon ends you'll have seen some of the most amazing landscapes in the Lone Star State, and enjoyed an unforgettable adventure or two along the way. If gardening is your thing. Stop into the covered garden at Eve's Garden Organic B&B and smell the more than 20 varieties of roses, and other bloomers.
---
Admire the Art
Maybe it's the way the countryside seems to stretch on forever, or how the light falls on the craggy landscape. There's just something about West Texas that seems to attract artists, and several accomplished members of that creative fraternity live and work in Marathon. San Antonio native E. Dan Klepper is a talented and world-renowned photographer and author behind the Klepper Gallery, which showcases his stunning images of the Big Bend region and other works. James Evans of the James H. Evans Gallery is known for his remarkable black-and-white photos of the region.
For art and other home decor, stop by The Rusty Rabbit, where you can find cowboy chic and global folk art by local photographers, painters, and jewelers. Even the local lodging options get into the art action. The Gage Hotel displaying in several of its properties vintage originals from a private collection that dates as far back as the late 19th century. Eve's Garden B&B has a gallery in the main home and original local art in each of the guest rooms. Featuring local legand Maisy Lee, Priscilla Wiggins, and other local and regional artists.
---
Stay in Style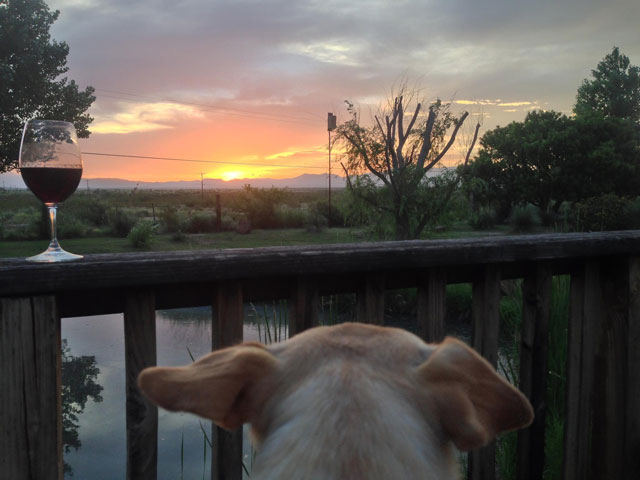 Camping in Big Bend is always an exciting experience, but if you're on your way there or just getting back, some R&R is in order. If you need some pampering after roughing it, book a room in the Los Portales section of the historic Gage Hotel and enjoy the fireplace, plush bath robe, Wi-Fi, cowhide rugs, and stone tile bath. Once you check in, make it your first order of business to book a hot stone massage or body wrap at the in-house spa. Meanwhile, Marathon Motel Sky Park offers the best view of the Glass Mountains in town, along with plenty of Class 1 Dark Sky viewing. Make sure to ask if they are pulling out the two big telescopes for a spontaneous star party, or bring your own and set up on the on-sight telescope pads.
For a unique adventure in sculptural lodging, book a retreat at Eve's Garden Organic Bed & Breakfast. Stay in one of the seven private, quiet, and thoughtfully hand-built colorful guest rooms that open to a covered central courtyard with a pond, tea room, and large indoor organic garden. The family that owns the B&B built it brick by brick using more than 60 tons of recycled paper to create blocks called "papercrete." Stop in and learn how to make this highly insulating modern adobe that incorporates paper and recycled Styrofoam mixed with sand, clay, and cement. Everything at Eve's was made with sustainability in mind, and that includes the unforgettable breakfasts. With a focus on locally produced and organic food, you'll get a great healthy start to your day before your adventure in Big Bend.
If you're part of a large group, consider a refreshing getaway at the Casa La Vista Retreat Center, a yoga and spa center has two rental houses. For a different type of adventure, head to the nearby Maravillas Ranch. This top-flight retreat is the place to go to hunt for elk, mountain lion, mule deer, feral hogs, and other game. You'll spend three days traversing the more than 50,000-acre spread, with meals and lodging provided at the hunter's cabin. For avid hunters, a trip here should be high on your bucket list.
---
Attend one of Marathon's Famous Annual Events
Get your running shoes and head to Marathon for one of the town's biggest events: the Marathon 2 Marathon in late October, a qualifier for the Boston Marathon. This annual race includes a full 26.2-miler, a half marathon, 10K, and 5K, all set in the stunning backdrop of the West Texas mountains. All routes finish in front of the Gage Hotel right in the heart of Marathon. For a decidedly less mobile (and sweaty) contest, visit Marathon in the summer for one of the town's cook-offs. July is chili cook-off month, with the Cowboy Chili Cook Off and the Mustang Chili Cookoff held on consecutive days around Independence Day. Enjoy Texas Chili and then dance it off at the annual Fourth of July Dance at the post park, the oldest event in Big Bend going on for nearly 100 years. All the local and the area ranchers come out to dance at the Post Park under the stars. In September, the town hosts its famous West Fest, with cooking competitions for salsa, brisket, beans, dessert, and cabrito (roast goat). The Christmastime Fiesta de Noche Buena closes out the yearly activities calendar with shopping and fun in downtown Marathon.
---
---