---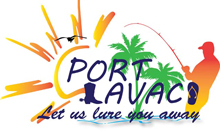 Things to Do in Port Lavaca
Grab your fishing pole, sunscreen, beach chair, and most colorful swimsuit ... it's time to go to Port Lavaca! This coastal town has all the seaside fun you could ask for but without all the crowds found in other Gulf Coast locations. Plus, the still-pristine natural wonders give Port Lavaca that special something that other towns can't hope to match. Read on for a few of the best things to do in Port Lavaca and start planning your next vacation to the sunny Gulf Coast.
---
Hit the Beach
There's nothing quite like the feeling of warm sand between your toes along with the soothing sound of the crashing surf. That's why checking out Port Lavaca's beaches is a no brainer, regardless of whether you're looking for a quiet barefoot stroll, to work on your tan, hunt for shells, or kick back and relax. Start at Magnolia Beach, also known as the only natural shell beach on the Gulf Coast. Lay out a blanket and soak up the sun, play a pickup game on the volleyball court, or cast a line from the fishing pier. For more sandy beaches, relax in the shade of a thatch-covered cabana at Lighthouse Beach or swim or paddle board in the tranquil waters of Alamo Beach.
---
Wet Your Line
Port Lavaca is probably best known for its world-class saltwater fishing. In addition to its beaches, the Port Lavaca area has numerous piers and a marina from where you can go fishing. The lighted piers at Lighthouse Beach and Bayfront Peninsula provide the perfect above-water platform to fish throughout the year. There are also several shoreline wading and boating opportunities around Lavaca Bay where speckled trout, redfish, flounder, and snapper live in abundance. Try the area between the causeway and the mouth of the Lavaca River, heading up the Garcitas Creek, or along the shoreline of Powderhorn Lake (if you're targeting flounder). Regardless of where you go, you'll likely catch something of which you'll be proud.
---
Go Bird Watching
Bring your binoculars when you come to Port Lavaca, as the city boasts some of the best bird watching in Texas. Located within the Great Texas Coastal Birding Trail, Port Lavaca is home to hundreds of species of birds, including those that pass through during seasonal migration. At Lighthouse Beach, find a perch in the Alcoa Birding Tower or along the Formosa Wetlands Walkway to get awesome views of our winged friends in the Port Lavaca Bird Sanctuary. Other hotspots are the Guadalupe Delta Wildlife Management Area, Magnolia Beach, the Magic Ridge bird sanctuary, and Powderhorn Lake.
---
Dive into History
This part of Texas has a rich history that reaches back to the days of European explorers in the early 16th century, and there are several ways to explore that past yourself. Stop by the Calhoun County Museum to see priceless artifacts from the ship of French explorer La Salle, items from the Civil War, relics of the Karankawa Indians, and more. The Half Moon Reef Lighthouse is another cool stop where you can enter the salvaged remains of the 1858 lighthouse now home to a small museum. For even more history, check out the remains of once-thriving city of Indianola, historical murals in Olde Towne, and the 40 historical markers in Port Lavaca.
---
Tackle a New Sport
A trip to Port Lavaca might be the perfect time to try that water sport you've been meaning to check out. Kayaking, stand-up paddle boarding, surfing, and kite-surfing are all exciting ways to explore the bay and get some exercise. During the winter, Port Lavaca's public waters are also a big draw for duck hunters, and guides are available to help you bag your daily limit of birds. With a few supplies, you can even try your hand at crabbing, with your reward being an ultra-fresh seafood dinner.
Maybe you're a foodie looking for authentic Mexican or some fresh seafood, or a water sports fan in search of smooth sailing. Perhaps you're just looking for a quiet spot to put your toes in the sand and relax. Whatever your pleasure, you're sure to find it in when you visit Port Lavaca, one of the best-kept secrets on the Texas Gulf Coast.
---
---