---
Attractions in San Saba
Beautiful parks, a historic downtown full of fascinating shops, a challenging 18-hole golf course, and two historic suspension bridges are among the many attractions in San Saba, Texas. Most famous for its abundance of pecans – hence being known as "The Pecan Capital of the World" – this Hill Country destination is packed with specialty shops selling all sorts of pecan-related goodies. Yet that's not all, as you'll soon discover.
---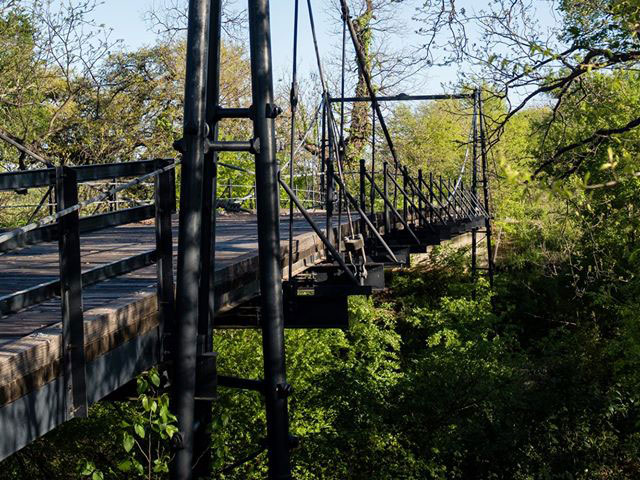 Beveridge Bridge
Step on to the Beveridge Bridge, one of the last remaining suspension bridges in the Lone Star State. Spanning the San Saba River just outside of town, the bridge is a historic landmark dating back to 1896.
Check out the iron pipes, rods, and castings that support the wooden bridge as you enjoy the view of the river and the verdant trees that stand on the grassy banks.
County Road 200
San Saba, TX 76877
---
Colorado Bend State Park
Towering tree-covered hills, sun-kissed stone bluffs, and the pristine flowing waters of the Colorado River provide the backdrop for an adventure in Colorado Bend State Park. Hike the 32 miles of multiuse trails, paddle the Colorado River, and marvel at Gorman Falls, one of Texas' natural wonders.
Bend, TX 76824
(325) 628-3240
---
Historic Downtown San Saba
Stroll past charming 19th-century brick and stone buildings, get lost in one-of-a-kind stores, and sip a glass of award-winning wine made right here in Texas. Welcome to Historic Downtown San Saba, a quaint area home to a wide range of restaurants, cozy hotels, and fascinating stores centered around the beautiful San Saba County Courthouse.
500 East Wallace Street
San Saba, TX 76877
---
Mill Pond Park
Retreat to the tranquil embrace of the outdoors with a visit to Mill Pond Park in San Saba. Listen as a waterfall cascades over rocks, watch the ducks and geese paddle by, and check out all the vibrant blooming flowers. A municipal swimming pool, baseball fields, tennis courts, a playground, nature trails, and more can be found in the 71-acre park, providing more than enough for a fun day under the sun. Don't miss a visit to the San Saba County Museum or a stroll past the historic former gristmill and water wheel, located right in the heart of the park.
110 Thomas Stewart Drive
San Saba, TX 76877
(325) 372-5144
---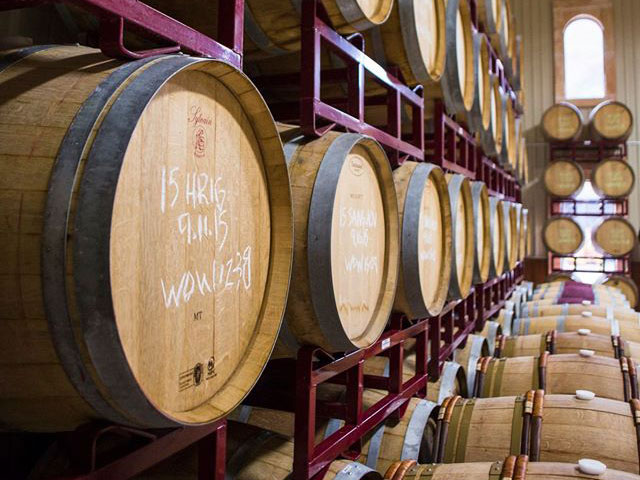 Old Man Scary Cellars
Tickle your palate with the taste of a light and sweet viognier or a bold dolcetto made with grapes grown right here in Texas at Old Man Scary Cellars, one of two wineries in downtown San Saba. Sample the Texas winery's other offerings, such as a Riesling from Washington State or a cabernet sauvignon from California and you'll feel as if you've savored some of the best reds and whites available anywhere in the country.
302 East Wallace Street
San Saba, TX 76877
(325) 372-6071
---
Regency Suspension Bridge
Travel about 20 miles northwest of San Saba along County Road 433 and you'll reach a site unlike any other. High above the Colorado River stands the 325-foot Regency Suspension Bridge, the only suspension bridge in Texas that you can drive. Feel the bridge bend under you as drive over it and try not to get distracted by the view of the river and all the jade-green trees and sloping hills farther along the horizon.
County Road 433
Mullin, TX 76864
---
Risien Park
Situated on the bank of the San Saba River, Risien Park is an idyllic place to get outdoors and observe the beauty of the Texas Hill County. Enjoy a picnic under the big trees, explore the 3/4-mile hiking trail, and fish or swim in the river. Historic sites include the amphitheater and swimming pool which were part of the park's original design.
San Saba, TX 76877
(325) 372-5144
---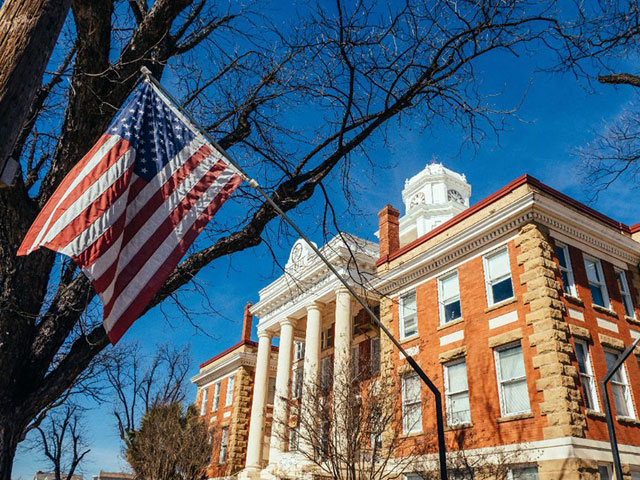 San Saba County Courthouse
With its bold roman columns, red sandstone façade, and gleaming white clock tower, the 1911 San Saba County Courthouse is a real attention-getter.
Beyond the eye-catching architecture, the courthouse features a message ("From the people to the people") carved over its entrances, one of only a few like this in Texas.
500 East Wallace Street
San Saba, TX 76877
---
San Saba Historical County Museum
Discover the history of San Saba County and the people who helped make it what it is today at its historical museum located in Mill Pond Park. See examples of frontier homesteads, antique furniture, ranching tools, and much more.
110 Thomas Stewart Drive
San Saba, TX 76877
---
San Saba Olive Oil Company
Browse and taste the collection of olive oils spiced with garlic, jalapeno, lemongrass, and butter, and shop for other items at the San Saba Olive Oil Company. Along with the distinctive oils, you'll find balsamic vinegars, beauty products, and specialty items like pepper-spiced seasoning salt and stuffed olives.
207 East Wallace Street
San Saba, TX 76877
(325) 372-4999
---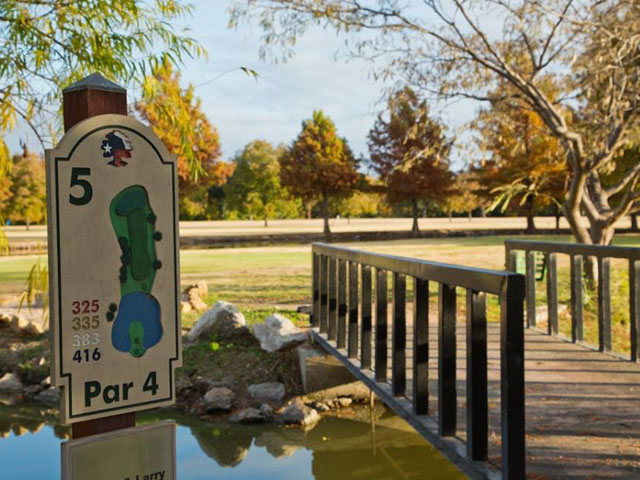 San Saba River Golf Course
Nestled among acres of stately oak trees is this 18-hole golf course in San Saba that is known for its scenic charm and challenging playing conditions. Additional facilities include a club pro shop, driving range and short game practice area, and putting green.
723 County Road 201
San Saba, TX 76877
(325) 372-3212
---
San Saba River Nature Park
Admire one of San Saba's first waterworks, eight archeological sites, nature viewing areas and fishing spots while you explore 122 acres of pristine Hill Country parkland, and soak up the sun at this nature park.
San Saba, TX 76877
---
The Historic Wedding Oak Tree
Cruise one mile north of town on China Creek Road and you'll be under the shade of the mighty and majestic Wedding Oak Tree. For 400 years, the tree has been the symbolic site of numerous ceremonies and weddings, beginning with Native Americans and continuing to this day.
China Creek Road
San Saba, TX 76877
---
Wedding Oak Winery
Sample the sweet flavors of Texas at this winery in San Saba. Serving a wide variety of reds and whites made with grapes grown in the Lone Star State, a visit to Wedding Oak Winery is like a tasting tour of Texas. Producers of award winning wines such as a viognier, tempranillo, and sangiovese, the winery has something fantastic for all tastes.
316 East Wallace Street
San Saba, TX 76877
(325) 372-4050
---
Pecan Shops in San Saba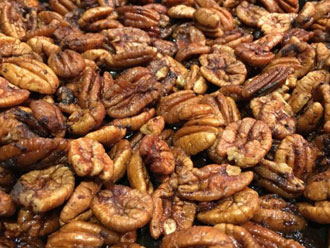 As the "Pecan Capital of the World," it's no surprise that there are numerous specialty pecan shops in San Saba.
Each of these shops sell locally grown pecans, as well as all sorts of pies, candy, chocolates, oils, and just about anything else you can think of.
You can see a full list of San Saba's pecan shops here.
Photo and Video Credit: Mitchell Hallmark | Found Media Group
---
---