---

Things to Do in San Saba
All the unique sights, sounds, and tastes of the Hill Country await in the beautiful town of San Saba. Known as the "Pecan Capital of the World," San Saba has a Texas-sized serving of charm to go along with its abundance of surprises. Shop for delicious roasted and chocolate-covered pecans at one of San Saba's many specialty stores, find a new pair of cowboy boots, savor a glass of wine, and enjoy all the natural splendors of the Hill Country. Read on to discover many of the things to do in San Saba and start planning your next road trip to this Texas gem.
---
Explore Historic Downtown San Saba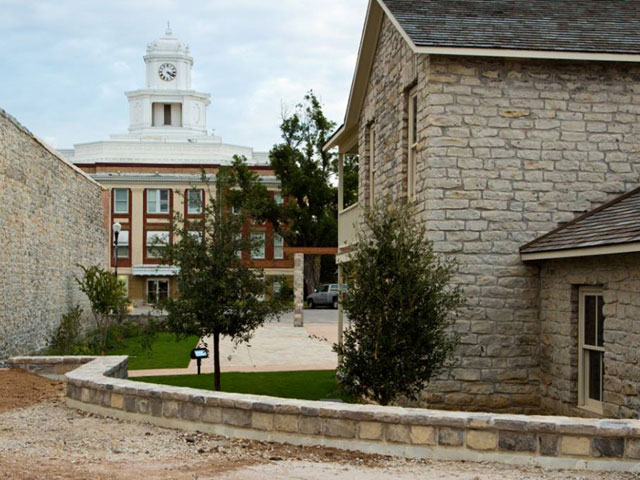 Browse a stunning collection of exotic cowboy boots, get lost inside of an antique wonderland, and taste delicious locally made olive oils. These are some of sights, sounds, smells, and sensations you'll encounter as you wander through historic downtown San Saba. Located around the eye-catching San Saba County Courthouse and home to a wide range of one-of-a-kind shops, restaurants, and places to stay, the downtown area is a destination of its own.
Get all your cowboy gear at Harry's Boots, a Texas tradition founded in San Saba in 1936. Shop your way through J.C. Campbell & Company Mercantile and Madelaine & Me before settling in for a coffee or a delicious meal at one of San Saba's eateries.
Don't miss a trip to the San Saba Olive Oil Company, where you can sample and purchase oils seasoned with basil and cayenne pepper, a variety of salts, and other gifts. At the end of the day, retire to one of the boutique hotels in the downtown area perfect for hanging your hat at. You'll need the rest, as there are still many more things to do in San Saba.
---
Shop for Pecan Goodies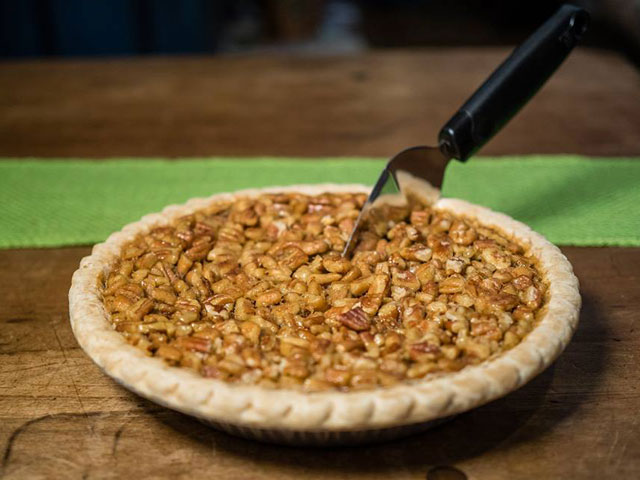 As the "Pecan Capital of the World," you'd probably expect there to be pecans just about everywhere in San Saba. Visit and you'll discover that's actually true. There are seven specialty pecan shops in San Saba that sell everything from fresh and roasted pecans to pies and other delightful confections. Some, like the Alamo Pecan & Coffee Co. and Millican Pecan Co., even have whole-bean coffee mixed with pecans, perfect if you prefer a bit of natural sweetness in your morning cup of Joe. So whether you're looking for a unique gift or a truly Texan way to make your taste buds do the two step, there's no better place to do so than the "Pecan Capital of the World."
---
Indulge in Local Wine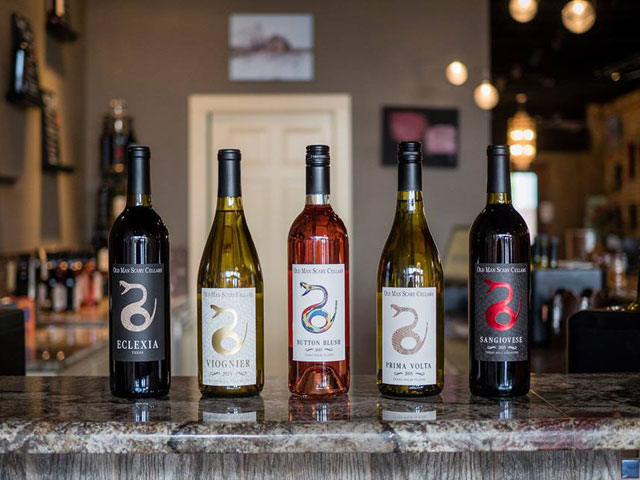 Speaking of two-stepping taste buds, San Saba holds another palate-pleasing treat: wine. Savor reds and whites crafted using Texas-grown grapes at either of the two wineries in San Saba. Step inside Wedding Oak Winery's rustic tasting room and let the flavors of such award winners as the Bridal Blush 2014 and Bridal Veil 2015 dance off your tongue. Then take a (short) walk down East Wallace Street to Old Man Scary Cellars to try even more wines made with grapes from Texas and beyond, ranging from a semi-sweet dolcetto to a light and sweet viognier. There are plenty of wines to try, and thanks to both wineries locations so close to each other making a trip to both is as easy as (pecan) pie.
---
Enjoy the Outdoors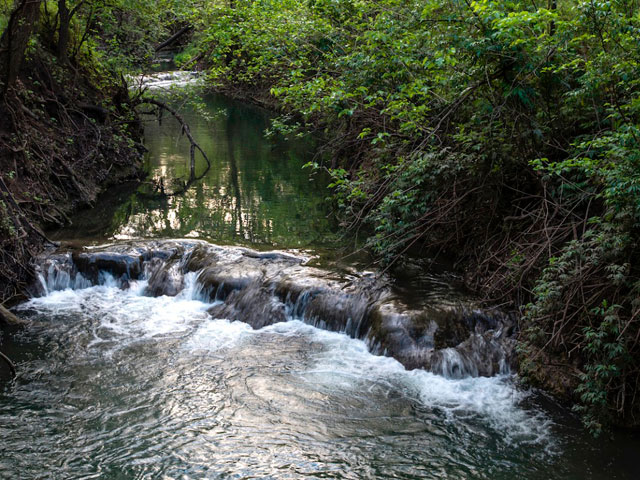 Although you could base an entire stay in San Saba around the many treasures in its downtown area, that's not all the town has to offer. In fact, San Saba is also a great place to get outdoors. Scenic parks that immerse you in all the beauty of the Texas Hill Country can be found throughout town. Admire the waterfall from San Saba's spring-fed lake as it cascades over landscape rocks at Mill Pond Park, a 71-acre park where you can enjoy a picnic, hike the nature trails, and swim in the pool.
For a summertime splash, you can also jump into the swimming hole at Risien Park, located on the bank of the San Saba River. If playing your way through a scenic golf course is your favorite way to enjoy the outdoors, look no further than the San Saba River Golf Course. With 18 holes of tree-lined fairways and treacherously placed sand and water traps, the course will test your skills while treating you to the breathtaking beauty of the Hill Country.
---
Visit Gorman Falls in Colorado Bend State Park
In addition to its own beauty, San Saba is a short drive away from one of the natural wonders of Texas. Pack your hiking gear and make the 30-mile drive out to Colorado Bend State Park to see Gorman Falls, an awe-inspiring 60-foot-tall waterfall surrounded by mossy rocks and verdant trees. Take a ranger-led guided tour or hike your own way out to the falls on the rugged 1.5-mile trail, a challenging journey that makes the view at the end more than worthwhile.
Although Gorman Falls is a bucket-list worthy thing to see, it is by no means all there is to discover at Colorado Bend State Park. Explore the more than 32 miles of multi-use trails, see rugged cliffs as you kayak the Colorado River, and go for a swim. There is even a stunning wild cave system to discover, but you'll need to be on a guided tour to do so.
---
Drive Across The Regency Bridge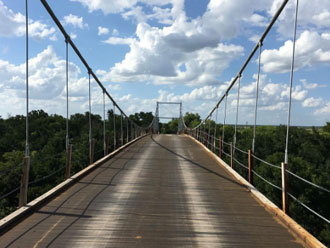 Right now you might be wondering "What is so special about a bridge that I need to drive across it?" The answer is simple. The Regency Bridge, also affectionately known as "The Swinging Bridge," is not your average bridge. Instead, it's a piece of history. Built in 1939, it is the only suspension bridge in Texas that you can drive across today. Feel the bridge bend underneath as you cruise to the other side. Take your time and appreciate the breathtaking view of the Colorado River as you cross from San Saba to Mill County. Reach the other side and you'll already be looking for a place to U-turn.
Remarkably, the Regency Bridge isn't even the only historic suspension bridge in San Saba County.
Closer to town, you'll find the Beveridge Bridge. Built in 1896, the bridge spans the San Saba River off of County Road 200 just northwest of town. Although no longer open to vehicle traffic, you can park your car and walk the bridge, taking in the sights as you go.
Photo and Video Credit: Mitchell Hallmark | Found Media Group
---
---