---

Sonora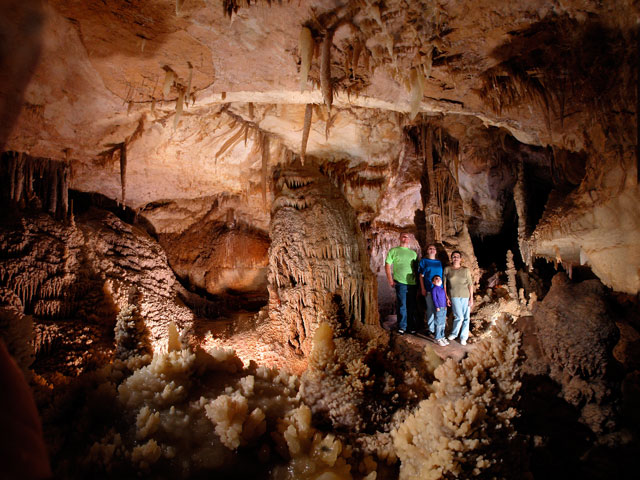 Cruise to the western edge of the Texas Hill Country, where the rolling hills and limestone bluffs give way to the flat expanses of the Chihuahuan Desert, and you'll find the town of Sonora.
Home to one of the most beautiful caverns in the world, a history complete with pioneers and outlaws, and unique shops and restaurants, Sonora has just about everything you need for a one-of-a-kind weekend getaway.
Located about 2.5 hours west of San Antonio, it's easy to reach while being just far enough away from the big city to have all the peace and quiet you're looking for.
Start your getaway to Sonora at the Caverns of Sonora. Head underground and you'll encounter countless spellbinding formations in each room you visit. Choose from several guided excursions ranging from the nearly two-hour Crystal Palace Tour to the more adventurous four-hour Discovery Challenge Tour, to experience the caverns for yourself.
While The Caverns of Sonora are a must see, it is by no means the only natural wonder in town. Tie on your hiking shoes and find your way to the Eaton Hill Nature Center & Preserve, a 37-acre showcase of the flora and fauna of the Texas Hill Country and the West Texas desert. Explore the nearly two miles of hiking trails that take you through thickets and past rocky outcrops and check out the displays in the restored more than 110-year-old home. Whether you're looking to simply get outdoors, take photos, or do some wildlife watching, you'll find it all here.
Sonora's rich ranching and pioneering history holds many surprises, the likes of which you can discover at the Old Sonora Ice House Ranch Museum. See the gun that brought down the infamous outlaw William "News" Carver and artifacts from Native Americans and the area's earliest ranchers. For more history, visit the Miers Home Museum. Built in 1888, it's a museum dedicated to Sonora's past featuring a collection of artifacts and archives of the local newspaper.
No visit to Sonora is complete without seeing a few of the town's other sites. Head to downtown Sonora to see the gorgeous 1891 Sutton County Courthouse, then play a round at the Sonora Golf Club, a top nine-hole course in Texas. Sonora's major annual events, such as the Sutton County Days & Sonora Outlaw Rodeo in August and The Dry Devils River Music Flood in October, are great reasons to visit as well.
Sonora's natural splendor, Western history, and famous Texas hospitality makes it a great choice for your next weekend getaway.
---
---