---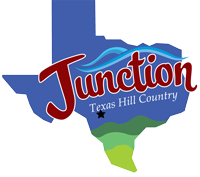 Junction
At the intersection of highways 83, 377, and Interstate 10 where the North and South Llano Rivers merge lays the small, rural community of Junction Texas bursting with warmth, friendliness, and welcoming spirit. This historical town is rich with heritage and tradition.
Cedar industry, Angora goat, and cattle ranching marked the beginning of what is now a hunting and outdoor recreation empire. Hunting includes exotic game, native white tail, turkey, dove, varmint, and hog. Long and short term leases, as well as, day hunts are offered for the hunting enthusiasts.
The spring fed Llano Rivers flow regardless of whether conditions are hot and dry or blessed with a rainy season and invite you aboard for relaxing on one of the slow, peaceful, lazy stretches of water for tubing.
Kayaking the rivers is one of the most popular activities along with fishing and fly fishing. These rivers are gentle enough for family fun and have currents enough for an intriguing adventure. There are numerous public access points to drop your kayak in, as well as, outfitters available to set you up for your kayaking trip.
There is no limit to outdoor recreation for whatever your interest may be. Bird watching in Junction offers viewing of some of the most rarely seen birds, to one of the largest variety of birds in the Texas Hill Country.
Disc golf courses are in a setting, which is one to behold. The two courses are along both sides of the South Llano River in the city and county parks near downtown Junction. The courses are open for all to enjoy and play year round. Tournaments are held at least twice a year with an added money shot taken by disc golfers from the top of Lovers Leap descending down the hill's bluff to the Easter Pageant grounds far below. This is as fun to watch as it is to attempt to accomplish.
Motorcycle riders frequent the twisting turning roads along Highway 377 South up and down the hills with breathtaking views. Junction's proximity to Leakey, Hunt, Fredericksburg, Mason, Llano, and Rocksprings provides routes for days on in to enjoy motorcycling.
River cabins and hunting cabins are available for rent and vary in location, size, atmosphere, and décor. Oftentimes these cabins include amenities such as river kayaks, tubes, fishing gear, camp fire options, and all are located where the stars are able to show off as only can be done in the openness of the Texas Hill Country.
---
---