Page Archived
You have reached an archived page on TourTexas.com. Please use the search bar above to view other Texas content or reach out directly to the destination, attraction, accommodation or event shown on this page for up to date information.
---
Oktoberfest - Fredericksburg
Oktoberfest in Fredericksburg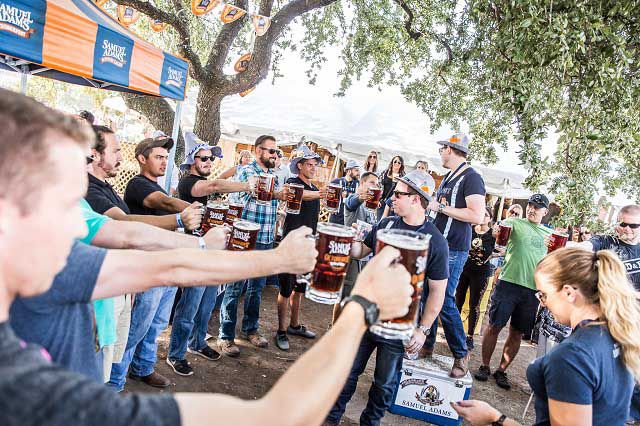 October 6 - 8, 2017
Short of a trip to Munich, there's no better place in these United States to attend a timeless German beer festival than Fredericksburg. Founded by German immigrants and the home of the unique dialect known as "Texas German," the beautiful Hill Country destination is proud to welcome one and all to its annual Oktoberfest for three days of oompah at its best.
Held downtown at the historic MarktPlatz, Oktoberfest offers fun and entertainment for the whole family. Live German music delivered on four stages fills the air all weekend, kicked off by the Seventh Annual OkTubaFest on Friday. Other acts in include The Boerne Village Band (the oldest continuously active German band outside of the Germany), seasoned performers Oma & The Oompahs, and nearly two dozen other groups.
Of course, Oktoberfests in general are known for one particular, hoppy beverage, and Fredericksburg's event is no exception. More than 50 varieties of domestic, German, and Texan beer are on the menu, all waiting to be paired with German favorites like bratwurst Kraut dogs. A variety of Cajun dishes, sandwiches, burgers, and carnival food are also available. Top it all off with a strudel, funnel cake, or another sweet treat.
There are plenty of other things to see and do during Fredericksburg's Oktoberfest beyond the tasty food and delicious beer. Browse the wares of the more than 40 artisans displaying and selling their handmade pottery, clothing, glassware, jewelry, and woodworks. If you have youngsters with you, take them to Kinderpark, home to a bungee jump, slide, duck pond, wheel of fortune, face painter, clown, and more. Kids of all ages will be wiggling away to the Hauptstrasse Chicken Dance on Saturday, and competing for prizes during Sunday's 42 Tournament.
All work for the festival is done by volunteers, with proceeds supporting the work of the non-profit Pedernales Creative Arts Alliance. So come out to Fredericksburg for a beer, a brat, and a blast of a good time for a great cause at one of the liveliest festivals in Texas!
---
---
Oktoberfest - Fredericksburg