---
Rusty Chippy Show in Huntsville
Rusty Chippy Show in Huntsville - MARCH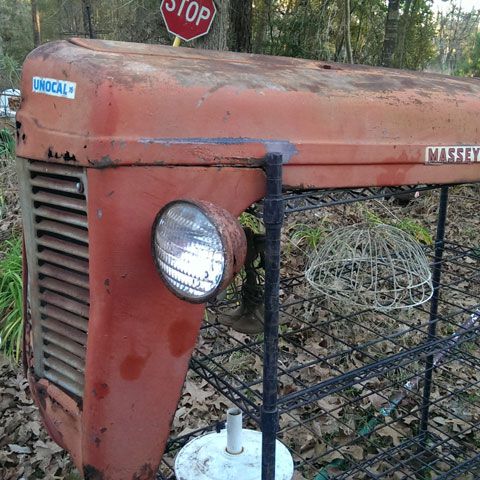 You have never see a show like The Rusty Chippy Show before, you don't know what you are missing. Held indoors at the air-conditioned Walker County Fairgrounds, we'll be celebrating our third year of bringing an Antique, Vintage and Re-Purpose wonderland to our little corner of East Texas.
We pride ourselves on gathering an eclectic mix of interesting dealers who come from all over Texas and across the country. To us, it is important to have literally something for everyone. From fine antiques to old farm tools, shoppers come back year after year to add to their collections. Victorian Gold & Sterling jewelry, yard and garden items, funky junk, painted furniture, vintage cowboy boots – the offerings are limitless.
With Huntsville being a university town, there are a lot of folks who are interested in decorating. So there will be all sorts of fun wares to appeal to retro-Modernists as well as the admirers of the Chippy-Peely-Rusty School. With over sixty dealers, you will find a range of quality items to match any pocket book.
So make plans now to meet your friends in Huntsville on March 12 & 13, 2016 and consider spending the night. Take in the show and then spend some time shopping in the interesting stores downtown, visiting our museums (Sam Houston, Veterans, Prison), enjoying the State Park, or eating some great down-home cooking. Slow down and enjoy the relaxed pace of our little patch of East Texas.
Keep in mind that we also present a show in the Fall that emphasizes Antiques and Vintage decorating trends, Pottery, Glassware, repurposing, Furniture, clothing and accessories along with a nice mix of jewelry and holiday decor. The Huntsville Antique Show will be held September 17 & 18, in 2016 at the Walker County Fairgrounds. Be prepared to have an exciting time searching for that One of a Kind Antique, the perfect shabby chic chair or vintage holiday table cloth.
To find our more, visit www.huntsvilleantiqueshow.com and "friend" us on Facebook to follow us on our junking adventures. Frederic Morris is our most active Facebook Page. Rusty Chippy Show has it's own page too.
---
---
Rusty Chippy Show in Huntsville