---

San Antonio River Walk Fall & Winter Events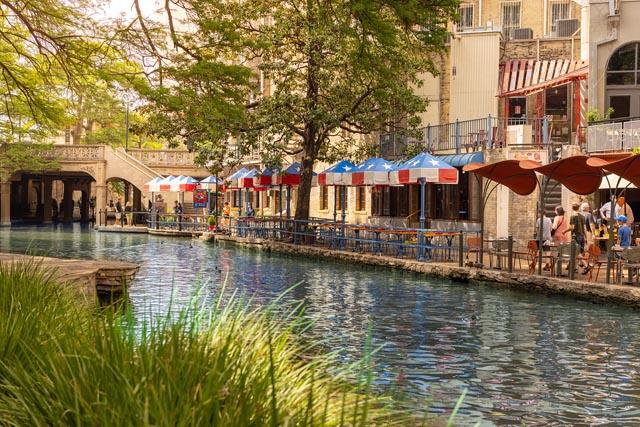 September
Stella Artois Drift & Dine
Make it an unforgettable night as you Drift & Dine along the beautiful River Walk. Discover new restaurants and revisit old favorites right here in the Culinary Capital of Texas. Relax with great company, inviting music, incredible food to savor, and a feeling of bliss. Go with the flow, and savor the flavor! Beautifully decorated dinner boats carrying 14-20 passengers each will float along the river making multiple stops at participating restaurants during their journey. The culinary voyage is offered on three individual nights. Check-in is from 5-6 pm. Tickets may be purchased online.
September 5 - 7, 2023
Tuesday – Thursday | 5-9:30 pm nightly
Old Marina – River Level
Labor Day River Walk Artisan Show
Experience the beauty of the San Antonio River Walk at the Artisan Show by shopping over 40 handmade artisan booths, including pottery, textiles, jewelry, woodwork, paintings, beadwork, and more. Artisans may differ at each Artisan Show.
September 1 – 4, 2023
Friday-Sunday 11 am -11 pm | Monday 11 am - 8 pm
River Walk Extension (on the Chamber of Commerce sidewalk & close to Shops at Rivercenter)
Rey Feo Kings & Reina's River Parade for Education
Organized by the local Rey Feo Consejo Education Foundation whose efforts include raising money for scholarships for local students, this parade honors the Rey Feo Kings & Queens and shines the spotlight on recipients of the educational scholarships provided by the organization.
September 23, 2023 | 7pm
Downtown area of the River Walk
---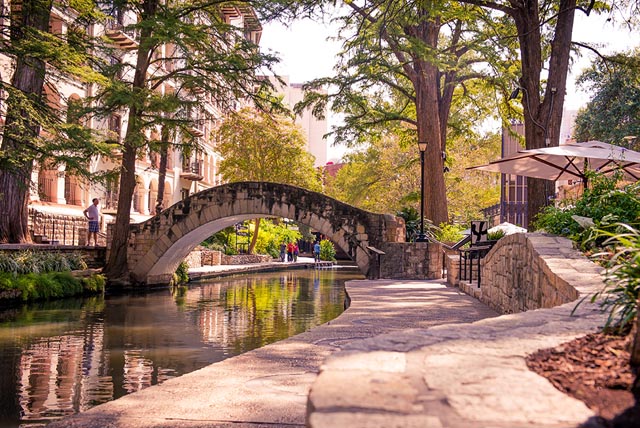 October
Fall Artisan Show
Find one-of-a-kind treasures made by local artisans. Vendors display and sell beautiful handmade merchandise along the San Antonio River Walk. Artisans and works vary by show but usually include pottery, textiles, jewelry, woodwork, paintings, beadwork, and more.
Friday-Sunday 11 am -11 pm | Monday 11 am - 8 pm
River Walk Extension (on the Chamber of Commerce sidewalk & close to Shops at Rivercenter)
SpiritLandia | Day of the Dead River Parade
You haven't experienced Dia de Muertos like this. Join us for a Day of the Dead River Parade complete with elaborately decorated floats carrying altars, Catrina dolls, costumed riders, and more as sugar skulls illuminate the River Walk celebrating life in this cultural river parade. This parade is ticketed and exclusively sold online.
October 27, 2023 | 7-10 pm
Downtown area of the River Walk
---
November
Diwali Festival of Lights Parade
Diwali San Antonio is one of the largest Indian festivals in the country, drawing thousands of people from all over Texas. This ancient Hindu festival is also known as the Festival of Lights and celebrates the triumph of good over evil. The event features live entertainment and cultural performances, food and handicrafts, DJ, dancing, and a fireworks display. The river parade is the highlight of the festival. This event is free to attend!
November 4, 2023 | 5 – 6 pm
Downtown River Walk (2 ½ mile downtown area)
---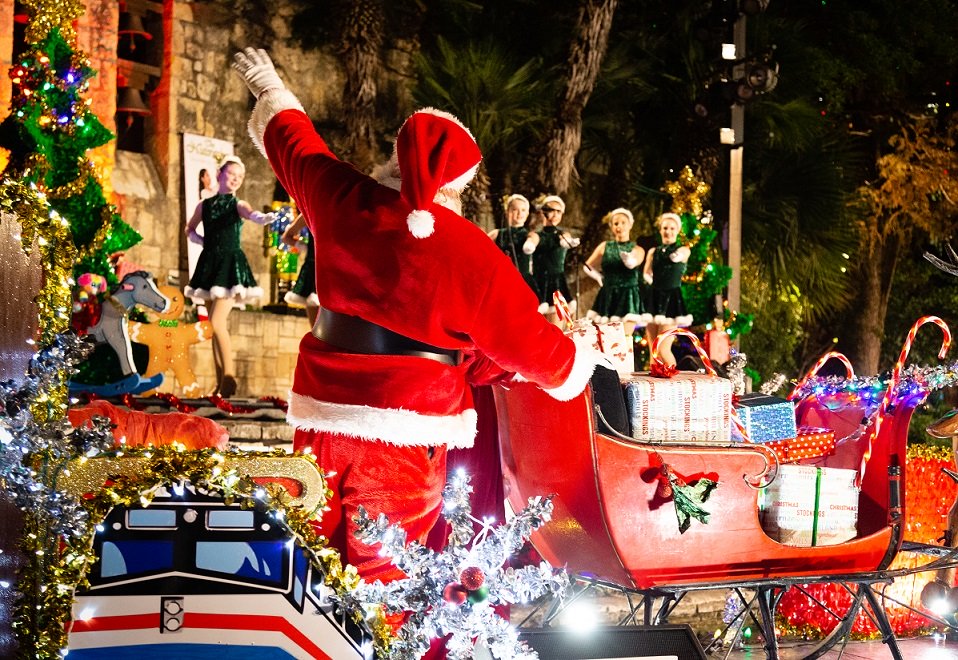 Ford Holiday River Parade
A timeless tradition and the official kickoff to the holidays, this parade is a San Antonio staple that includes the countdown to the official holiday lighting of the River Walk. Featuring illuminated floats, and 100,000 lights – these festive bulbs keep the River Walk lit every evening through shortly after New Year's Day. Always held the day after Thanksgiving, tickets are sold online beginning in July. Limited free seating areas are available along the parade route (bring your own chair). Most restaurants along the River Walk restaurants offer dinner packages to coincide with the parade, check with your favorite River Walk restaurant for more information.
| | |
| --- | --- |
| 5 pm | Gates open for access to the River Walk |
| 6 pm | The parade begins at the Tobin Center for the Performing Arts |
| 6 pm | Pre-parade show for ticket holders at Arneson River Theatre |
| 7 pm | The lighting of the River Walk, Santa on the last float |
November 24, 2023 | 6 – 9 pm
Tickets On Sale July 2023
Seating at Arneson River Theatre & on a 4-mile route on the River Walk
Holiday Lights on the River Walk
100,000 lights illuminate the River Walk each year and remain on from sundown to sunrise every day until shortly after New Year's Day. The exact ending date varies each year. Check the River Walk website to learn the final date.
Ford Holiday Boat Caroling
Throughout the downtown area of the River Walk, river barges float on the river each night carrying groups performing live Christmas Carols. Joyous caroling fills the evening air along the San Antonio River Walk. The public is invited to stroll on the banks of the river or sit outdoors in a restaurant to enjoy the caroling. Want to go caroling on the River Walk? Private caroling boats are sold exclusively online.
November 30- December 22, 2023
Monday – Thursday, 6 – 8 pm | Friday – Sunday, 6 – 9:30 pm
---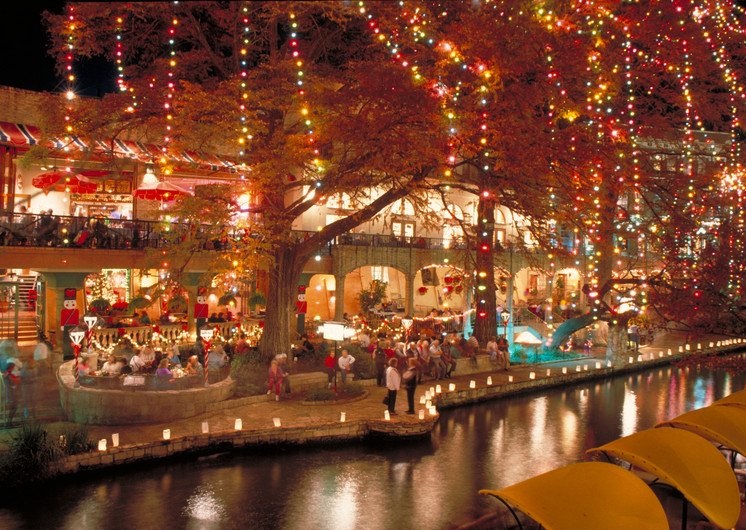 December
Ford Fiesta de las Luminarias
Experience the holiday serenity of the River Walk as you stroll along the lush banks of the San Antonio River guided by more than 2,000 Luminarias. This century's old tradition begins at dusk Friday, Saturday & Sunday for three weekends in December. Luminarias are a traditional Mexican Christmas lantern originally consisting of a candle set in sand inside a small bag. View the Luminarias and listen to Ford Holiday Boat Caroling from a River Walk restaurant or bar while dining or sipping on a drink.
Dec. 1-3, 8-10, 15-17, 2023
Friday – Sunday | All Day
Holiday River Walk Artisan Show
Find unique holiday gifts at the Holiday River Walk Artisan Show. Vendors display and sell beautiful handmade merchandise along the San Antonio River Walk. Artisans and works vary by show but usually include pottery, textiles, jewelry, woodwork, paintings, beadwork and more.
Friday-Sunday 11 am -11 pm | Monday 11 am - 8 pm
River Walk Extension (on the Chamber of Commerce sidewalk & close to Shops at Rivercenter)
---
---