---

The TEXAS Outdoor Musical
June 8 - August 5, 2023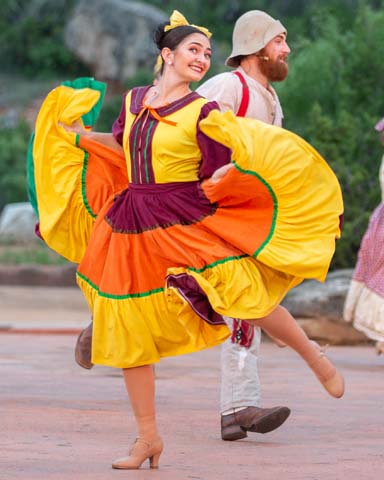 Politics and pioneers, romance and rivalries, the rugged and colorful history of the Texas Panhandle comes to life with style and charm in the TEXAS Outdoor Musical. Staged in the Pioneer Amphitheater and situated in breathtaking Palo Duro Canyon, this lively, open-air show depicts the dramatic history of the Texas Panhandle in the 19th Century. Millions of spectators have enjoyed the family-friendly performance since it first opened in 1965.
The two-act musical opens under the night sky with a lone rider waving the Texas flag atop a 600-foot canyon rim. Spectators can't help but get chills—after all, the Palo Duro Canyon is the second largest canyon in the country, and its stunning views create a totally original theater experience. As the rider fades out of sight, spirited musical numbers start to unfold on stage, taking visitors back in time for the stories, struggles, and triumphs that shaped Texas Panhandle history. More than 60 performers in period costumes sing and dance, creating a toe-tapping tapestry of High Plains life. From the struggles of early settlers to the rich culture of Native Americans, and to the path to statehood, each performance keeps spectators on the edge of their seats. Dancing water special effects and a fireworks finale make the show even more memorable.
Attended by visitors from all over the world, the TEXAS Outdoor Musical was founded in the sixties by Margaret Harper, a local resident. Harper had read an article in Reader's Digest about the playwright Paul Green and his work in setting regional history to song and dance. Harper asked Green to do the same for the High Plains, and when he saw the Palo Duro Canyon and learned about the region's compelling history, he couldn't say no. A few years later, the TEXAS Outdoor Musical was officially born.
Showtime is at 8:30 pm during the season, but there's plenty to keep visitors busy before the musical begins. Enjoy a chuckwagon dinner with authentic Texas barbecue and all the trimmings under a covered patio. Take a behind-the-scenes backstage tour that reveals how the musical comes together. Two-step to a live Texas band as the sun sets, and pick up mementos in every price range at the gift shop. A full slate of activities, capped off by a one-of-a-kind musical theater experience, awaits.
---
---

The TEXAS Outdoor Musical - JUNE ~ AUGUST
11450 State park Hwy Rd 5 Canyon
Palo Duro Canyon, TX 79015
(806) 655-2181
www.texas-show.com