---
Cottonwood Art Festival Artists and Entertainment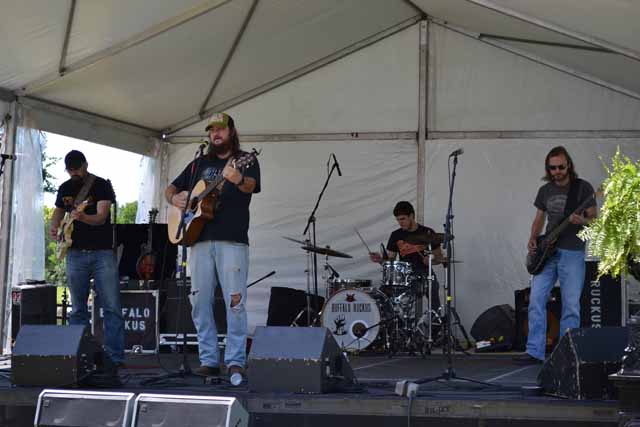 Celebrate all things art and reconnect with your creative side at the Cottonwood Art Festival in Richardson, held on the first full weekend of May and October. The festival packs a weekend with vibrant art from some of the best visual artists from across the country, a diverse range of live music from talented local performers, hands-on art activities, and delicious food and drink.
Yet beyond all the other things to see and do at the Cottonwood Art Festival, it's all about the art. More than 1,000 artists from across the country specializing in 14 disciplines enter the juried show, but only 250 are selected to display their works during the event.
The featured artists change each festival, so it's worth a return even if you've been before as there's always something new to see. Past artists have included landscape photographer Alex Burke, mixed-media artist Brian Billow, painter Michelle Mardis, and sculptor Casey Bridges. The festival culminates with the selection of the Featured Artist, whose works are then featured on the event's marketing pieces.
---
Cottonwood Festival Live Entertainment
Browse the displays of museum-quality art, then take in a spectacular concert from a local or regional band. Throughout the two-day event, you'll hear everything from blues to country and indie rock, so no matter your tastes you'll likely hear something you like. Concerts are held at the Main Stage and the Food Court Stage, giving you plenty of music to enjoy. The best part? Each performance is free, so all you need to worry about is finding a good spot in the crowd.
---
Breweries in the Craft Beer Garden
What goes really well with world-class art and fantastic music? If you said a cool pint of something hoppy, then you'll be right at home in the Craft Beer Garden. As the Cottonwood Art Festival is a showcase of spectacular art from around the country. In the past, the garden has featured some of the best beers from the Dallas area, such as the Deep Ellum Blonde and the Revolver Blood and Honey. For those who prefer a glass of wine or a margarita to a pint of beer, don't worry. The garden also has plenty of reds and whites on hand for you to enjoy.
The Cottonwood Art Festival brings some of the greatest artists in America to Richardson for a weekend of stunning exhibits, live music, and family-friendly fun. Whether you want to admire the artworks, add something new to your collection, or take in all the other festivities, a day out at this festival is a must. Be sure to check the Cottonwood Art Festival's website for up-to-date information on the artists and performers for this year's event.
---
---