Page Archived
You have reached an archived page on TourTexas.com. Please use the search bar above to view other Texas content or reach out directly to the destination, attraction, accommodation or event shown on this page for up to date information.
---
Katy Jazz Festival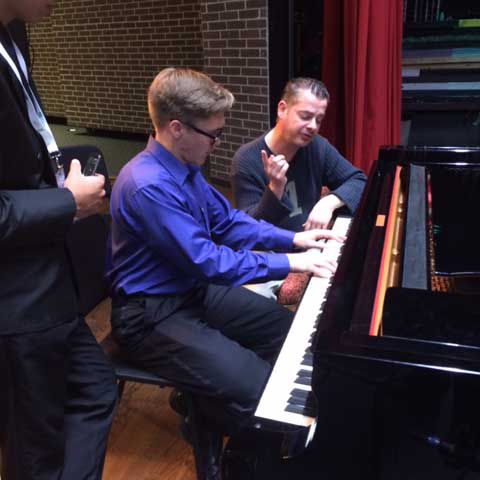 Trumpets swing to the rhythm and elicit sharp sounds as saxophones roll out smooth riffs, a double bass provides some soul, and drums keep the beat. The singer croons and members of the audience tap their feet as their bodies sway to the mesmerizing rhythm. This is the magic of jazz, a captivating style of music celebrated at the Katy Jazz Festival. Held for two days in April, the music festival in Katy features performances by world-class musicians from across the country and student jazz groups. In addition to the music, the festival serves as a showcase of a wide range of visual art from local artists, all just 35 miles away from downtown Houston.
As a genre of music, Jazz was born from blues music at the turn of the 20th century. Its earliest performers, such as Louis Armstrong, Duke Ellington, and Dizzy Gillespie, are now widely regarded as legendary musicians. The foundation built by Armstrong, Ellington, Gillespie, and many others inspires the Katy Jazz Festival to this day. Past artists have included Grammy-nominated vocalists and songwriters, Broadway musicians, and members of the Harry Connick, Jr., Orchestra. Many have performed on TV shows like The Tonight Show with Jay Leno and TODAY, and have played alongside icons like Tony Bennet, Sheryl Crow, and Stevie Wonder.
The Katy Jazz Festival kicks off at Katy High School on Friday afternoon with performances by student Big Bands, followed by an evening concert that showcases the talent of a top-class featured musician. All the action continues on Saturday, when professional groups take the stage at Katy's Black Box Theatre. When you need a break from the music, head over to the Katy Contemporary Arts Museum to check out the FotoFest exhibit.
A weekend of world-class jazz already sounds great, but what makes the Katy Jazz Festival even more appealing is that it's in Katy, a small town with plenty of charm on the western outskirts of Houston. Not only is it easy to get to Katy, but there are several hotels in town that offer special rates for festival attendees (check the Katy Jazz Festival website for details). While you're here for the festival, make sure you check out all the things to do in Katy, such as shopping at Katy Mills Mall or exploring Old Town Katy.
If you enjoy jazz music, buy your tickets for the festival today. Daily passes and Feature concert tickets are available online, at the door, or in the lobby of the Hilton Garden Inn during the event. There's even a free shuttle to and from the hotels, making it even easier to experience all the world-class music of the Katy Jazz Festival.
---
---