---
Sculpture on Main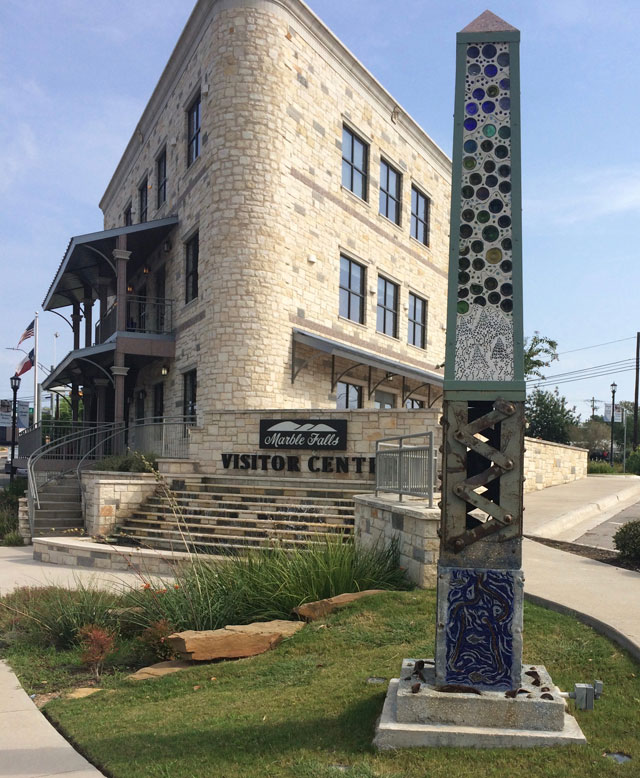 Sculpture On Main, first mounted in 2007, is a unique showing of public art within the Historic Downtown Marble Falls area. The current sculpture display, juried in 2016, represents the best of artists from around the region and many of the pieces displayed in the Main Street area will remain until fall 2018.
New this year is Otocast a smart phone app that facilitates discovery of recommended points of interest in the area, such as our Sculpture On Main pieces. Otocast will enhance the visitor's experience as they stand before the sculpture and hear the artists describe the piece in his/her own words. Additional information on the piece, such as price and artist's website, will be included.
Otocast is like having a personal tour guide with you at all times! https://itunes.apple.com/us/app/otocast/id880987065?mt=8
In addition to our rotating sculpture exhibit, mosaic pieces created and donated by Father Jairo Lopez are displayed on Main Street and within the Marble Falls Visitor Center.
The old bridge, built in 1936, that spanned the Colorado River/Lake Marble Falls was demolished by the Texas Department of Transportation in March, 2013. Father Lopez was commissioned by The Marble Falls Chamber of Commerce, with financial support from Sculpture On Main, to create a sculpture piece with parts of the old bridge that would symbolize the "bridging" of the old with the new.
Produced by Highland Lakes Creative Arts. For more information, visit www.hlcarts.com.
---
---