Page Archived
You have reached an archived page on TourTexas.com. Please use the search bar above to view other Texas content or reach out directly to the destination, attraction, accommodation or event shown on this page for up to date information.
---
Texas Independence Day Celebration
Texas Independence Day Celebration at Washington on the Brazos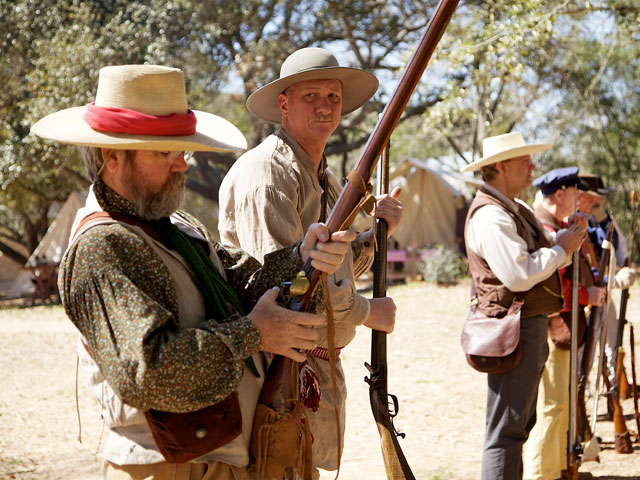 March 3 - 4, 2018
To every American, the fourth day in July conjures a pride and a reverence for the bravery of the men who gathered in Philadelphia in 1776 to declare independence from Great Britain. For Texans, there is another day on the calendar that brings out the same pride: March 2.
On that day in 1836, 59 men met in Washington-on-the-Brazos to declare Texas' independence from Mexico. Celebrate this momentous occasion by returning to the very spot the declaration was signed for a free two-day living history experience, featuring live demonstrations and entertainment, food, crafts, games, and more.
The 293-acre Washington-on-the-Brazos State Historic Site contains three fascinating attractions, all of which visitors will be able to enjoy at no charge during the Celebration. This includes the popular Barrington Living History Farm, site of the original home of the "Last President of Texas" Anson Jones and his family. Here you will be transported to the mid-1800's as you watch interpreters in period clothing do their chores and work the farm. In fact, you can do more than watch. Drive oxen, harvest crops, make soap, and conduct other tasks with 19th-century tools and methods.
Living history performances aren't limited to the Barrington Farm. During the celebration, historical reenactors put on craft demonstrations in pottery, blacksmithing, and woodworking. Inside the 1836 Texas Army camp, trained experts will demonstrate historic firearms and cannons, showing you (from your safe vantage point, of course) how black powder small arms and artillery were loaded and fired. Inside the Kids' History Zone, your children can see how they'd look in period garb from 150 years ago and "reenact" the signing of the Texas Declaration of Independence by putting their own John Hancock on a large-scale copy.
The park's other two sites--the Star of the Republic Museum and Independence Hall--have special events planned, as well. Star of the Republic Museum will debut a new exhibit called "So Others Could Follow: Four Centuries of Maps That Define Texas," which illustrates the topographical and political evolution of Texas over four centuries. Living history performances are featured in the museum as reenactors showcase period skills like quilting, hand-knitting, and tatting. Tours will also be running through Independence Hall, a replica of the original building that was constructed in 1960.
This being a truly Texan event, you'll find delicious food and a wealth of fun activities on both days of the celebration. Add live music performances, a historic play, and a keynote speaker, and you've got the makings of a truly Texas-sized birthday celebration worthy of the greatest state in the Union.
---
---
Texas Independence Day Celebration