---

Dixie Dude Ranch in Bandera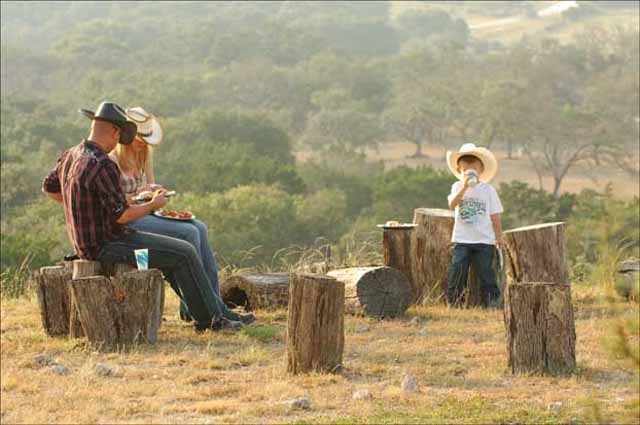 Ride horseback on a rugged trail through sun-kissed wildflower fields and past hills blanketed in verdant oak trees. Tuck into a Texas-sized breakfast from an old-fashioned chuck wagon. Join in on a campfire sing-along. Spend enough time doing these things and you may start feeling like a proper cowboy (or cowgirl). Yet this is all part of the experience at Dixie Dude Ranch in Bandera, a working guest ranch nestled in 725 gorgeous acres in the Texas Hill Country. Breathe the fresh air, savor delicious home-cooked meals, and set your own pace at this Texas dude ranch, an idyllic retreat for city slickers and well-practiced ranch hands alike.
Your immersion into ranch life starts in your very own home on the range. Choose from a variety of guest rooms, cabins, and cottages appointed with natural wood furniture, Western blankets, and other rustic furnishings. All rooms have contemporary comforts as well, including air conditioning, private bathrooms, and vented heat. If you're looking to escape the distraction of modern life, opt for one of the guest rooms that don't come with televisions. Otherwise, go for a deluxe cabin that has a television, microwave, coffee maker, a small refrigerator, and a fireplace (in some cases).
The possibilities are endless once you step outside of your home away from home. It wouldn't be an authentic Texas dude ranch vacation without some horseback riding, and as a guest you get two free rides a day. Most rides are an hour long and done at a relaxed pace, giving you more than enough time to look around and appreciate the beauty of the countryside. While riding horseback is an essential thing to do at Dixie Dude Ranch, it's not the only way to enjoy the outdoors. Hike the scenic trails, go catch- and release-fishing (gear provided), play basketball or volleyball, or cool off in the swimming pool that offers a great view of the surrounding hills. To really unwind, book a massage with one of the ranch's registered massage therapists.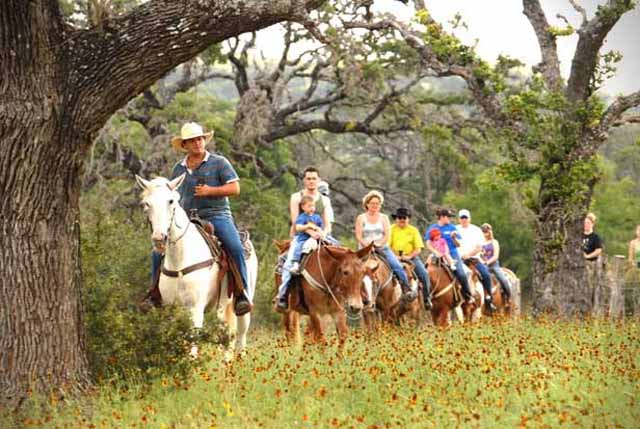 All this horsin' around is likely to give you a Texas-sized appetite, so it's good news that Dixie Dude Ranch serves up culinary delights throughout the day. Try not to drool when the bell rings, calling you to the family-style chow hall where you'll dig into Lone Star favorites like the famous barbecue ribs, pork sausages, brisket, fried chicken, and mashed potatoes. The occasional cowboy breakfast served out on the range, along with special dinners on Saturday evenings and Sunday afternoons, gives you (and your taste buds) plenty to look forward to during your stay.
Wind down at a campfire sing-along, or find a quiet spot and gaze at the night sky filled with thousands of brilliant stars. When the sun rises on a new day, set out again to enjoy all the sights, sounds, and romance of the Old West. If you're looking for a genuine Western getaway, or you want to live the life of a cowboy, book your next vacation at Dixie Dude Ranch, one of the top dude ranches in Texas.
---
---