---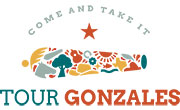 7 Great Ways to Enjoy a Weekend Getaway in Gonzales
By James Waterson

Explore the birthplace of Texas freedom where a small cannon, a handful of heroes, and the 'Come and Take It' flag sparked a revolution. Visit all the Texas history museums in the-only-in-the-state Texas History Museum District. Marvel at the size of the 'Come and Take It cannon' and stand at the foot of the monument erected to honor the sacrifice of the only reinforcements to the Alamo garrison, the Immortal 32, who answered Travis' call.
Experience true southern charm and hospitality as you discover the history, historic homes, monuments, and museums that are unique to Gonzales. Stay to enjoy unique shopping, lodging, dining, and true Texas hospitality. Located an easy one-hour drive from San Antonio and Austin and just over two hours west of Houston, Gonzales is an easy-to-reach destination with history and an identity all its own.
For Info call 830 672 6532 and visit TourGonzales.com.
---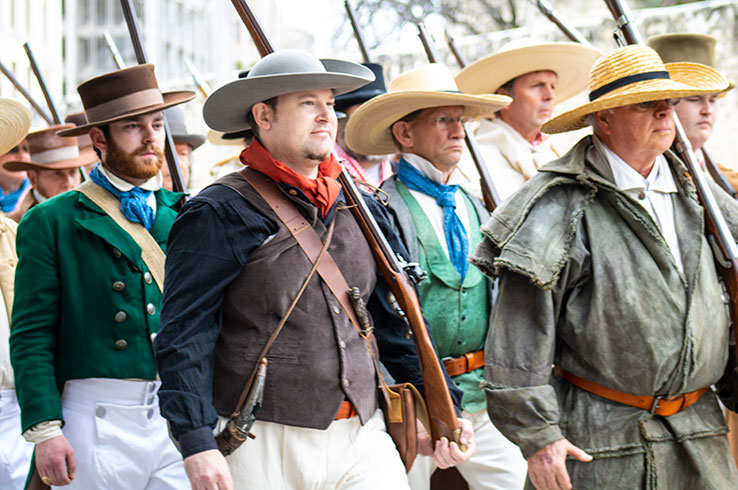 Pay Your Respects to the Immortal 32
Pay Your Respects to the Immortal 32 brave souls who gave their lives for our freedom when you visit their Memorial at the Gonzales Memorial Museum. Here you will find the tiny 'Come and Take It' cannon that started it all and all manner of early Texas artifacts. Next, stop by the Old Jail Museum where the legends of Texas lawmen and outlaws come to life and gallows still stand. Step back in time and spend an afternoon at Pioneer Village, home to a dozen 1800's and 1900's-era homes and buildings from around Gonzales County.
Over 700 historic pistols and rifles, helmets and holsters, and all manner of military memorabilia from two centuries of conflict make up The Charles DuBose Collection in the Robert L. Brothers Memorial Library. Firearm enthusiasts and historians cannot afford to miss this world-class exhibit.
While at this more-than-meets-the-eye library, peruse the largest collection of original Texas Revolutionary documents on public display. Original signatures from Davy Crockett, Colonel William Travis, Generals Sam Houston, and Santa Anna highlight the extraordinary collection.
Can't get enough of Texas history? Discover Gonzales' other historic sites here.
---

Relax in a Charming Hotel
Where you stay is one of the most important parts of a weekend getaway, and Gonzales' one-of-a-kind bed and breakfasts and inns provide inviting places to escape. Located in the historic Dilworth Bank Building in the heart of downtown Gonzales, The Dilworth Inn & Suites is a boutique hotel that has it all. The 14 spacious rooms feature contemporary and traditional design elements and everything you need to feel right at home. Wake up early for the complimentary continental and come back for La Bella Tavolas's delicious Italian fare.
For a taste of Gonzales' history, opt for one of its bed and breakfasts. Live it up in the luxurious rooms found in the Belle Oaks Inn and the St. James Inn, two breathtaking historic homes built in the early 1900's. The Laurel Ridge Inn serves up ample charm as well, as each room is furnished with antique furniture and fine art. Feel all your stress melt away as you soak in a hot bath and rest easy in your bed topped with luxurious linens in your own private getaway. Finally, if you want some space to stretch your legs along with a bit of privacy, book The Cabana Guest House. This roomy one-bedroom home features an in-ground pool, spa and sauna, along with a full kitchen and its own custom pool table, making it the kind of place you'll want to hang out in all day.
Gonzales is full of unique places to spend your weekend. See the rest here.
---

Hunt for Unique Treasures
Shopping in Gonzales is an epic treasure hunt. Browsing through stores you won't find anywhere else; you never know what you will uncover. Grab stunning new character pieces for your home, from doorknobs to hardware to stained glass, at Discovery Architectural Antiques. Just down the street at Laurel Ridge, you will find antique American furniture, regional artisan creations and Christmas treasures year-round.
Hunt for more vintage items from the thousands available in the shops that line the streets in the heart of Historic Commercial downtown. Looking for something with an urban edge? Head to Urban Spaces and explore the eclectic mix of furniture and accessories to awaken and renew your home.
How about revitalizing your personal style? Pop into Angels & Outlaws, one of the funkiest boutiques in the heart of downtown Gonzales, and stroll through Shear Designs, a shop that is beautifully set in a reimagined mid-century gas station. You could easily spend all day, or maybe two, in just these shops, but they are only a few of the many shops here.
---

Treat Yourself to Delicious Eats
Enjoy everything that Gonzales has to offer during a weekend getaway and you're bound to work up a Texas-sized appetite. Fortunately, there's a long list of mouthwatering food you can dig into for breakfast, lunch, dinner, and dessert. Craving good old-fashioned Texas barbecue? Rated by Texas Monthly as one of the top 50 barbecue joints in Texas, Baker Boys BBQ is the place to go for pit-style, pecan-smoked brisket, chicken, pork tenderloin, ribs, sausage, and turkey. Make sure to try the stuffed chicken leg, a house specialty.
In the heart of historic downtown, find the Gonzales Food Market, where they have been serving barbeque and all the fixings for over fifty years. They even ship their secret recipe hot sausage around the world. Get ready to savor some of the best lasagna, home-baked pastas, and piping-hot pizzas this side of Italy at La Bella Tavola, located right in the heart of one of the seven historic downtown squares.
Authentic Mexican food, bar and grill fare, mouth-watering pizzas, and ice-cold beer are found throughout this bustling, busy little city. Breakfast, brunch, or lunch, anyone? Gonzales has you covered. Head to Come and Crepe It, where the crepes, omelets, croissants, and lattes are well worth the trip. While these spots are among Gonzales' best, there's far more to the town's dining scene. Whet your appetite here.
---

Indulge in Some Self Care
If you think pampering yourself is an essential part of traveling, you'll find everything you're looking for at the thrive HEALTHPLEX's Rejuvenate Med Spa. Loosen up tight muscles with a Swedish or deep-tissue massage and rejuvenate your skin with one of many types of facials. The spa even offers laser and Botox treatments, peels, and waxes. Want to work up a sweat while you're in town? Step on over to Thrive Fitness, the on-site gym stocked with state-of-the-art equipment and a recreational pool.
---

Get Outdoors
Hike scenic trails, play a round on a picturesque golf course, and savor a picnic in the Civilian Conservation Corps (CCC) Pocket Park overlooking the river. Wander down the 2.35 mile hiking and biking trail at beautiful Independence Park while taking in the scenic view of the Guadalupe River along the way. Spend the remainder of the day grilling, splashing in the swimming pool or playing on the basketball and volleyball courts. These are among the many ways you can celebrate the outdoors in Gonzales.
A nine-hole course tees up plenty of challenging play that still accommodates players of all skill levels. But it's not the only kind of golf in town. Enjoy an afternoon out with friends on Gonzales City Parks' 18-basket disc golf course that includes rolling fairways, wooded areas and even a nineteenth century wooden bridge.
Find even more adventure at the nearby Palmetto State Park, where you can swim, tube, fish, and paddle in the San Marcos River or hike nearly five miles of trails that are perfect for world-class birding and wildlife watching. Be sure to take a spin on the dance floor in the Civilian Corp.-built pavilion that has hosted family and friends for almost a century.
No matter how you love spending time in nature, you'll discover it in Gonzales.
---

Paddle the Beautiful Guadalupe River
Weaving for miles through the rolling hills of Central Texas, the Guadalupe River is one of the most popular recreational waterways in the state. With its two official paddling trails, Gonzales is a great place to experience it for yourself. Follow the trickling waters of the Guadalupe along the Independence Paddling Trail, a 2.6-mile loop accessible from Independence Park that is perfect for leisurely afternoons on the river. If an adventure is what you seek, paddle the Come and Take It Paddling Trail. Watch wading herons and egrets, rest in the shade of cypress trees, and relish the feeling of being far away from it all as you meander along this 11-mile route.
---
Whether you love spending time outdoors, learning about the remarkable history of Texas, or you're simply looking to get away from the hustle and bustle of the big city, Gonzales has everything you need to create your own getaway. Plan your visit here.
About the Author: James Waterson is the head writer and content specialist for Tour Texas. When he isn't writing about the many great places in the state of Texas, he's planning his next epic adventure in the Lone Star State.
---
---