---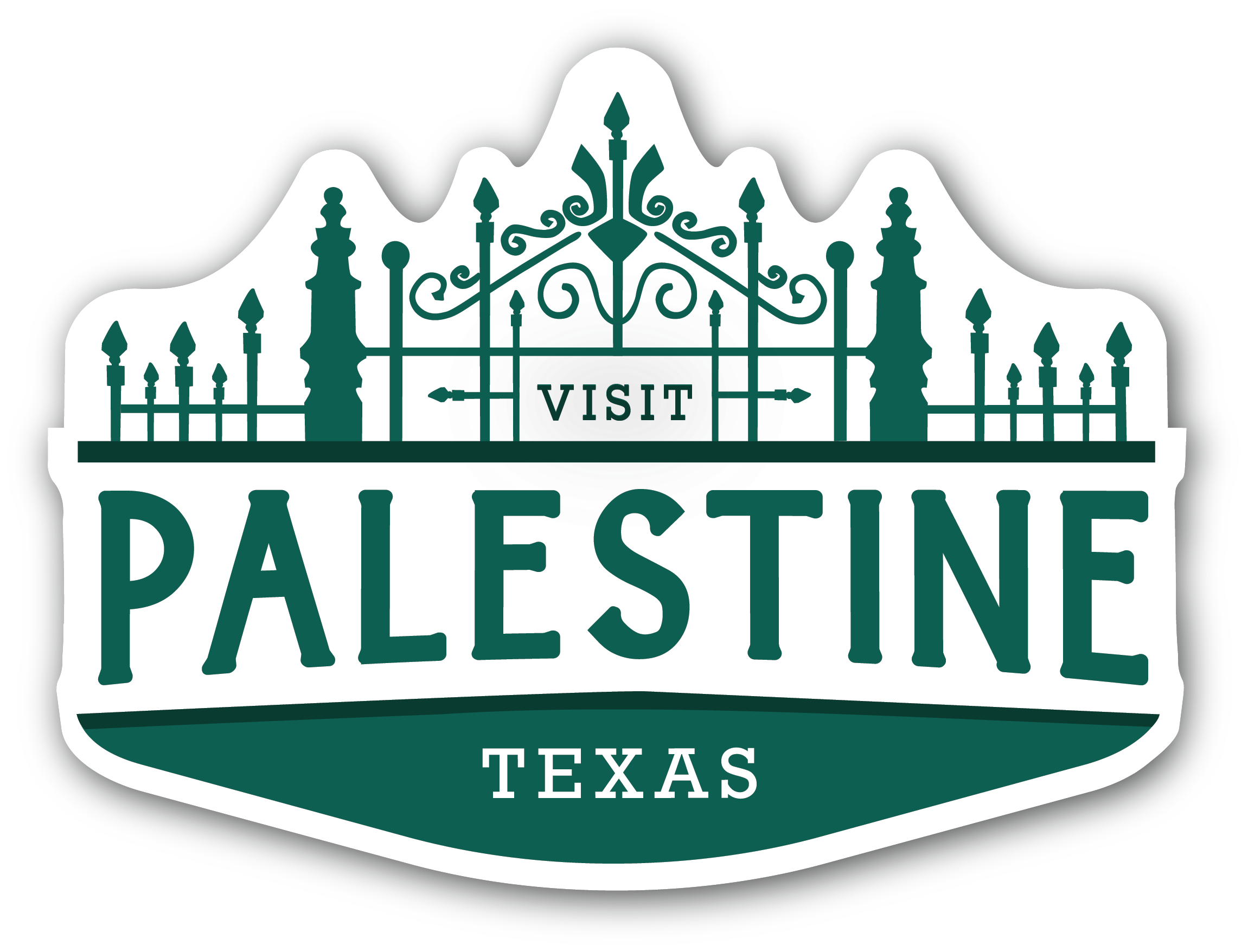 5 Reasons to Experience the Magic of Fall in Palestine
By Ashley Donde
Dogwood trees resplendent in dazzling shades of amber, scarlet, and gold. Fresh, cool air best enjoyed on a backwoods trail. Welcome to fall in Palestine, where leaf peepers and nature lovers will find an autumn's abundance of ways to celebrate the season. Settled among thickets of pine and oak about 115 miles southeast of Dallas, this East Texas charmer is an easy-to-reach getaway all its own. Discover five of the many reasons you should experience the magic of fall in Palestine, then plan your trip here.
---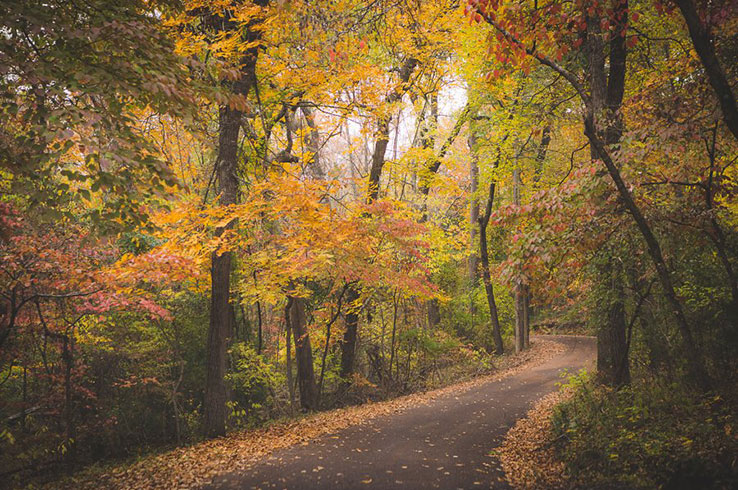 East Texas' Fall Colors Are a Must See
Radiant reds and brilliant yellows announce autumn's arrival every year in Palestine, creating an awe-inspiring (and ever-changing) backdrop you won't find throughout much of Texas. Taking in the vibrant beauty of the season is as easy as getting behind the wheel of your car. Cruise the five-and-one-half-mile driving route at Davey Dogwood Park and you'll find yourself immersed in nature's splendor. Take your time, as you'll probably want to pause for photo-ops or to simply appreciate the abundant allure of East Texas.
To see even more autumn colors, follow the Pineywoods Autumn Trail. This scenic 145-mile route takes you through Davey Dogwood Park, north along Highway 19 to Athens, east to Leagueville, and finally south down Highway 315 back to Palestine. This picturesque drive serves up views of native deciduous trees that create a dazzling landscape of color. Along the way, visit a local winery and discover what other treasures this part of East Texas has in store for you.
Fall's hues typically show up in late November, so keep that in mind as you're planning your next fall road trip.
Photo Credit: Mandy Meaux
---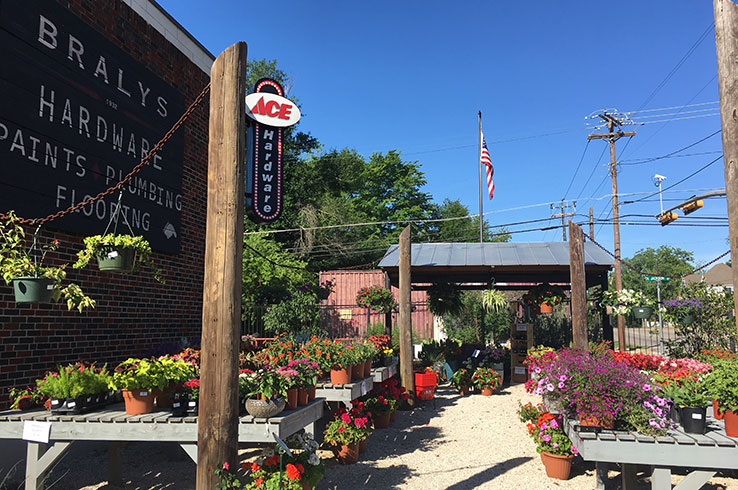 Shop the "Coolest Hardware Store on the Planet"
There's nothing quite like Bralys Hardware Store. To see why, all you need to do is stand outside the building. Situated in a 1930's red-brick walled elementary school with art deco charm, this locally owned shop is both a functioning hardware store with a large inventory and a Texas landmark. Step inside and you'll find everything from garden supplies and lawn equipment to paints and Yeti coolers. The automotive, electrical, tools, and other categories of products are placed in former classrooms. Even if you're not in the market for anything, wandering through is well worth it. You might even leave thinking it really is the coolest hardware store on the planet.
---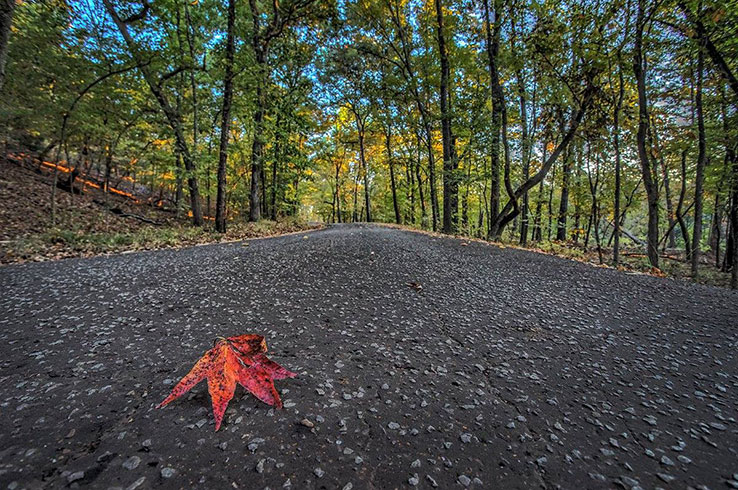 It's Easy to Enjoy the Fresh Air of Autumn
As warm summer days give way to crisp autumn air, Palestine offers a picturesque escape to the great outdoors. The scenic East Texas woodlands of Davey Dogwood Park provide 254 acres of glorious nature for you to explore. Hike or mountain bike along eight miles of trails that take you through a kaleidoscope of vivid fall foliage. These impressive woods create a beautiful backdrop for photos and a peaceful way to relish the cooler temperatures. Arrive early in the day to catch a stunning sunrise from Manly Mountain, an overlook that offers a view of Palestine and miles of treetops and rolling hills off in the horizon.
Photo Credit: Dave Shultz
---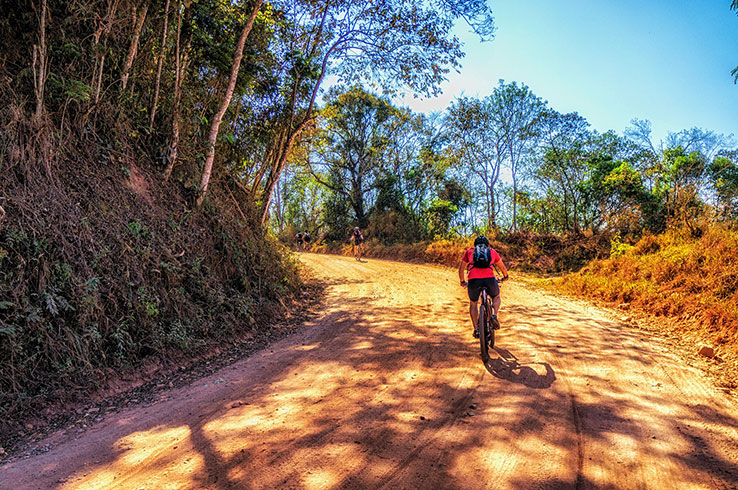 El Camino 105, an Epic Off-Roading Adventure
Pass over streams and by magnificent pines, listen to birds chirping in abundant sunshine, and get away from it all on an epic bike race like no other. Get ready for the El Camino 105 (Sept. 28), a long-distance bike ride that takes you on dirt and gravel roads and over hills and varying terrain through the remote countryside of East Texas. There are three routes to choose from (35, 65, or 105 miles), with water stations available every 25 miles for the two longer options. Ride your course of choice, then celebrate with a cold beer after you cross the finish line. Registration is limited, so make sure to sign up as early as you can.
---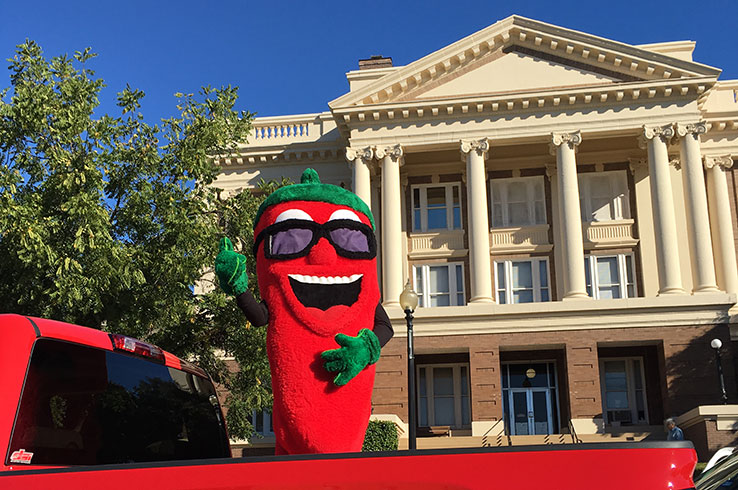 The "Hottest Little Festival in Texas"
Seasons may change, but hot peppers never get less spicy. If you like a bit of heat, Palestine's Hot Pepper Festival (Oct. 26) is the event for you. Join your fellow foodies to celebrate all things spicy at the "Hottest Little Festival in Texas" in Historic Downtown Palestine, where you'll find more than 200 vendors, a farmer's market, a kids' zone, and live bands jamming throughout the day. Want to show off how tough you are? Enter the hot pepper eating contest or sit back and watch the competitors sweat it out.
---
Experience the changing of the seasons as you explore one of east Texas's most colorful gems. Palestine's natural beauty will have you eager to spend your days in the great outdoors. Discover more about this scenic destination, then plan your fall getaway here.
About the Author: Ashley Donde is a freelance writer who loves adventure. Her family of four can often be found exploring the great outdoors, touring museums, or enjoying a local festival.
---
---