---

7 of the Best Reasons You Should Experience Fall in Denton
Autumn is a time of transition, when summer's sizzle cedes to fall's inviting sunshine. With its breathtaking sunsets and trees fabulously festooned with vibrant hues of red, orange, and yellow, North Texas offers some of the best of the season. There are few places better to experience this time of year than Denton. Situated among rolling farmlands just north of Dallas and Fort Worth, this lively destination celebrates autumn with one-of-a-kind festivals, tons of live music, and an endless number of ways to play outdoors. See why you should visit Denton this fall, then plan your stay here.
Tour Texas Tip: Plan your autumn adventure in Denton like a pro with Discover Denton's intuitive and easy-to-use Visit Widget app. To use it, visit DiscoverDenton.com and click on "Plan Your Visit" at the bottom of the page.
---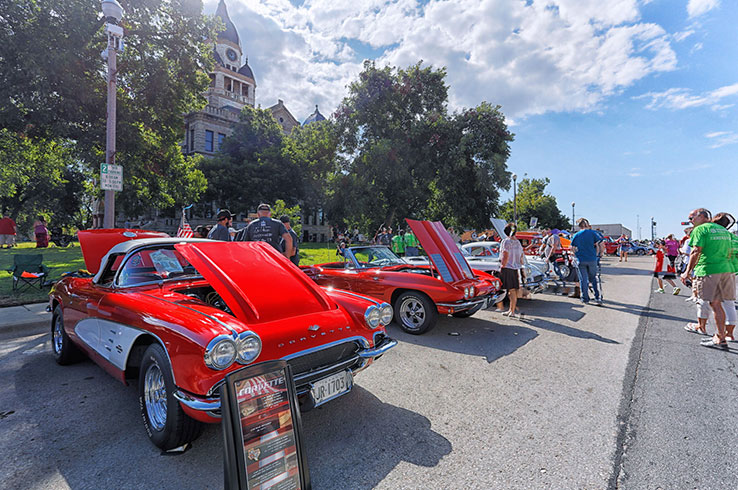 Enjoy One of Many Fall Festivals
Check out eye-catching autos, watch a coffin race (yes, you read that right), and burn off some pre-Thanksgiving calories on an epic bicycle ride through beautiful North Texas. Fall is festival season here in Denton, and there's something for everyone. Start with Arts & Autos (Sept. 14), a long-running event that brings dozens of vintage cars, trucks, and motorcycles to the downtown square for an outdoor car show that is a must-see for auto enthusiasts. When you're not admiring the cars, check out all the chalk art covering the downtown area's sidewalks made by more than 100 artists.
Are you the type of person who must take their favorite puppy everywhere? Dog Days of Denton (Oct. 5) is your kind of event. Not only will you live it up with your doggie, but you can even enter them in a variety of contests, get your furry friend some glamorous portraits, and indulge in delicious fare for all. As for those coffin races, you can find them at Denton's Day of the Dead Festival (Oct. 26). Witness weird, wacky, and whimsical coffins zooming down the streets of Downtown Denton, then play in a pumpkin patch before taking in the frights of the Cirque du Horror musical and all the vibrant color of the twilight lantern parade.
Not enough for you? Pack your road bicycle and other gear for the Turkey Roll Bicycle Rally (Nov. 23). With routes ranging from eight to 68 miles, you can ride along no matter your level of endurance. Of course, no fall visit to Denton is complete without browsing the Community Market. Held every Saturday morning through November, the market gives you the chance to stock up on fresh and local produce, baked goods, cheese, honey, and other goodies. No matter when you visit Denton this fall, you'll always find something great going on.
---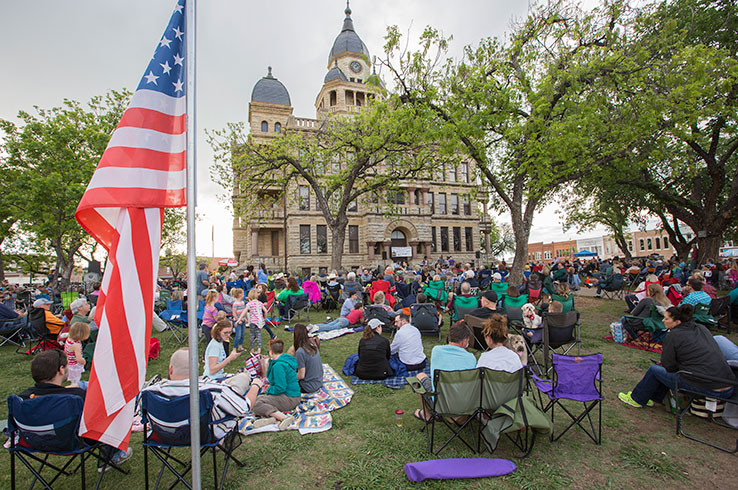 Feel the Rhythm at Denton's Spectacular Music Festivals
Denton is one of the best places in Texas for live music, in part because of its spectacular fall festivals. Dance along to tunes played by some of the best blues musicians from Texas and beyond at the Denton Blues Festival (Sept. 21 – 22), a local annual tradition that also includes delicious food and kid-friendly activities. To take a step back into a different era of music, make sure you're here for the Industrial Street Pop Festival (Oct. 12). Lovingly known as Geezerpalooza, this event celebrates the music of the 60's and 70's with a full day's worth of performances by top tribute bands.
Of course, you can listen to live music just about every day in Denton. Yet you won't want to miss any of the shows of the Twilight Tunes Fall Concert Series. Settle down on a piece of prime real estate on the grassy lawn in front of Denton's historic courthouse on Thursday evenings from Oct. 3 – 24 to hear an eclectic array of local artists perform. No two shows are the same, so you can make the concert series an early start to any fall weekend in Denton.
---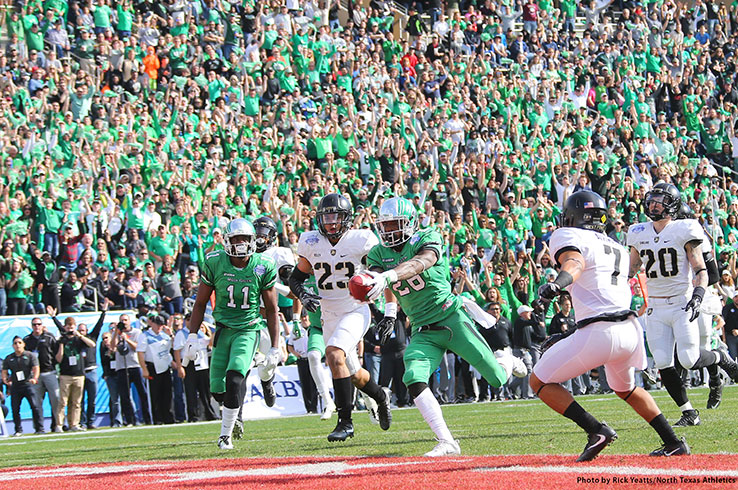 Cheer on the Mean Green Football Team
Fall is college football season, and soaking up the gameday atmosphere of a UNT Mean Green football game is a must while you're here. The Eagles, the former team of pro football hall of famer "Mean" Joe Greene and even pro wrestler Stone Cold Steve Austin, take on the best of Conference USA in NCAA Division I action from late August through the end of November.
Get in some pregame tailgating fun on "The Hill" before finding your seat in the more than 30,000-seat Apogee Stadium. Join in on the UNT fight song and listen for the thunderous blast from Boomer, a replica cannon fired every time the home team scores. The Mean Green have made three bowl games in the last three years, and its roster just may include a few future pros that you can say you saw before they make it to the big leagues.
Ready to root for the Mean Green? See the full schedule and get your tickets here.
---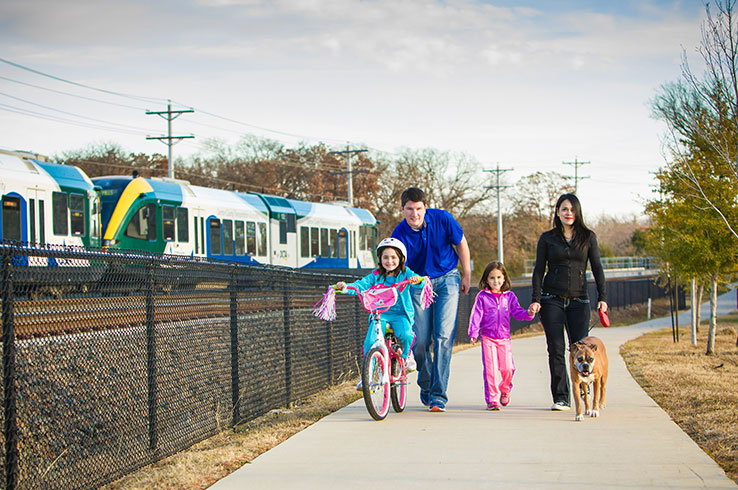 Hit the Trails
Autumn's abundant sunshine and friendly weather makes it a fantastic time to be outdoors, and you'll find two spots in Denton that are well-worth exploring. Hike through 2,900 acres of bottomland hardwood forests, upland prairies, and scenic wetlands at the Clear Creek Natural Heritage Center. Take your time as you traverse 10 miles of trails and you just might encounter cardinals, sparrows, woodpeckers, and dozens of other birds, as well as beavers and other wildlife.
If you're after more urban exploits, or you're looking for a great place for a long run, follow the Denton Katy Trail. Extending from the Denton Downtown Transit Center 8.6 miles southeast to outskirts of town, the trail offers ample distance, plenty of access points, and few street crossings. Whether you're looking to immerse yourself in nature or for a great workout without wandering too far from town, you'll find a pathway for you in Denton.
---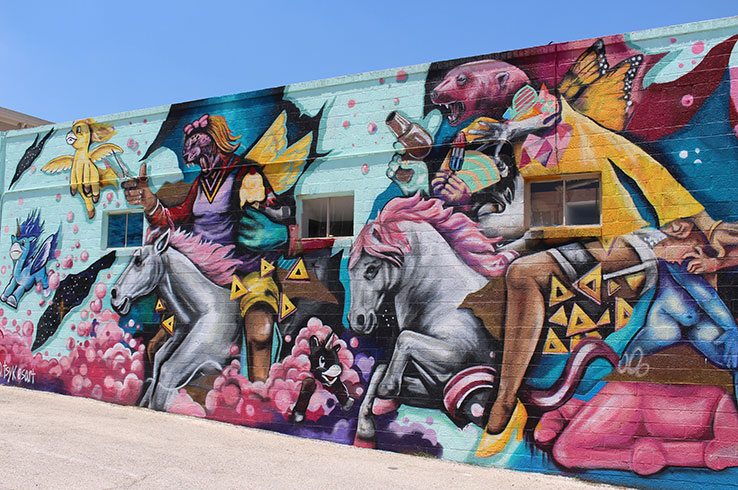 Discover Denton's Eye-Catching Murals
Downtown Denton is known for its live music scene, but there's something else about this part of town that will stick out to you while you're here. Captivating murals large and small are splashed across many a brick wall throughout the downtown area. Going on a scavenger hunt to find them is one of the best things you can do here in the fall. The sprawling mural at Juicy Pig Barbecue is an ideal place to start. Evoking the art of the 1950's and those famous animated sketches from Monty Python, it's a reflection of the vibrant, and oftentimes whimsical nature, of downtown Denton's murals.
Whether you're strolling or cruising from one mural to the next, finding them all might take you all day. Fortunately, there are two mural tours you can follow, both of which also allow you to see the many other things that make Denton unique. Plan your next mural adventure with Discover Denton's VisitWidget app, which you can find here.
---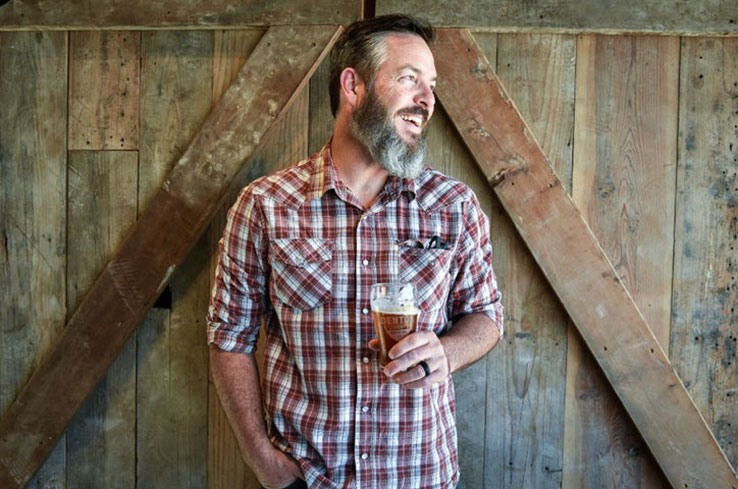 Savor Local Craft Beer
A pint full of a hoppy IPA, pleasantly warm sunshine, and an outdoor patio. How can you beat that? You can enjoy local and Texas-made brews at breweries and pubs throughout town. In fact, there are so many places to do so that you might need a bit of guidance. That's where Denton's craft beer tours come in. One, a craft beer walk, takes you to the likes of Armadillo Ale Works and the Denton County Brewing Company, both of which make their own brews. The other, Brew Up a Good Time, pairs beer with distinctly Denton experiences. After all, who wouldn't want to sip on a delicious stout or an amber ale while playing vintage arcade games or a game of cornhole?
Start planning your day by checking out the two craft beer tours on Denton's VisitWidget app here.
---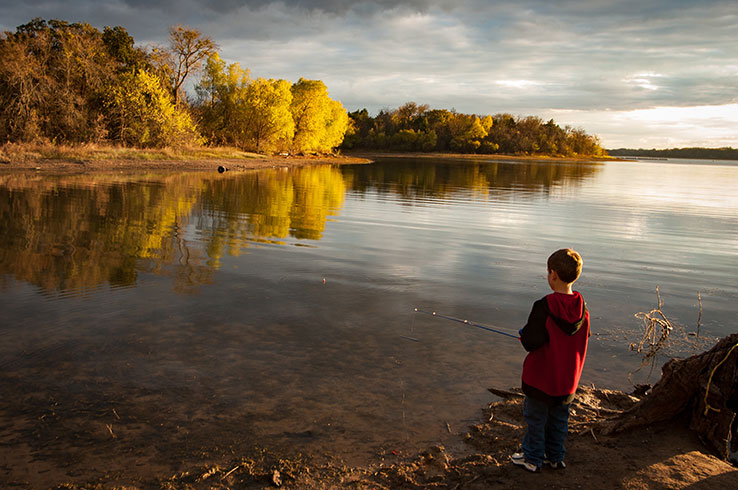 Escape to Ray Roberts Lake
Lose yourself among prairie grasslands and forests of elms, pecans, and oaks. Try your luck at hooking a largemouth bass, spotted gar, or catfish that you can brag about later. Watch for painted buntings, roadrunners, great horned owls, and even bald eagles. All this awaits at Ray Roberts Lake State Park, a natural wonderland home to three distinct ecosystems (blackland prairie, hardwood forests, and wetlands) just 15 miles northeast of Denton. Savor the cool fall air as you hike nearly 60 miles of trails, bike, ride horseback, and fish in the lake or a special kids' fishing pond. There's even a sandy beach perfect for picnics under the autumn sun.
All of this is more than enough to keep you busy, but there's more. Rent a kayak, stand-up paddle board, or a pontoon boat at the Lake Ray Roberts Marina and you'll be exploring the lake in no time. There's so much to see and do here that you can create your own escape to nature.
---
A calendar full of exciting events and a multitude of ways to revel in the beauty of North Texas are among the many reasons to discover Denton this fall. Find out more about this destination and plan your visit here.
About the Author: James Waterson is the head writer and content specialist for Tour Texas. When he isn't writing about the many great places in the state of Texas, he's planning his next epic adventure in the Lone Star State.
---
---