---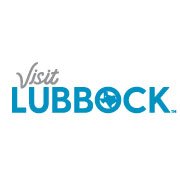 Your Guide to Exploring West Texas' Most Beautiful Places
Roaming bands of bison, rugged sandstone canyons gleaming orange in abundant sunshine, and valleys blanketed by verdant cottonwood trees and flowering cactuses. Welcome to the wild side of West Texas, a region unlike any other in the Lone Star State. Immerse yourself in all its natural beauty at two of the state's most spectacular outdoor destinations, Caprock Canyons State Park and Palo Duro Canyon State Park.
Exploring both should top your Texas travel bucket list, and Lubbock is the ideal starting point. Not only is the "Hub City" a 90-minute drive from both parks, it's also easy to reach via daily direct flights from Austin, Dallas, Denver, Houston, Las Vegas, and Phoenix. Beyond the convenience, Lubbock is home to a wide array of hotels, a diverse dining scene, and numerous world-class wineries for when you need some rest and relaxation.
Read on to see what adventures await at Caprock Canyons and Palo Duro Canyon, and discover all that Lubbock has to offer here.
---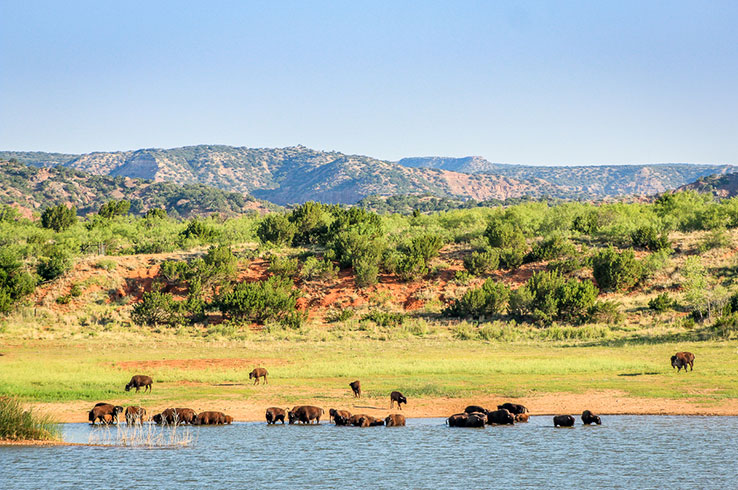 Caprock Canyons State Park & Trailway
Covering nearly 24 square miles of sweeping grasslands and rocky cliffs splashed with vibrant shades of orange, Caprock Canyons is the kind of place where you could get joyfully lost in. You wouldn't be the first. Formed by the flowing waters of Little Red River over millions of years, the colorful shale, sandstone, siltstone, and mudstone canyons are separated by sprawling valleys of juniper and scrub oak trees, yuccas, and cactuses. These lush lands have provided for various groups of people over 12,000 years, from early Native Americans to Spanish pathfinders and famed 19th-century cattlemen like Charles Goodnight. Today, the park is home to the official Texas State Bison Herd, one of the last groups of southern plains bison that was rescued from extinction in the 1990s.
Traversing Caprock Canyons' more than 90 miles of trails provides a compelling glimpse of Texas at its most remarkable. Trails range from easy jaunts on flat-top hills to the challenging Haynes Ridge Overlook Trail, a 2.3-mile path that ascends 600 feet to park's highest peak that provides a tremendous overlook of the surrounding landscape. Other trails take you along canyon rims and trickling creeks past stunning rock formations and through lands cattle once roamed. If mountain biking is your thing, follow the Caprock Canyons Trailway 15 miles south to Clarity Tunnel, where about half a million bats reside from April to October. The trailway runs for miles east and south from the state park, giving you plenty of space to knock around.
When you're not hiking or mountain biking, find your way to the 120-acre Lake Theo. Set among rolling grasslands and towering bluffs, the lake affords a serene place to camp, swim, and fish for trout. No matter how you enjoy your time in Caprock Canyons, keep an eye out for the bison, as you won't see them anywhere else.
---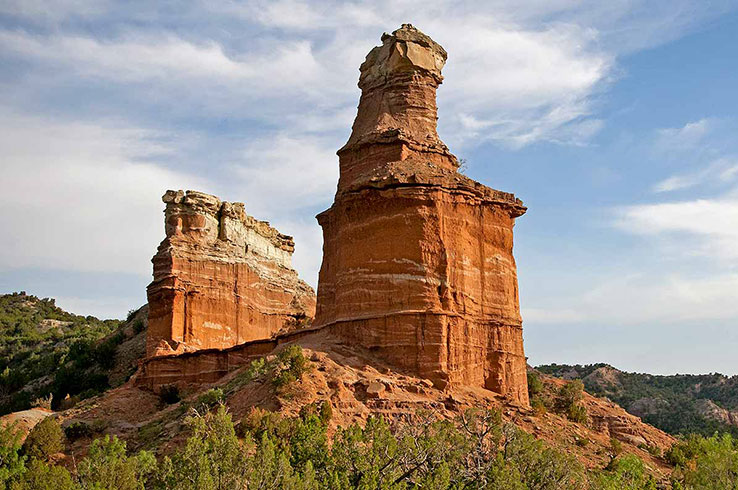 Palo Duro Canyon State Park
Travel deep into the heart of the Texas Panhandle and you'll find a true natural wonder. Canyon walls gleaming orange in bright sunshine, otherworldly rock formations, and scenic trails lined with mesquite and juniper trees await at Palo Duro Canyon. About 120 miles long and 20 miles wide, and with a depth of roughly 800 feet, Palo Duro is the second largest canyon in the country. Formed over millions of years, the canyon is a majestic showcase of nature's power. Descend into its depths and you'll see vibrant layers of rock in the canyon walls that tell a story 250 million years in the making.
These days, one of the best ways to experience all the canyon has to offer is by tying on hiking shoes and exploring more than 30 miles of trails. If a strenuous, yet rewarding, hike is what you're after, traverse either the Upper Comanche or the Lower Comanche trails. The former takes you across a river and deep through Comanche territory to an overlook halfway up the canyon wall, while the latter meanders beneath Fortress Cliff and past spring-fed streams and Rocky Mountain junipers. Meanwhile, the Juniper/Cliffside trail offers a more easygoing stroll past percolation caves carved by moving water over time. No time in Palo Duro Canyon is complete without seeing the Lighthouse, the park's iconic rock formation. Follow the Lighthouse trail to see it for yourself, and make sure to bring plenty of water.
Of course, there are other ways to uncover Palo Duro Canyon's many wonders. Ride horseback on the canyon floor on a guided tour with Old West Stables or find your way along many of the trails on your mountain bike. The canyon's lush landscapes and variety of terrain makes it a veritable hotspot for birdwatching. Golden-fronted woodpeckers are among the many birds you can see throughout the year, while summer welcomes such colorful species as painted buntings and Bullock's orioles. Keep a keen eye and you may even see bobcats, coyotes, and wild turkeys, as well as members of the official State Longhorn Herd (descendants of cattle brought by the Spanish in the 1500s).
---
When you're planning your next epic outdoor adventure, look no further than two of Texas' most remarkable places: Caprock Canyons State Park and Palo Duro Canyon State Park. Start planning your trip by checking out what Lubbock has to offer here, then pack your gear and get ready for an experience of a lifetime.
About the Author: James Waterson is the head writer and content specialist for Tour Texas. When he isn't writing about the many great places in the state of Texas, he's planning his next epic adventure in the Lone Star State.
---
---