---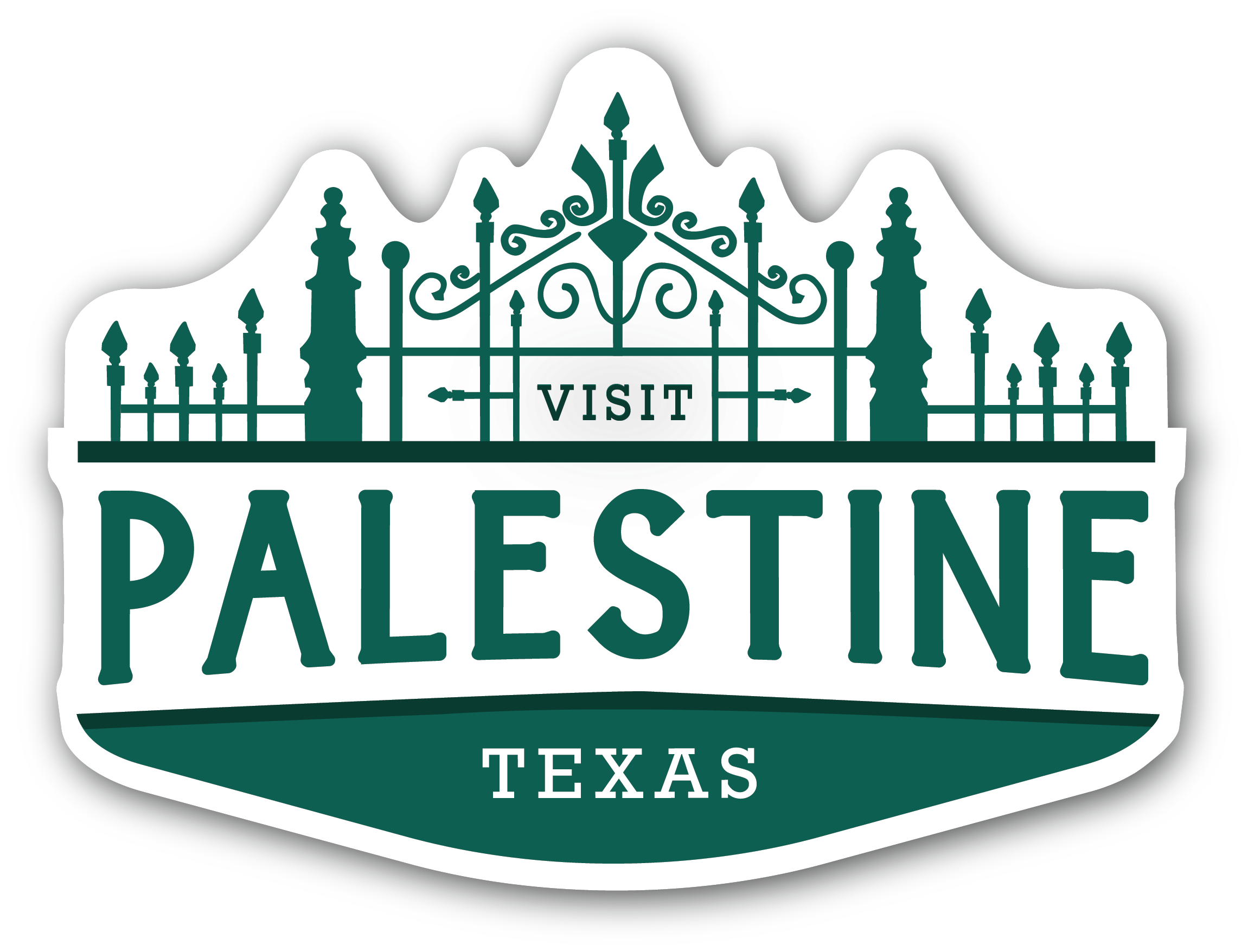 7 Stunning Historical Buildings in Palestine that You've Got to See
From quiet streets lined with breathtaking homes to awe-inspiring churches and a beautiful courthouse, Palestine is a showcase of the grand architectural stylings of a bygone era. Home to more than 1,800 historic structures, along with 27 listings on the National Register of Historic Places, the past is very much the present in this East Texas town. Many of these buildings were constructed during the late 19th-century boom fueled by the arrival of the International and Great Northern Railroad (I. & G. N.), which made Palestine a key shipping destination in the region. Read on to discover seven of the many stunning examples of historic architecture here, then plan your visit today.
Tour Texas Tip: To get the most out of your time in Palestine, download the Visit Palestine app (iOS, Android). Not only can you add places and events to your itinerary, you can also follow along with self-guided tours like the Historic Driving Tour that takes you to more than 100 stops in town.
---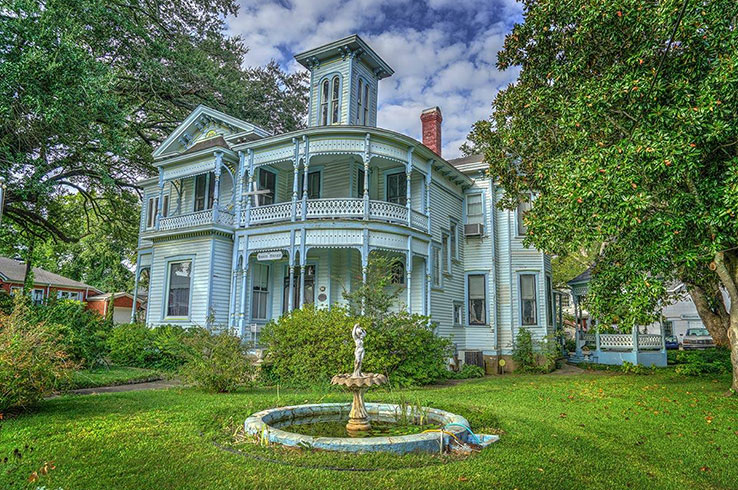 Bowers Mansion (1879)
A few years after the Bowers Mansion was built, a local newspaper called the home "the most artistically planned of any place in the city. The house itself is such an airy, graceful structure, that it is a perpetual delight to the eye, and the surroundings are all harmonious and beautiful." With its grand two-tiered porch, towering cupola (the first in town), and incorporation of Italianate, Queen Anne, and other architectural styles, the home is still one of Palestine's most striking.
Yet the home is much more than an essential stop on an architectural tour. It was built for Prussian-born merchant Henry Ash and his wife Amelia Emilie Ash, and was subsequently bought by Anthony L. Bowers, one of Palestine's most prominent movers and shakers. Bowers was superintendent of bridges and buildings for the I. & G. N., as well as a four-time mayor of Palestine and owner of the Palestine Salt & Coal Company. Along with the original structure, the Bowers Mansion is surrounded by its original outbuildings like the carriage house and the gazebo, a rarity in Palestine.
---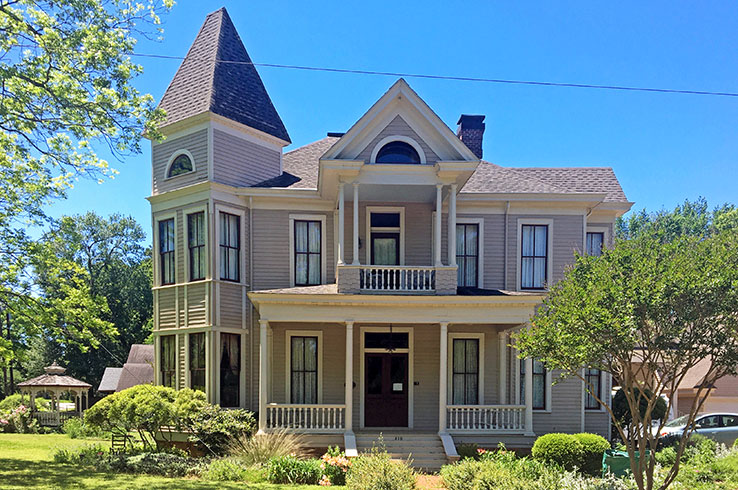 419 South Royall Street (1889)
Espousing the effortless elegance of the Queen Anne style of architecture, the beautifully crafted home on 419 South Royall Street was originally a one-story home for a prominent local doctor. A second story was added less than nine years later, along with the corner tower and pedimented upper-level porch. For more of this style, make your way over to the remarkable John and Emma Hearne House. Constructed in 1896, this three-story house features a soaring rounded tower complemented by stately triangular pediments and a red-brick façade. The eccentric 1897 Edwin and Eva Link House (925 North Link Street) and the 1889-built home on 220 West Reagan are two more examples of homes with abundant Queen Anne charm, each of which has their own stories to tell beyond their architectural stylings.
---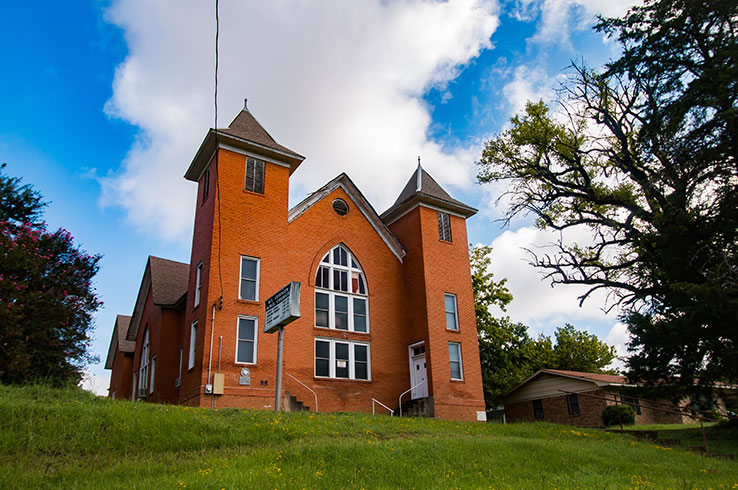 Mt. Vernon A.M.E. Church (1921)
Palestine's Mt. Vernon A.M.E. Church is much more than a place of local significance. Constructed in 1921, the National Register of Historic Places-listed structure is home to the third oldest African-Methodist-Episcopal congregation in Texas. Stand in front of the church and you'll see two three-story-tall towers that frame the main body of the building, which features a steeply pitched roof and pointed arched windows. The church is one of the only examples of gothic-revival architecture you'll see in Palestine, so take your time to admire it.
Photo Credit: ReneGomezPhotography.com?
---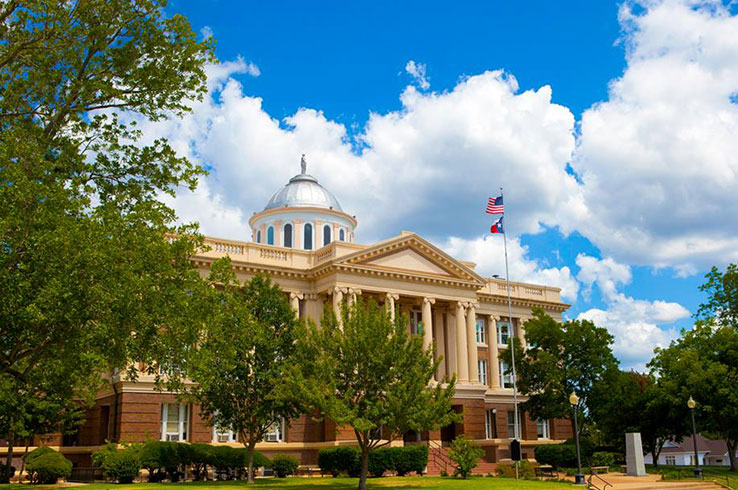 Anderson County Courthouse (1914)
Any architectural or historical tour of Palestine should start at the impressive Anderson County Courthouse. Standing in the heart of Palestine's historic downtown area, the courthouse is a living piece of history. Built with brick and limestone, its classical-revival and beaux-arts architectural stylings include an imposing façade of towering columns and expansive pediments that stand above the third floor and all four sides of the building. No matter where you are in the square, you'll undoubtedly see one of the courthouse's most impressive features: its large dome. Step inside the National Historical Landmark to see the stained-glass dome from below, as well as the remarkable double-spiral staircase.
Palestine is home to many buildings made with the classical revival style of architecture, with the Bailey-Summers House (1900) and the International & Great Northern Railroad Employees Hospital among two of its best examples.
---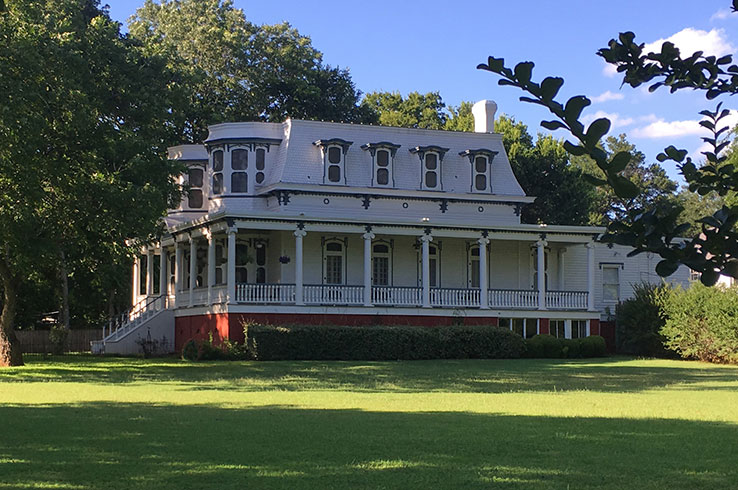 412 South Royall Street (1884)
Today, the opulent home at 412 South Royall Street is just one of many show-stopping houses that line this historic street. Look closer and you'll see there's something that sets it apart. Sloped mansard roofs, dormer windows, and octagonal pavilions make this a rare example of French Second Empire architecture. The home was built for merchant, pioneer, and local banker Nathaniel Royster Royall and his wife Annie Richardson, and much of its stylings were likely inspired by homes Royall saw in Galveston. Not only is the home architecturally significant, it also holds a key part of local history. The Palestine Public Library was founded during a reception here. Remarkably, the home is still in the Royall family to this day.
---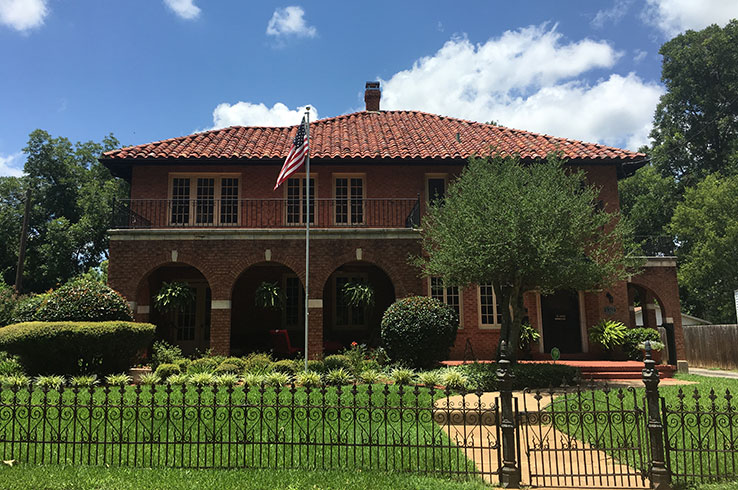 601 South Sycamore (1929)
Cruise down South Sycamore Street and you'll pass a house that stands out from the rest. Tucked away behind a decorative wrought-iron fence is a red-brick-faced, two-story home with rounded arches, a low-pitched terracotta roof, and a second-floor balcony that overlooks the street. Originally a frame Victorian house, the first owner was German immigrant Solomon Maier, who was the second president of Palestine Salt & Coal Company. The home was remodeled during the latter stages of the Spanish Revival era, which is why the façade features all the hallmarks of Mediterranean architecture. It's also one of the few examples of the style in Palestine, making it an essential stop on your historical tour of town.
---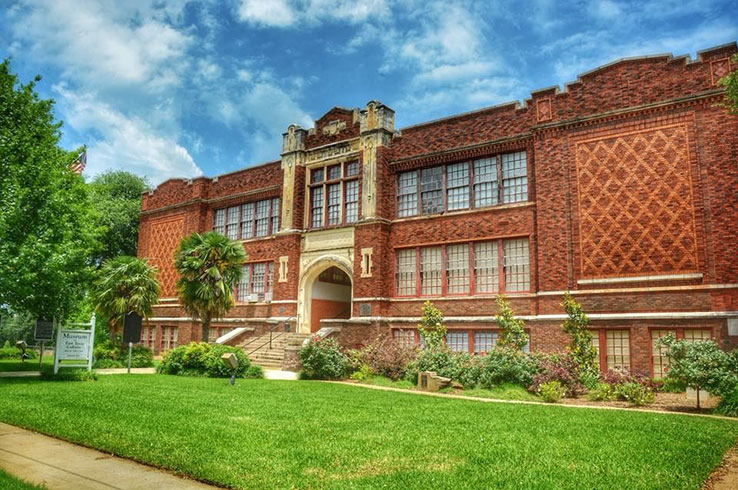 Reagan School (1916)
Designed in the Tudor-gothic style, the building's main points of interest are the polychromatic brickwork and the extensive use of limestone. The structure was once a high school that started serving students in 1916, and it was in use until 1976. Another instance of Tudor architecture is the home at 303 South Royall Street, which was built in 1928 for former surgeon for I. & G. N. and Palestine mayor Dr. Robert H. McLeod.
---
Home to more than 1,800 historic homes and other buildings, Palestine is a must-visit for history enthusiasts and architecture lovers. Download Visit Palestine's app and start your adventure today.
About the Author: James Waterson is the head writer and content specialist for Tour Texas. When he isn't writing about the many great places in the state of Texas, he's planning his next epic adventure in the Lone Star State.
---
---