---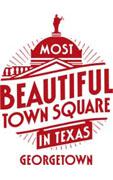 5 Fantastic Things You Can Do in Georgetown this Fall
Cool afternoons, brilliant sunsets, and the changing of leaves from lush greens to shades of orange and red announce autumn's arrival. As summer cedes to fall, now is the time to head to Georgetown. Located just north of Austin, this welcoming city has all the charm of the Texas Hill Country, along with everything you need for a remarkable getaway in any season.
Yet fall is something special, as the still abundant sunshine sets the stage for all kinds of outdoor adventures. Home to such attractions as Inner Space Cavern, Lake Georgetown, and the Most Beautiful Town Square in Texas, Georgetown is an easily reached getaway with an identity all its own.
Ready to plan your next fall road trip? Read on to discover some of the best ways you can enjoy autumn in Georgetown, then plan your visit here.
---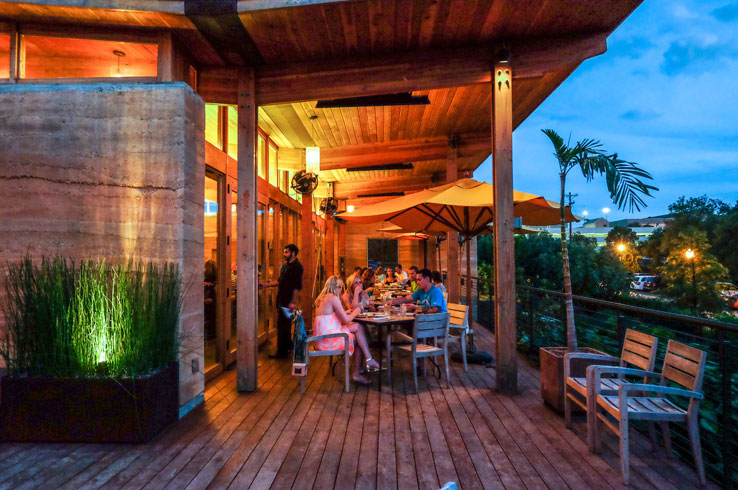 Indulge in Outdoor Dining
With its abundance of locally owned restaurants, Georgetown is an amazing destination for foodies. Although it's easy to find something delicious anywhere you go, autumn's cooler weather makes it the ideal time to enjoy a mean on an open-air patio. Dig into a meaty (or even a vegan) pizza as you sip on your choice of one of more than 30 beers on tap at 600 Degrees Pizzeria. The outdoor space here is set in a shady spot on the side of the building, a historic structure located on the outer edge of downtown Georgetown. El Monumento's airy patio also offers the perfect place to savor traditional Mexican fare paired with your very own margarita made using a Japanese snow cone machine.
For just as much of a sophisticated vibe, check out The Golden Rule. Settle into the backyard patio shaded by a towering oak tree and munch on fried Texas Gulf shrimp or sweet-glazed brussels sprouts with an extensive selection of cocktails and whiskeys. Hungry for more? Check out all of Georgetown's restaurants here.
---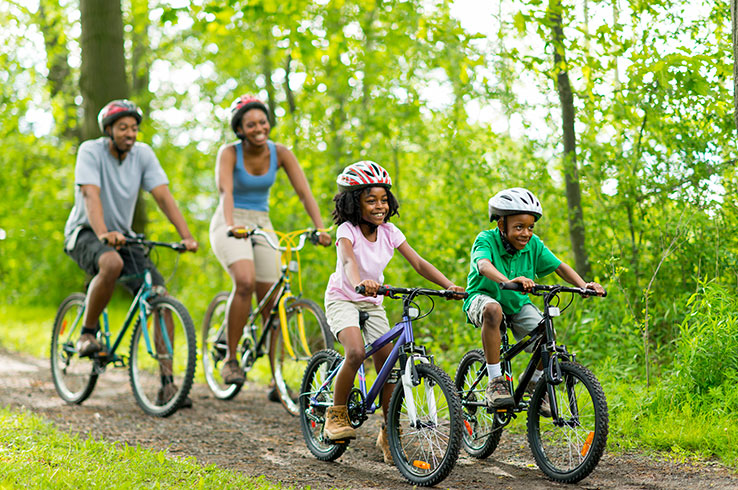 Hike Along the San Gabriel River
With its crystalline waters and tree-lined banks, the picturesque San Gabriel River offers a tranquil oasis just a short distance from Georgetown's bustling downtown square. Escape to the river, and work up a sweat in the process, as you hike, jog, or bike along the San Gabriel River Trail. A National Recreation Trail, the path loops for 1.6 miles around San Gabriel Park before following both forks of the river. Travel along the north section for one mile to reach Rivery Park or meander along the south fork and you'll find yourself at Blue Hole Park, Georgetown's top swimming hole.
While the San Gabriel River Trail is an urban oasis, it's by no means the only place you can get outdoors in Georgetown. Explore more than seven miles of trails that wind and weave throughout the 525-acre Garey Park or uncover a bit of local history as you relish the beauty of the Texas Hill Country at Berry Springs Park and Preserve. There are many other ways to enjoy nature in Georgetown, so make sure you pack your hiking shoes.
---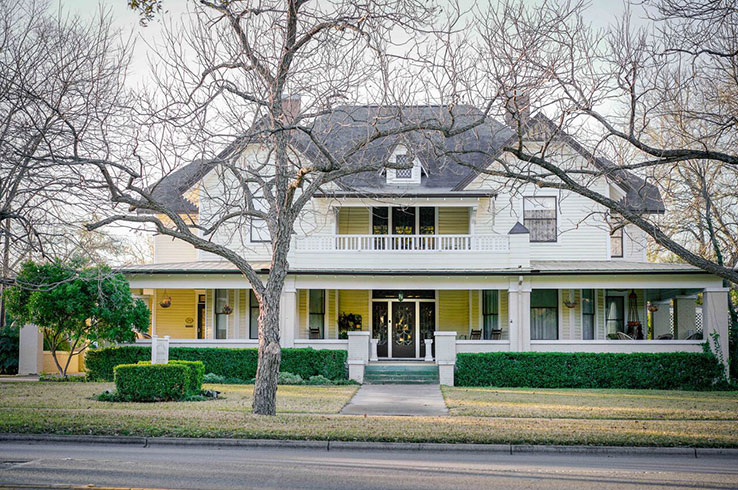 Treat Yourself to a One-of-a-Kind Stay
Kick back in a historic mansion, unwind in a beautifully restored early 20th-century cottage, and dive into a refreshing pool. Get the most out of your vacation in Georgetown by staying at one of the town's unique bed and breakfast and guest houses. The 1914-built San Gabriel House affords luxurious stays across the avenue from Texas' oldest university, Southwestern University. Each of the main house's five upstairs guest rooms features lush king beds, large windows, and private bathrooms. All open to the common area, where you'll find a coffee maker, refrigerator, microwave, a poker/dining table.
Want to spend some time outside? Catch some fresh air on the second-floor balcony or in the backyard, home to a deck, gazebo, and a fire pit. The backyard is shared with San Gabriel House's other lodging option, a second-floor studio apartment in the Carriage House that features your own entrance, living area, and all the privacy you could ask for. Regardless of your room of choice, your stay includes a daily two-course breakfast served on china and crystal in the main house's dining room.
For even more historic vibes, The Olive Tree Inn has you covered. This early 1900's inn consists of a main cottage with four guest rooms, as well as two casitas. Relax in your guest room, pick a book off the shelf, and read the day away in the main cottage's communal living room, and dip your toes into the swimming pool shaded by towering oak trees. If you're looking for some privacy, or you're traveling with a few friends, stay at The Harty House. This two-bed, one-bath home combines a charming façade and modern décor with an ideal location just a few blocks from Georgetown's downtown square.
While all three of these places are great choices, there are plenty of other options. Check out your other choices here.
---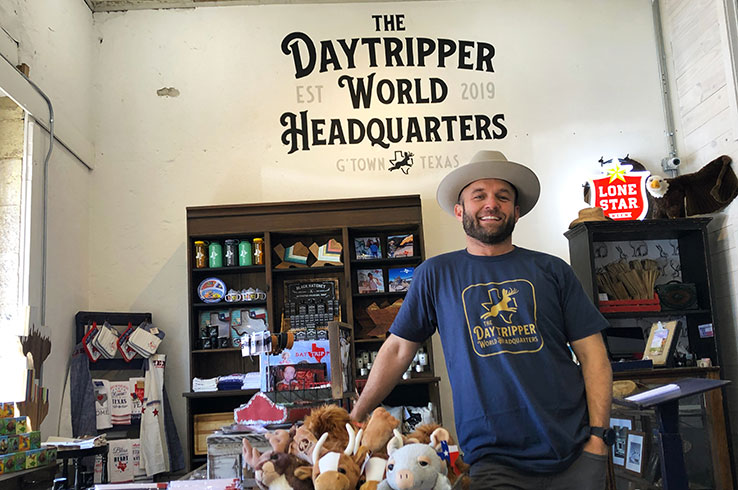 Stop by The Daytripper World Headquarters
Along with being home of the Most Beautiful Town Square in Texas, Georgetown is the headquarters of another of the Lone Star State's treasures: The Daytripper World Headquarters. The base of the nine-time Emmy Award-winning PBS travel show, the headquarters is a shop where you can find all things The Daytripper. Grab a beer (on draught) and browse for souvenir shirts and other show-related merchandise, as well as soaps, candles, shirts, hats, beard oils, and more made right here in Texas. After visiting the store, get a glass of wine from Georgetown Winery, Grape Creek Winery, Barons Creek Wine Room, or Kork Wine Bar and stroll through the downtown area to admire all the remarkable Victorian-era architecture.
---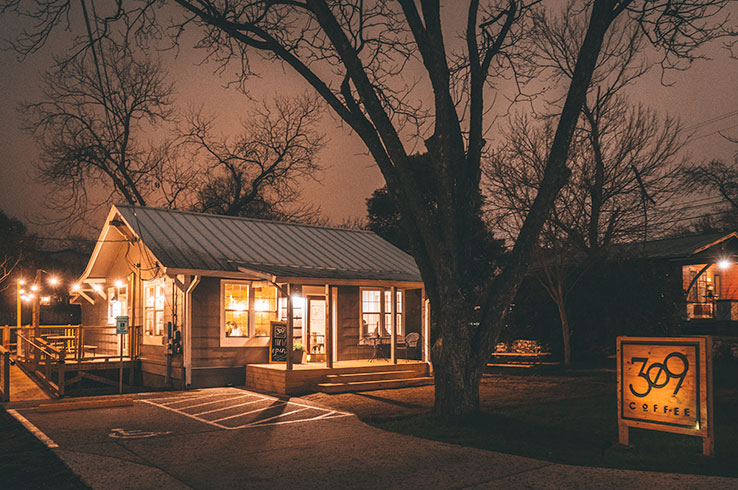 Warm Up with a Cup of Coffee
When the sun rises on a chilly autumn morning in the Texas Hill Country, there's nothing better than a nice cup of locally made coffee. Fortunately, there are several places you can get your coffee fix here in Georgetown, starting with 309 Coffee. Take your pick from an enticing selection of all your favorites, from cold brews to espresso shots and cortados, all of which go perfectly with the coffee shop's array of mouthwatering pastries. To indulge in some coffee-fueled reading, head to the Red Poppy Coffee Co. in the Georgetown Public Library. Crack open a book as you sip on a Literary Latte or the truly sumptuous Chronicles Chocolate Frappe, a whipped cream-topped blend of organic espresso and Hollander chocolate.
Of course, Lamppost Coffee's Georgetown location is also an outstanding purveyor of all things caffeinated. Beyond its nitro cold brew and espresso milkshake, you'll have your choice of hot drinks made with coffee beans roasted in the Austin area. You can even buy a few bags of your own. Just make sure to get enough to tide you over until the next time you come back to this corner of the Texas Hill Country.
---
While these adventures are more than enough to keep you busy this fall in Georgetown, there's far more to see and do here than what we have listed here. Discover everything else this destination has to offer, and plan your visit, here.
About the Author: James Waterson is the head writer and content specialist for Tour Texas. When he isn't writing about the many great places in the state of Texas, he's planning his next epic adventure in the Lone Star State.
---
---