---
5 of the Best Ways to Enjoy the Outdoors in Tyler
Surrounded by lush pine forests and indigo lakes just 100 miles east of Dallas, the Rose Capital of America is the perfect retreat to savor an outdoor adventure. Whether you're admiring vibrant blooms, exploring an incredibly diverse zoo, or flying past treetops, there are many ways to appreciate the beauty of East Texas in Tyler. Read on to see a few of our favorites, then plan your visit to the Rose City today.
Tour Texas Travel Tip: Experience the best of East Texas and save with the FREE Go East Texas Outdoor & Adventure Pass! Enjoy discounts at such attractions as the Caldwell Zoo, Balloon Adventures USA, and the Bighead Creek Mountain Bike Trail. Visit 10 locations for automatic entry into a twice-a-year drawing for the Grand Prize East Texas Getaway Package. Sign up today as the first drawing for the Grand Prize will be in June.
---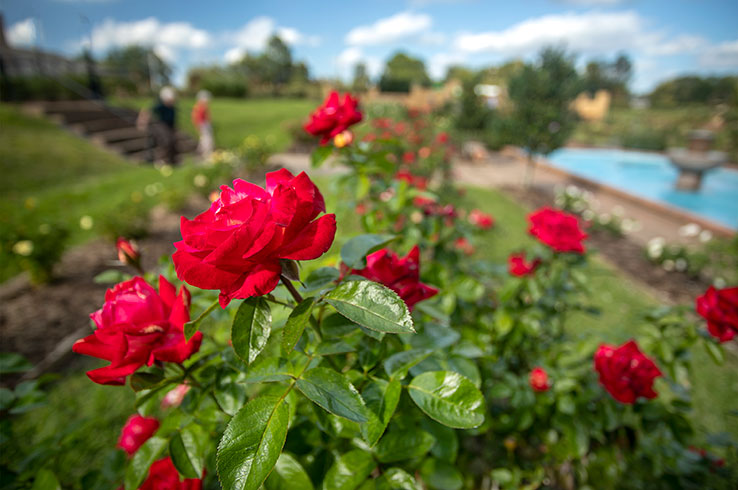 Behold Tyler's Famous Blooms
Warm sunlight illuminating shades of pink, orange, red, yellow, and white bursting like fireworks in a dark night sky. A sea of blooming roses that create a kaleidoscope of spellbinding color. No matter when you visit, Tyler is a year-round destination for fans of breathtaking blooms. Visit in spring for the Azalea & Spring Flower Trail (March 19 – April 4), an annual tradition during which you can stop by historic homes and spectacular gardens full of azaleas, dogwoods, tulips, wisterias, and more.
Come here at any other time of year for the beautiful selection of flowers and plants at the Tyler Municipal Rose Garden, home to the 32,000 bushes and 600 cultivars of roses that make up the largest public collection of its kind in the country. The garden is at full bloom in the early summer and throughout the fall, when the city hosts the Texas Rose Festival (October), a long-running local tradition complete with a festive parade, gardening workshops, and the coronation of The Rose Queen.
While the beautiful blooms are a must-see, we're just getting started.
Tour Texas Travel Tip: Get the most updated information on Tyler's blooms, including how they've been impacted by the winter storm, here.
---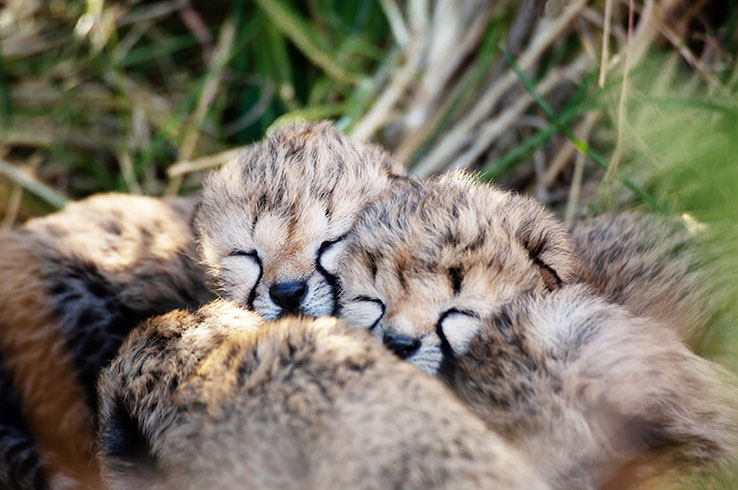 Take a Walk on the Wild Side
Elephants, lions, giraffes, and … yellow-backed duikers? Although none of these animals are native to East Texas, they are still among the more than 2,000 birds, reptiles, and mammals from around the world that you can see at the Caldwell Zoo. Start by saying "howdy" to the squirrel monkeys and aquatic birds, then watch the wading flock of flamingos before seeing tamarins and stepping into the South American and African aviaries. Continue on and you'll encounter black rhinos, lemurs, monkeys, penguins, and so much more. Along the way, you just might see two of the zoo's newest (and youngest) residents, Amali and Xena June. Amali (Swahili for "hope"), is a baby Grevy's Zebra, the most endangered of all zebra species, while Xena June is a reticulated giraffe born in the summer of 2020.
With its array of animals from around the world, the Caldwell Zoo is a must-visit no matter when you're in Tyler.
Tour Texas Travel Tip: Keep an eye out for the five recently born cheetah cubs, one of whom was a foster adopted by the mother, Mary Joe.
---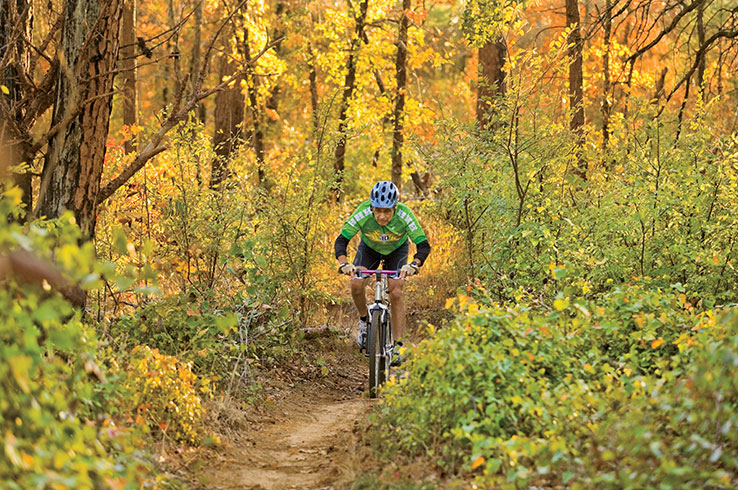 Bike & Jog Along Urban Trails
While you can immerse yourself in the outdoors just about anywhere, you don't have to go far to do so in the Rose City. In fact, you'll find 27 public parks here in town with about 41 miles of trails hiking, biking, or jogging. Tucked away in the shade of towering trees, the 4.2-mile Rose Rudman Recreational Trail provides an oasis in the middle of bustling south Tyler. Follow the trail and you'll eventually pass Southside Park, a popular family getaway, home to an all-inclusive playground with wheelchair swings, sensory toys, and puzzles.
There's even more space to stretch your legs along Legacy Trail, a 4.5-mile path that follows the Old Cotton Belt train route that once played a major role in the development of this corner of the Lone Star State. To get off road, head for the UT Tyler Mountain Bike Trail. Weaving for 3.32 miles through a dense thicket of trees on the university's campus, the trail is just the place to go for mountain bikers and trail runners.
Whether you're looking to work up a sweat, train for a marathon, or savor some sunshine, Tyler's abundance of urban trails makes it easy to get outdoors.
---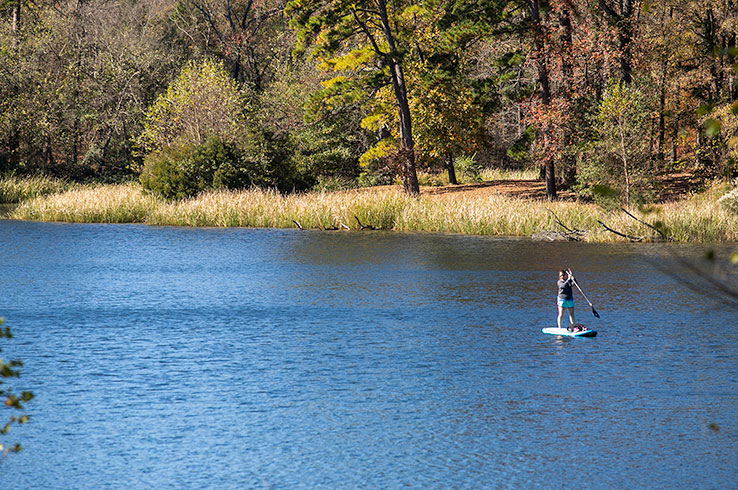 Go on a Picture-Perfect Paddling Adventure
There's nothing better than an afternoon out on the water, and Tyler offers plenty of ways to do just that. The 64-acre, spring-fed lake at Tyler State Park is an easy-to-reach getaway bordered by loblolly pines and a plethora of oaks. Rent a kayak, canoe, paddleboat, stand-up paddleboard, or johnboat and admire all the verdant scenery as you paddle the day away.
For even more time (and less work) on the water, find your way to Lake Escape Boat Rentals at the nearby Lake Palestine. Rent a pontoon boat for as few as four hours or as much as a week and savor a day out with friends and family. Lake Palestine and Lake Tyler also have boat ramps you can use in case you bring your own boat.
Not only are Tyler's three lakes excellent paddling destinations, they're some of the best fishing spots you'll find anywhere in the Lone Star State. Lake Palestine is a great option for catfish and white and hybrid striped bass anglers, while Lake Tyler offers excellent sunfish and largemouth bass fishing. You can also try your luck from the three piers at Tyler State Park, where crappie, perch, catfish, and bass can be found in abundance.
Surrounded by three picturesque lakes worth visiting, Tyler is just the place to be if you want to enjoy some time out on the water.
---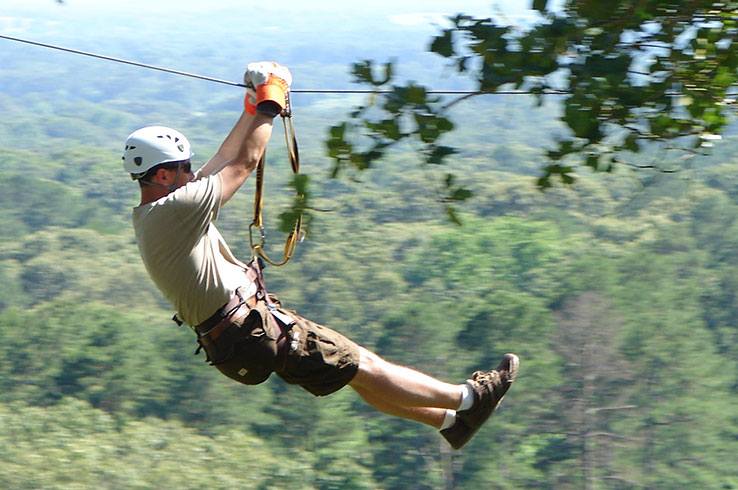 Soar Among Treetops
Stunning 30-mile views and one adrenaline rush after another, and gravity-defying fun await at New York, Texas ZipLine Adventures. Zoom through the canopy of an East Texas forest on either a six or nine zip line tour, the latter of which features a 1,500-foot line and two cable sky bridges that lead to a 40-foot tower. Regardless of your tour of choice, you'll be led by an experienced guide who will make sure your gear is working as it should throughout your adventure. Located just 30 miles southwest of Tyler, this East Texas zip lining destination is a top spot for thrill seekers.
---
From breathtaking lakes and blooming flowers to its parks and trails, Tyler is the perfect place to enjoy the outdoors in East Texas. Plan your visit here.
About the Author: James Waterson is the head writer and content specialist for Tour Texas. When he isn't writing about the many great places in the state of Texas, he's planning his next epic adventure in the Lone Star State.
---
---