---

5 Reasons You Should Visit Fredericksburg Midweek
By James Waterson
Stroll along inviting streets past charming historic homes and storefronts. Savor a glass of wine as you gaze out over seemingly endless rows of lush grape vines. Take your time as you experience Fredericksburg. Known for its distinctly German heritage, top-class wineries, diverse culinary scene, and extraordinary places to stay, there's nowhere in Texas quite like this Hill Country getaway. Whether you've been here before or your next trip will be your first, you'll feel like you have the town to yourself when you visit midweek. There are many reasons why visiting Fredericksburg during the week is a great idea, but here's a look at the top five.
---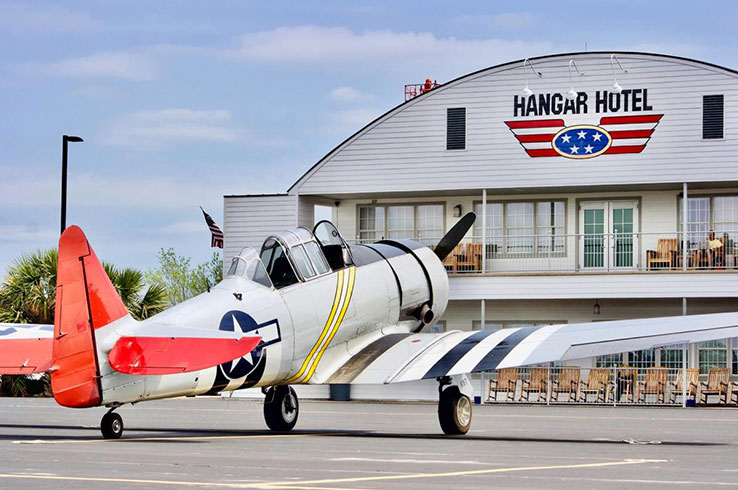 Stay Somewhere Unique & Save
Greet the sunrise from a train car once used by Theodore Roosevelt or get in some high-quality rest and relaxation at a hotel in a recreated World War II hangar furnished as if it was of that era. Fredericksburg is home to nearly 1,500 charming bed and breakfasts, vacation rentals, guesthouses, and hotels, many of which offer more affordable rates during the week.
For a stay unlike any you've had before, book a few nights in the Pullman Train Car. Built in 1894, this rail car has everything you need for a romantic retreat. Want a different kind of step back into the past? Consider the Hangar Hotel. From the moment you step into the lobby, you'll feel like you're all the way back in the 1940s. Located at a small airport and modeled after a World War II hangar, the 50-room hotel is decorated with period furniture and other touches. Lounge the day away in your room, then spend the evening watching planes come and go from the hotel's second-floor observation deck.
To get away from it all, drive east along winding roads past rolling hills to the Cabins at Red Rock. Choose from six private cabins decked out in Hill Country Charm. Catch a vibrant sunset from your front porch, then enjoy some spectacular stargazing.
With so many distinct bed and breakfasts and guesthouses, it's no wonder Fredericksburg is a fantastic small town to visit. Check out all the great places to stay here.
---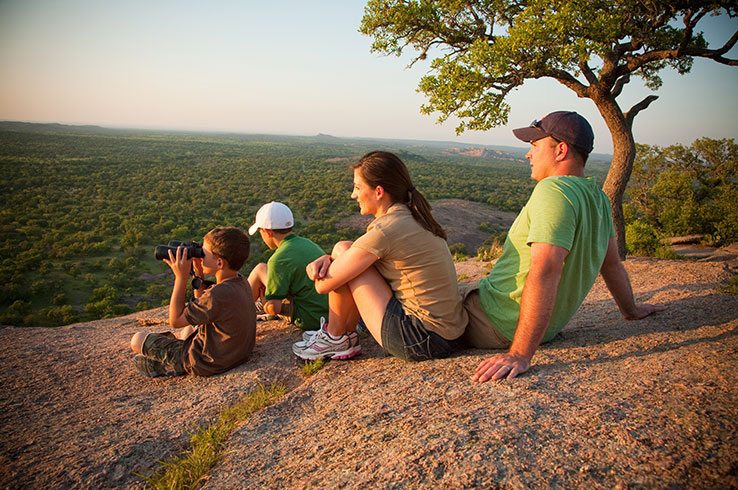 Enjoy a Slower Pace at Fredericksburg's Finest Attractions
Sometimes, you want to go at your own tempo. Especially if you're wandering along picture-perfect trails or through a world-renowned historical museum. Fredericksburg has some of the Hill Country's best attractions; come here during the week and you won't need to hurry. Pack a day bag and get an early start at Enchanted Rock State Natural Area. Climb to the top of a magnificent pink granite dome, where you can take in a spectacular view that stretches for miles. Then explore nearly 11 miles of other trails, such as the 4.6-mile Loop Trail that meanders around Enchanted Rock.
Meanwhile, the National Museum of the Pacific War (one of the world's leading museums about the Pacific Theater of World War II) provides an immersive look at the war's major events, from the attack on Pearl Harbor to the Battle of Iwo Jima, with its exhibits of weapons, aircraft, vehicles, uniforms, and photographs. You'll also go on a deep dive into the development of the atomic bomb before visiting the Japanese Garden of Peace and the Pacific Combat Zone, the latter of which is a recreation of a battlefield that frequently hosts living history demonstrations. Don't miss the museum's Admiral Nimitz Gallery, where you'll find out about the life and career of Fredericksburg-born Chester W. Nimitz, the Commander in Chief of the U.S. Pacific Fleet during the war.
You can take a trip further back into the past at the Pioneer Museum, which preserves the daily lives of the German pioneers who settled the Hill Country. Get an up-close look at historic homesteads and buildings, including a one-room schoolhouse and a bathhouse, that stand among towering pecan trees. Make sure to stop by the gift shop, where you can browse for gifts made by local artists and books that outline local and state history.
Finally, head to the Lyndon B. Johnson National Historical Park to visit the boyhood home of the 36th U.S. President, the LBJ Ranch, as well as buildings constructed by Johnson's grandfather.
Although these attractions are must-visits at any time, stopping by midweek means you will have more time to browse at your own pace.
Photo Credit: Steve Rawls
---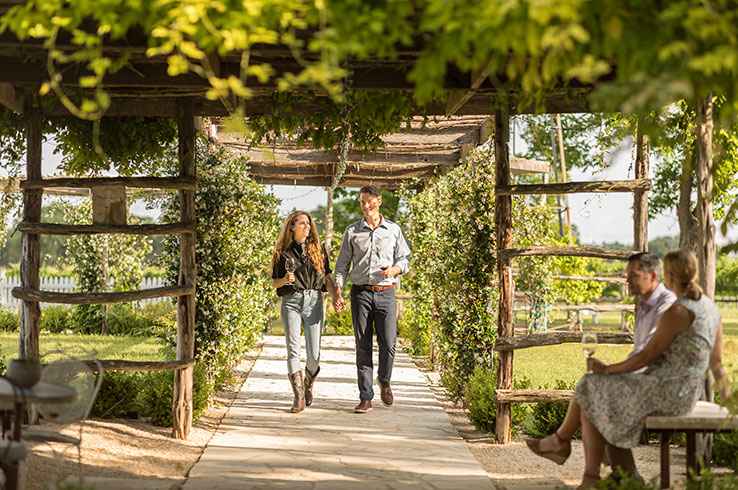 Sip & Savor World-Class Wine with a More Personalized Experience
Full of award-winning wineries, the Texas Hill Country is one of the country's top destinations for you wine lovers out there. Set right in the middle of it all, Fredericksburg is a fantastic starting point to enjoy Texas Wine Country. In fact, the town is the heart of its very own American Viticulture Area (AVA) known for its clay-based soils and subtropical climate ideal for such varietals as Viognier and Tempranillo. With more than 50 wineries, vineyards, and tasting rooms in Fredericksburg and the surrounding Gillespie County, there's a seemingly infinite number of places you can go to savor wines that have won awards around the world.
Begin your tasting tour by following Fredericksburg's Urban Wine Trail, which includes more than 10 downtown wineries like Pontotoc Vineyard Weingarten and Becker Vineyards on Main. Visit during the week and relish the reds and whites you'll try during a personalized tasting. To sample the varietals of the nearby vineyards, book a guided wine tour to let someone else do the driving. You can also cruise out to your wineries of choice.
Photo Credit: Jason Risner
---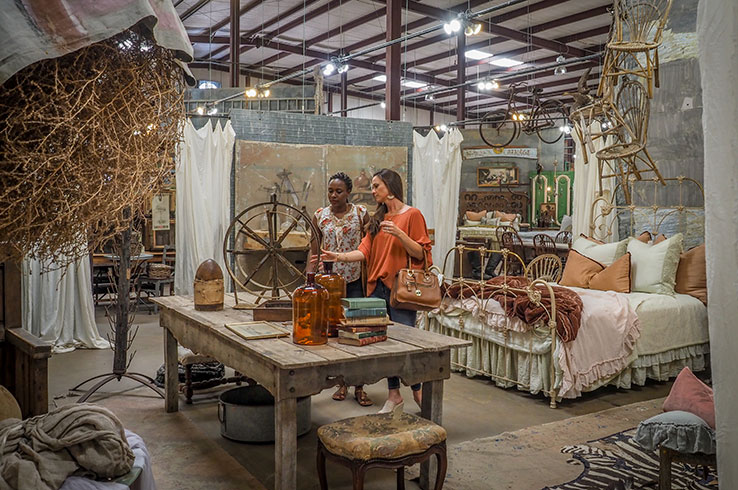 Browse Art Galleries & Shops at Your Own Pace
Home to more than 150 shops, boutiques, and art galleries (not to mention restaurants and tasting rooms), Fredericksburg's Main Street has some of the best shopping in the Hill Country. All these one-of-a-kind retailers are open on the weekdays, giving you the chance to browse as leisurely as you like. Upgrade your kitchen at Der Kuchen Laden, a high-end kitchenware store that stocks gourmet cookware and bakeware brands like Demeyere, Nordic Ware, and OXO; American, German, and Japanese-made cutlery; and an enticing globe-spanning selection of roasted coffees and teas.
When it comes to satisfying your sweet tooth, Chocolat is unparalleled. Specializing in European-style liquid-filled chocolates infused with coffee, fruit nectar, spirits, and wine, the chocolatier is one of the few (and perhaps only) of its kind in the country making this kind of confection. Needless to say, you'll want to stock up while you're here. Head to San Saba Soap Company, located near Main Street, for a different treat for your senses. Peruse the collection of pecan oil products and fragrant soaps handmade in Texas, with such combinations as rosemary and lavender or brown sugar and Texas fig serving up delightfully aromatic scents.
As much as Main Street has to offer, it is by no means the only place to go shopping in Fredericksburg. The Warehouse District, situated near the downtown area, features a collection of distinct home goods stores that are all full of magnificent finds. Larry Jackson Fine Art & Antiques has European and American antiques in a constantly changing stock of fine art, furniture, jewelry, glass, and more, while Room No. 5 has elegant antiques from around the world that will make you "dream in white." Located within a historic laundry building, Blackchalk Home and Laundry displays eye-catching antiques in its beautifully designed showroom.
With all its wealth of retailers, Fredericksburg is a fabulous destination for shoppers. Come during the week to uncover its many treasures at your own speed.
Photo Credit: Trish Rawls
---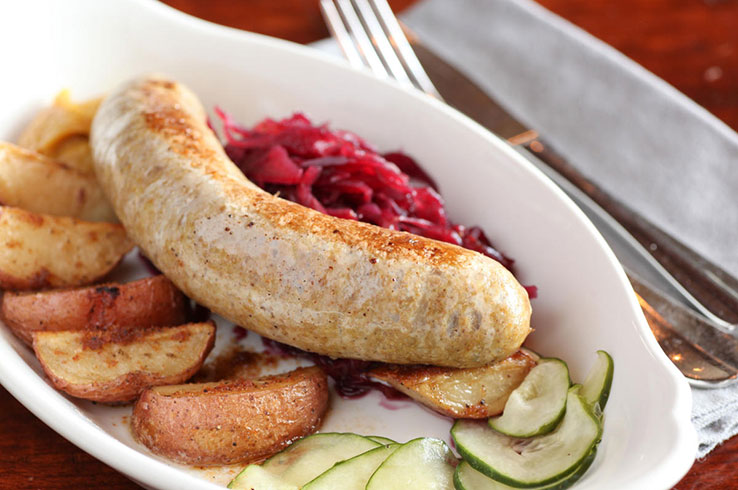 Take Your Time at Fredericksburg's Amazing Restaurants
Fredericksburg's deep German roots show up in many places, including in its culinary scene. The town has many of Texas' finest German restaurants, but that's not all. The dining scene here is diverse; if you're craving it, you'll find it. Sample a bratwurst or jagerschnitzel along with a pint of German beer at Der Lindenbaum or Altdorf Restaurant & Biergarten, two of Fredericksburg's seven German restaurants. While the sizzling schnitzels and sausages will tempt you, don't overlook the good old-fashioned Texas barbecue you'll get at spots like Backwoods BBQ or Läkenvelder BBQ, Bar, & Grill.
Looking for that perfect place for a date night? Book a table at fine-dining establishments like the Granite House Lounge or Hill Top Café. Since you're here during the week, you've got the time to savor the atmosphere and the beautifully executed food. Go ahead and order an extra glass of wine after dessert; you've got all the time in the world.
---
When you're ready for your next Fredericksburg getaway, visit midweek for the best prices on hotel and bed and breakfast stays. Relish a slower pace of life. Plan your trip here.
---
---