---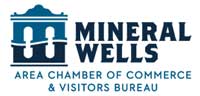 7 Ways to Relax & Unwind in Beautiful Mineral Wells
By Alexandra Dedovitch
Sometimes, we all need a break. Surrounded by rolling hills covered in oak, mesquite, pecan, and ash trees near a bend of the Brazos River just an hour west of Fort Worth, Mineral Wells has everything you need to find your peace of mind. Discover stunning trails, picturesque gardens, and a scenic lake with marvelous views. When you aren't immersing yourself in North Texas' serene beauty and admiring its majestic night sky, you'll be pampering yourself in a spa that is like no other. When you need to rest your mind and recharge your spirit, Mineral Wells is the place for you. Read on to see how you can find your wellness here.

Soak in a Historic Mineral Bath
There's nothing more relaxing than unwinding in a hot bath. Unless you're at The Crazy Bath House, of course. Feel all your stresses melt away as you immerse yourself in a natural cleansing and exfoliating mineral bath that's great for your health and your delicate skin. Although you can do a 20-minute soak on its own, you can also pamper yourself with a spa package that also includes a deep tissue massage and other treatments. The Crazy Bath House is not just an essential stop on your pursuit of wellness, it's also a one-of-a-kind Texas treasure. The mineral water you'll bathe in is what originally made Mineral Wells "Where America drinks its way to health," and it's still the only place in the state where natural mineral water is bottled. Make sure to try some after your spa day for a one-of-a-kind taste of the Lone Star State.
---

Lose Yourself on Countless Miles of Picturesque Trails
Winding trails shaded by lush trees, all the fresh air you could ever ask for, and the peace and quiet you've been craving is waiting to be discovered. Exploring the nearly 13 miles of trails at Lake Mineral Wells State Park isn't just fun; it's good for the soul. The park's trails take you along the picturesque lake and tranquil creeks, as well as past the remains of a 20th-century Army training center. Challenge yourself to reach the top of Penitentiary Hollow, which you'll come across here, an impressive canyon with multiple areas to climb. As a matter of fact, it is the only natural place to rock-climb in all of North Texas!
---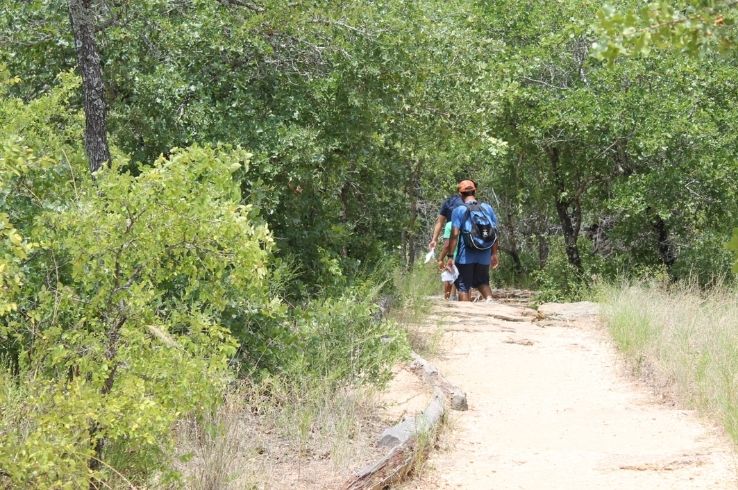 While you could spend an entire trip traversing these magnificent trails, there's more. Lake Mineral Wells State Park is connected to a 20-mile trailway that is the perfect hiking, biking, and horseback riding hotspot. A repurposed railroad bed, the trailway passes over 16 bridges on the way from downtown Mineral Wells past the state park to the northwest side of Weatherford. A bounty of colorful blooms illuminates the trailway in the spring and fall, although any season is a good time to get away here. For even more outdoor adventuring, don't miss the Western Heritage Park's 4.5 miles of trails. Whether you're looking for a weekend-long hiking adventure or a morning stroll away from the hustle and bustle, Mineral Wells is just the place to reconnect with nature and find your peace of mind.
---

Savor a Day on the Lake
Sprawling for 640 acres under the wide-open Texas sky, Lake Mineral Wells sets the stage for a truly remarkable getaway. Come here in the summer to beat the Texas heat or rent a flat-bottom boat, canoe, kayak, paddleboard, or rowboat to explore the lake on your terms at any other time of the year. For you anglers out there, Lake Mineral Wells is well known for its first-rate catfish, crappie, sunfish, and largemouth bass fishing. Try your luck at one of the six fishing piers around the lake. Don't have your own fishing gear? You can borrow rods, reels, and tackle boxes at the park. Better yet, you don't even need a license to fish here.
Meandering just west of town, the Brazos River is well worth exploring as well. Treat yourself to a bucket-list-worthy adventure with Rochelle's Canoe and Kayak Rental. Rochelle's offers one-, two-, and even four-day paddling trips along the Brazos, during which you'll see stunning limestone cliffs and countless birds and other native wildlife before camping under a brilliant night sky. If you're looking for a reset, spending several days paddling the beautiful Brazos River is a must.
---

View All the Stars of the Night Sky
As the last remnants of daylight leave Mineral Wells, the night sky transforms into a kaleidoscope of shining stars. Marvel at the many wonders of our solar system when you camp at Lake Mineral Wells State Park. You can see an awe-inspiring array of stars and planets on a clear night at any time of the year, no telescope required. Book a campsite online in advance and you can pick from ones that offer electricity, water, and even spaces that can accommodate horses. Yet you might find the best stargazing at the primitive campsites that take about two miles of hiking to reach.
While you can stargaze on any clear night, the park also hosts stargazing events throughout the year. View stars and planets through a telescope as you learn basic astronomy at these come and go events typically held at the Lone Star Amphitheater. Check the state park's website to see if there are any stargazing events coming up soon so you don't miss out.
---

Hunt for Fossils on an Ancient Seabed
Although it may not look like it today, the bucolic countryside surrounding Mineral Wells was once the bottom of an ancient sea. Although it's no longer covered in water, reminders of the past can still be found at the Mineral Wells Fossil Park. Indulge your inner paleontologist as you dig for fossilized trilobites, crinoids, sharks' teeth, and more. Wandering around the dig site searching for fossils is the kind of uncomplicated, yet interesting activity that could put your mind at ease. Since this is a primitive site, you should bring water with you. If you visit during the summer, plan to be here early in the morning or in the evening to avoid the hottest time of the day. Take your time and keep a keen eye out and you might just find something surprising.
---

Embark on an Easygoing Mural Tour
Full of old-fashioned storefronts and one-of-a-kind boutiques, restaurants, and hangout spots, Downtown Mineral Wells is the kind of place you'll want to park your car and embark on a leisurely stroll. Do so and you'll inevitably come across one of more than 20 colorful murals splashed across the sides of historic buildings. Stroll along and you'll find flying pigs, human-sized butterflies, and other works of art that transform Downtown Mineral Wells into a vast outdoor art gallery. Head out on a mural scavenger hunt by following this map, or stop by the Visitor Center to get the most updated version so you don't miss any. Art in all its forms is spiritually enriching, and it's around every corner in Downtown Mineral Wells.
---

Find Your Peace at the Clark Gardens Botanical Park
Among secluded walkways bordered by vibrant blooms, the sounds of trickling fountains, and colorful birds and butterflies flitting between flowers and tree branches, you just might find your Zen. Immerse yourself in nature's many hues at the Clark Gardens Botanical Park. Stroll through an array of eye-catching gardens full of seasonal blooms, including bluebonnets and magnolias in the spring and roses in the fall, along with all of autumn's reds, yellows, and golds.
Feel at ease as you explore the garden's many areas, including the Historic Tree Trail. One of the largest of its kind in the country, the trail features a Weeping Willow that shaded Napoleon's gravesite and a tree from Elvis Presley's Graceland among its 86-tree collection. You won't want to miss out on seeing Clark Gardens' nationally recognized iris garden, which has nearly 4,000 varieties bloom in a magnificent show of color every April. While you're here, pause in the Meditation Garden for a moment of reflection and stop for a lakeside picnic.
While Clark Gardens has more than enough for you to savor a moment of quiet contemplation, there are other spots in Mineral Wells you must check out as well. Stop by the prayer gardens at Our Lady of Lourdes or the National Vietnam War Memorial Museum Complex to pay your respects at the 300-foot-long replica of the Moving Wall in the Vietnam Memorial Garden, visit meditation labyrinths, then explore the Meditation Garden that features more than 350 native plants.
Whether you're looking to relax, enjoy a slower pace of life, or your next inspiring outdoor adventure, a visit to Mineral Wells is good for the soul. Plan your visit today.
---
About the Author: Alexandra is the head writer and digital content creator for Tour Texas. She is an avid traveler, lover of the arts, and enthusiast of all things Texas!
---
---