---

5 Reasons Fredericksburg is a Unique Texas Hill Country Experience
When people think of Texas, they often think of cowboys, cattle, and wide-open spaces. While that is certainly a big part of the Lone Star State, there is much more to it than that. Fredericksburg is a perfect example of this. This charming town in the Hill Country is one of America's most popular small towns. Founded by German settlers in 1846, Fredericksburg has a fascinating history. This popular vacation spot is known for its endless shopping, flavorful food, numerous wineries, and engaging outdoor experiences. It is also close to both Austin and San Antonio, making it the perfect place to stay, away from the hustle and bustle of the big city when visiting the area.
Spot your favorite constellation overhead in Fredericksburg's officially designated dark skies, stroll its charming, walkable downtown, hop on a wine tour through its cluster of more than 50 wineries and enjoy a restful night in accommodations that range from quaint to modern to quirky and everything in between. Fredericksburg's many charms will put a big smile on your face.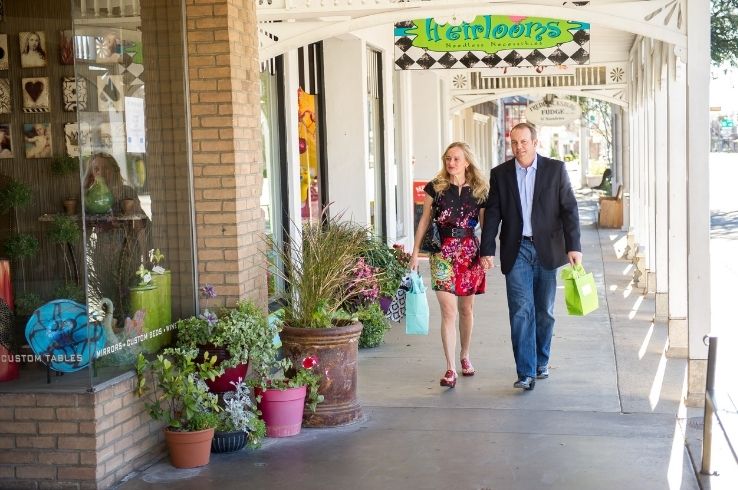 Shop and Stroll in Fredericksburg's Friendly, Walkable Downtown
One of Fredericksburg's most notable attractions is its charming downtown, where 150 shops, boutiques and galleries line historic Main Street. Spend the day in search of the latest hip fashions, fine jewelry, handcrafted silver, custom boots, books, toys, gifts and home furnishings. Franchises and chain establishments are not allowed in Main Street's National Historic District, creating a treasure trove of locally owned boutique shops with Hill Country flair and personality.
Take a break between browsing—and buying! —to savor artisan cuisine and chef-driven fare at one of the dozens of restaurants. And stop into a wine tasting room or a brewpub to sample local wines and beers. Public restrooms are available at the Pioneer Museum, the Marktplatz (the town square) and the Visitor Information Center. Free parking is available one block off of Main on East Austin Street. Just off Main Street, Fredericksburg's Warehouse District is its own shopping destination, with a number of art galleries, antique dealers and one-of-a-kind home goods nestled in rustic buildings. The area is also known for its eclectic restaurants and bars.
Fredericksburg's reputation as a shopper's paradise doesn't stop there. Once a month, just east of town, more than 350 vendors gather for Fredericksburg Trade Days. Shoppers and pickers stroll through acres and acres of antiques and new, modern items ranging from chic to shabby chic. Find ranch furniture, farmhouse décor, jewelry, clothing, housewares and much more. Quench your thirst in the Biergarten, listen to live music from local bands and munch on something savory from a local food truck.
---

Experience the Outdoors in Unexpected Ways
Fredericksburg is a great place to enjoy the wonders of nature. One of its most memorable sites is Enchanted Rock, a unique geological feature that attracts thousands of visitors annually. Eleven miles of trails allow guests to explore this 425-foot pink granite batholith, a dome-like rock that is a fabled part of Hill Country history. The summit provides stunning views of the region. Both experienced and novice hikers will find plenty of trails to enjoy, and rock climbing is also available. Midweek is a great time to avoid the crowds and take in the Enchanted Rock's unusual beauty.
Texas is known for wildflowers, and there's no better place to appreciate their blankets of color than Wildseed Farms. Founded in the eighties, the 200-acre farm is home to vast wildflower production fields as well as bucolic walking trails and gardens. Take a moment to soak in technicolor blooms, along with the many butterflies and hummingbirds they attract. Grab a bite in the deli, sample wines in the tasting room made with grapes grown onsite and stock up on wildflower seeds, plants and gifts.
Nighttime doesn't bring an end to the outdoor adventure in Fredericksburg. In fact, when the sun sets here, it's just beginning! Bring your binoculars for an unbelievably clear view of your favorite constellations. This area is recognized as an official International Dark Sky Community for its dedication to controlling light pollution and the preservation of the night sky. Watch in awe as showers of stars twinkle against the vast, dark expanse.
---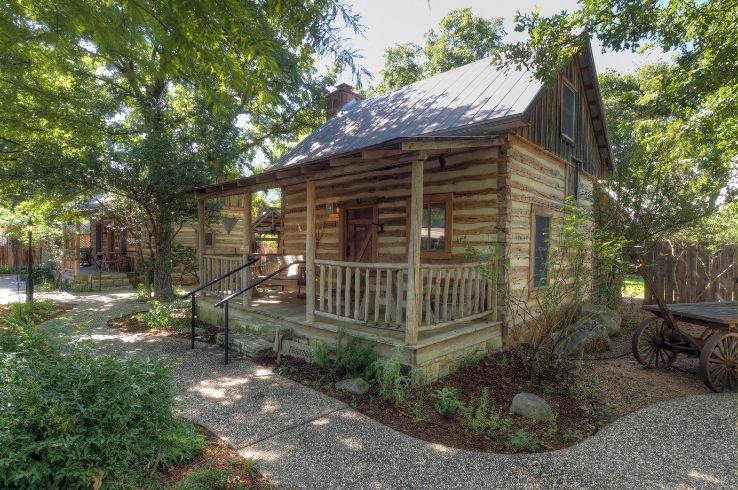 Rest Your Head in a Treehouse, Cabin or Aviation Hangar!
Treehouse? Historic Home? Airplane Hangar? With nearly 1,500 vacation rentals in the area that range from rustic to posh, Fredericksburg says willkommen with the perfect, unique accommodations for every traveler. Select from guest houses, bed-and-breakfasts, inns, lodges, cabins and locally owned or chain hotels. Many are located within walking distance of downtown, and others are in Fredericksburg's serene outskirts.
Got a thing for aviation history? The adults-only, stylish Hangar Hotel was designed and built to resemble a World War II-era aviation hangar with all the nostalgic romance of the fabulous forties. Let the vintage décor transport you back in time.
If the tranquility of nature is more your speed, Fredericksburg has country cabins and rustic treehouses nestled in quiet groves to soothe the soul. Many visitors enjoy staying close to downtown's pedestrian-friendly shops and restaurants. Options abound here, including historic properties like the famed Peach Tree Inn & Suites, a pet-friendly, mom-and-pop motor court-style hotel built in the forties. The inn is located within walking distance of downtown.
For a luxury experience, Hoffman Haus offers high-end rooms, suites and guest houses as well as a day spa, fine dining and even a cooking school where you can learn to prepare local gourmet cuisine.
---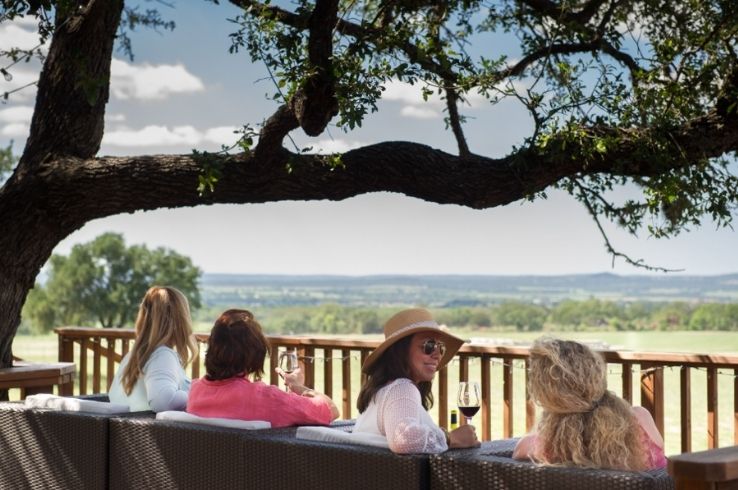 Sample Wines at More than 50 Local Wineries
Texas wines have come on strong over the last few years, attracting foodies and connoisseurs of wine with their complex flavor profiles and ability to pair wines with local cuisine. Fredericksburg's interesting relationship with wine goes way back. The community's 19th Century settlers produced wines from grapes grown here in the rugged Hill Country.
Today, the immediate area boasts more than 50 wineries, vineyards and tasting rooms, making it hard to choose where to begin your adventure. A great place to start is with one of the area's many local tour companies, which offer full-day, half-day or private wine tours. For a more spontaneous approach, hop aboard the 290 Wine Shuttle in downtown Fredericksburg and pay a visit to several local wineries. Shuttles depart every 10 minutes from downtown on Fridays and Saturdays.
One of Fredericksburg's biggest events is its annual Food & Wine Fest, which celebrates Texas cuisine and wine on the Marktplatz. Live music, cooking demonstrations and tasting booths dazzle visitors with unique flavors and sumptuous pairings.
---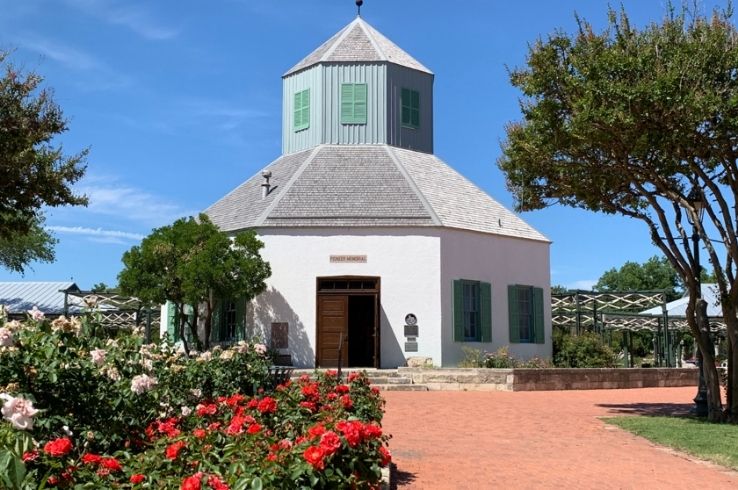 Take in Fredericksburg's Rich History and Culture Scene
Fredericksburg's German heritage intertwines with its fascinating Texas history, creating a distinct culture that sparks curiosity in just about everyone who visits. The Pioneer Museum in downtown Fredericksburg is a great place to start. The 3.5-acre complex reveals how German pioneers founded the community and put down roots so strong that German was the main language spoken here even as recently as 70 years ago. Regular events feature volunteers in period dress demonstrating how the town's earliest residents lived.
Also located in downtown is the National Museum of the Pacific War, the world's premier museum that highlights World War II's Pacific Theater. One of its key subjects, Admiral Chester Nimitz, was a native of Fredericksburg. The six-acre complex includes several galleries and exhibits featuring the challenges that Allied forces faced in the grueling Pacific. The Admiral Nimitz Gallery reveals the life and decisions of Nimitz, a Fredericksburg favorite son who served as the Commander-in-Chief of the Allied Forces in the Pacific Ocean Areas. In the George H. W. Bush Gallery, visitors find stirring exhibits on Pearl Harbor, the Doolittle Raid and the Atomic Bomb.
The life of another famous Hill Country native, U.S. President Lyndon B. Johnson, is remembered at the engaging, family-friendly Lyndon B. Johnson State Park and Historic Site. The rural attraction's Sauer-Beckmann Living History Farm shows visitors what it was like to live on a working farm. Park rangers wear historic clothing and demonstrate everything from farming to churning butter to cooking. The state park complex is located just across the Pedernales River from the Lyndon B. Johnson National Historical Park, which includes the 36th president's boyhood home and the LBJ Ranch, or Texas White House.
With so many fascinating things to see, flavors to savor and experiences to enjoy, Fredericksburg is an exceptional Texas destination that shows the best of beautiful Hill Country.
---
---