---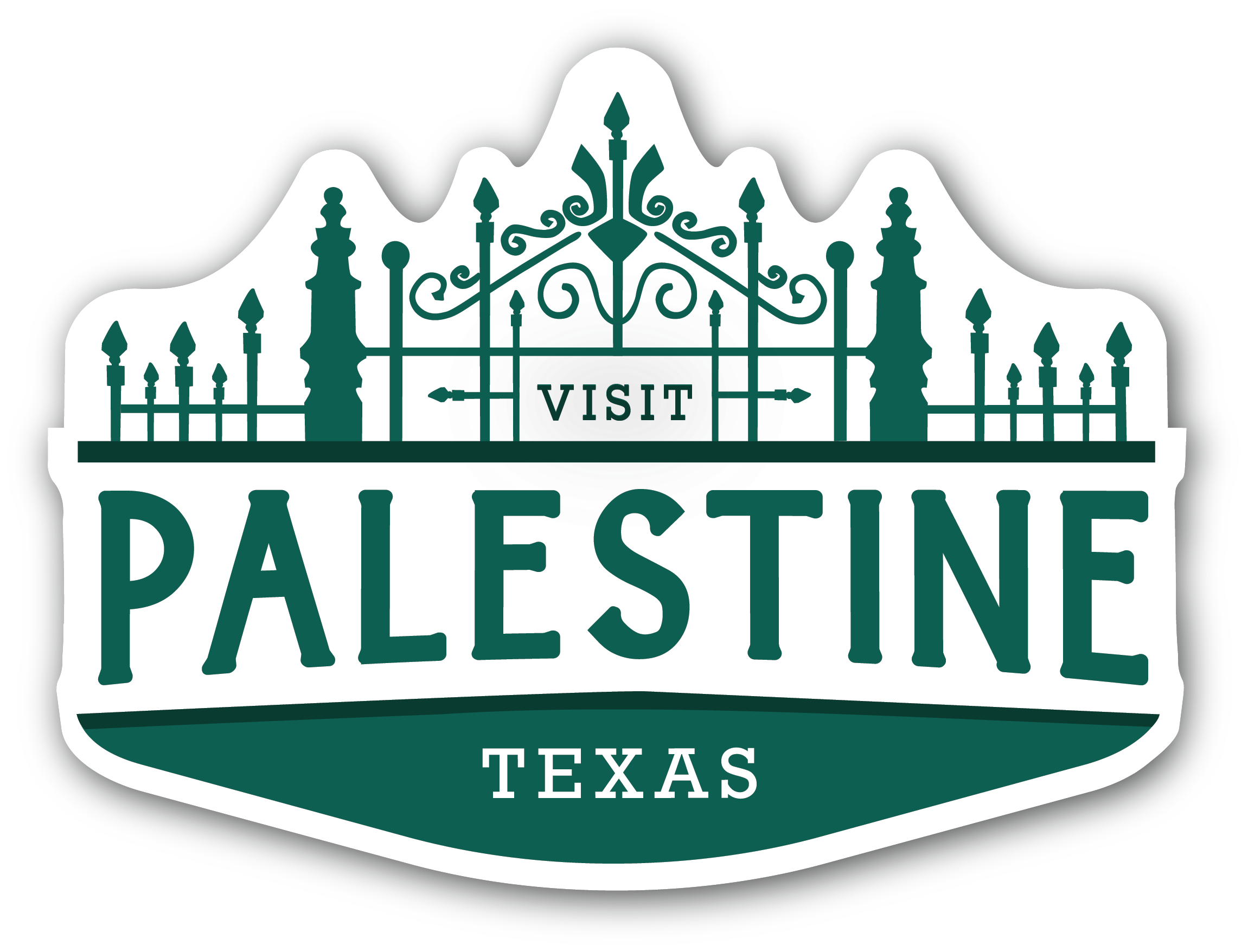 5 Ways to Celebrate Christmas Like a Kid Again in Palestine, Texas
Christmas has the power to make you feel like a kid again, and there's no better place to let loose and experience it than Palestine, Texas. From mid-November to just after Christmas, this East Texas town is loaded with memory-making pageantry and festive good times, Palestine welcomes you to its whimsical holiday celebrations.
Throw on your PJs for a ride aboard The Polar Express Train Ride™. Sip wine and whiskey as you stroll throughout the historic Main Street district. See a light-hearted holiday show, meander through outdoor Christmas light displays and find gifts in downtown shops. Whether traveling with friends, partners, or kids, the joy and anticipation of the Christmas season is yours to enjoy in Palestine.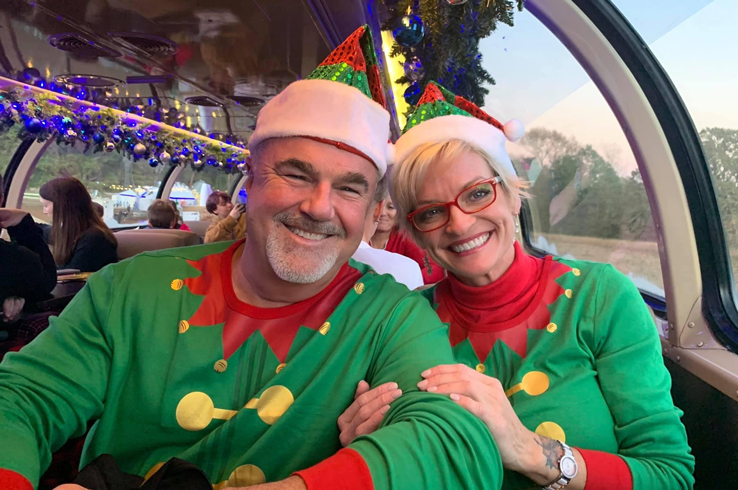 Sip Cocoa in Your PJs on The Polar Express Train Ride™
Hot, hot, hot… hot chocolate! The dancing chefs come to life when the Texas State Railroad transforms its vintage train into The Polar Express Train Ride™, held mid-November through late December, you will arrive to a brightly decorated depot in your pajamas (we're talking to you too, grown-ups), and board the cheery locomotive for a round trip journey to the North Pole.
Along the way, enjoy hot chocolate served by dancing chefs, cookies, and an appearance by the Man in Red himself who has a special gift for every passenger. Chefs will recite the beloved tale by Chris Van Allsburg as riders peer through picture windows when they arrive at the North Pole to see Santa.
Select from a variety of seating options, including the unique dome car, as well as presidential, first, and coach classes, each offering experiences to fit all budgets. When it comes to celebrating like a kid, The Polar Express Train Ride™ checks all the boxes. All aboard!
---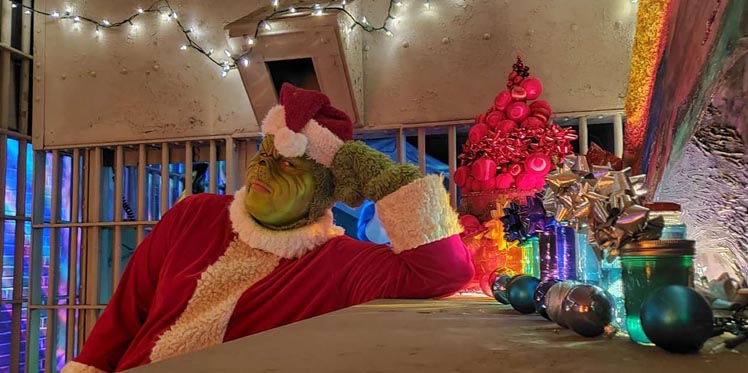 Visit the Grinch at the Historic Anderson County Jail
Palestine's Grinch, our cranky green friend, has been thrown in the slammer for stealing Christmas, and he's eager to express remorse to holiday visitors and it seems he brought all his junk with him. Head to the Texas Jailhouse, where the Grinch awaits with characteristic wit and wisecracks.
This ticketed live theatrical experience of the Grinch's Lair is spontaneous and interactive, with the Grinch posing for photos and bantering with guests. Max, the reindeer dog, and residents of Whoville are also on hand to make sure guests enjoy some zany Christmas fun. The Grinch's Lair takes place each weekend between mid-November through mid-December. Located in Old Town Palestine, it's a fun event to pair with drinks and dinner at a local bar or eatery.
---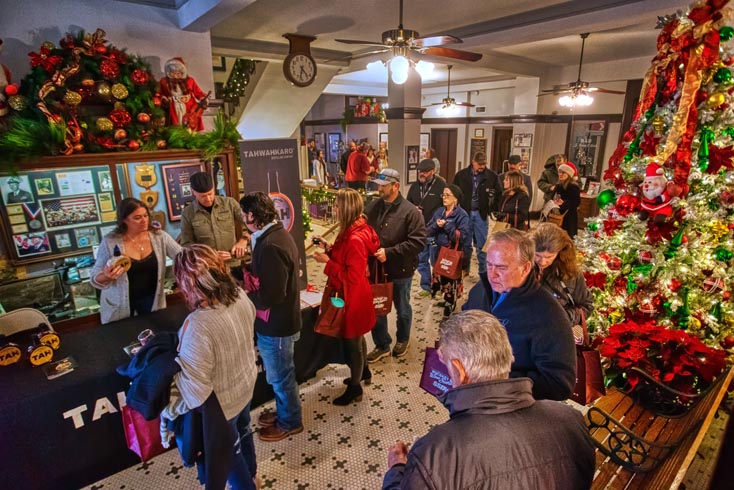 Raise Your Glass at the Whiskey and Wine Swirl™
The hectic holidays require a little self-care, and an evening of wine, spirits, shopping, and sumptuous cuisine is a satisfying way to de-stress. Held the second Saturday in December in Palestine's historic Main Street, the annual Whiskey and Wine Swirl™ pairs sipping, snacking, and shopping in one jovial location.
Check-in to grab your wine glass, then stroll or ride the trolley to reach each tasting spot. Wineries and distilleries are set up inside local shops to give visitors an opportunity to sample their product as they enjoy last-minute shopping and bites prepared by some of Palestine's many talented chefs.
The event culminates with the 'Top it Off at TAH' after party, complete with live music, at Tahwahkaro Distilling Co. a grain-to-glass, family-owned distillery on N. Church Street. For one ticket price, attendees receive a wine glass, whiskey glass, bottle bag, and access to the tastings and after-party. This merry event makes for a romantic date night or a lively Friendsmas outing.
---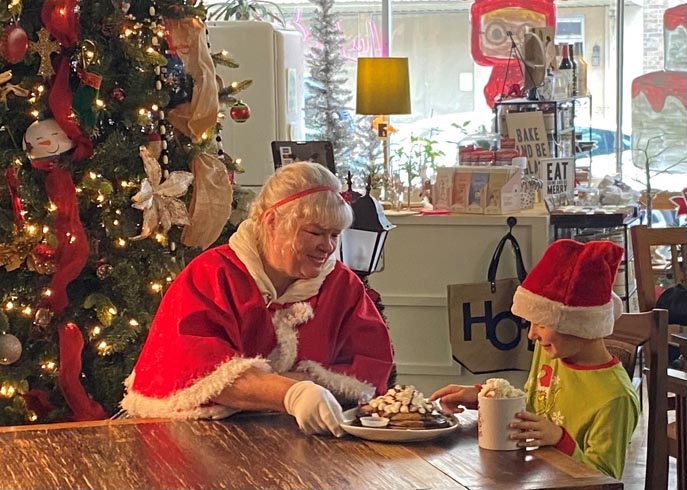 Get to Know Downtown Palestine's Sweet and Spirited Sides
Pancakes are the ultimate in breakfast indulgence, but when paired with Christmas, they're next level. The annual Pancakes with Mrs. Claus, held at the family-owned and operated bakery, Lulu & Kakes Cupcakery & Sweet Shoppe, features stacks of impossibly fluffy Christmas-themed pancakes piled with holiday-inspired toppings. Choose from three Clauscake flavors that could include Oreo cookie or salted caramel, and add over-the-top embellishments like whipped cream, chocolate chips, and of course, sprinkles. This delightful breakfast also features a visit with Mrs. Claus. Visit www.visitpalestine.com/pancakes for the schedule.
The holidays invite leisurely weekend brunches, and in Palestine, that means the Queen Street Grille, a relaxed fine dining restaurant, and bar in the historic Redlands Hotel. The stately building on the corner of N. Queen and W. Oak Streets downtown was originally built in 1914 as an inn for visitors passing through Palestine on the railroad. During the Christmas season, Queen Street is a must-stop, especially its delicious Holiday Saturday Brunch. The memorable meal features sweet and savory crepes, crab cakes Benedict, brioche French toast, Queen's quiche with applewood smoked bacon and cheddar cheese, and many other brunch and lunch items. The hotel and restaurant are lavishly decorated for the season, delivering an unbeatable ambiance.
Old Town Palestine's historic blocks are filled with eclectic shops and eateries, including Pint and Barrel Drafthouse, known for craft beer on draft, interesting wines, and artisan pub grub like grilled cheese and tomato soup, and wintry shepherd's pie. The Drafthouse takes beer seriously, changing out taps routinely to bring craft beer fans the latest and greatest selections. During the Christmas season, thirsty patrons can sample fall and winter ales, lagers, and IPAs from craft breweries in the U.S. and around the world.
---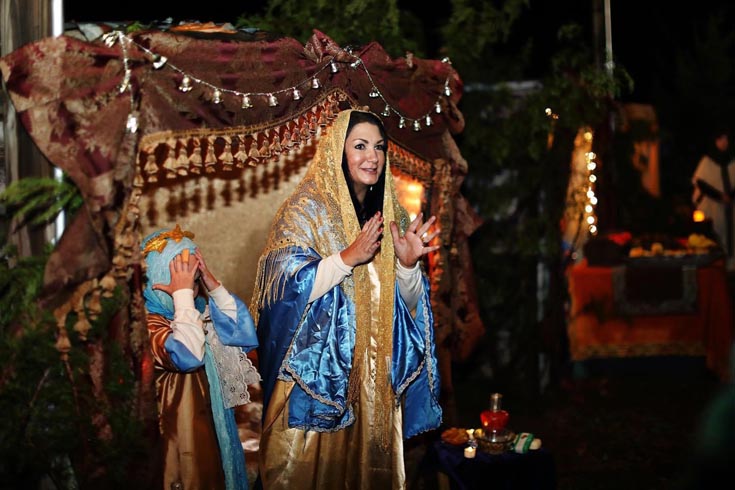 Sing Alongs, Bethlehem Town and Holiday Lights Bring Christmas to Life
Every holiday season, Palestine hosts seasonal entertainment that brings the magic and joy of Christmas.
Step back in time on A Walk Through Bethlehem, held the second weekend in December. Begin the tour by taking a hayride to the entrance of the town. As you make your way through Bethlehem, see a woodcarver, money changer, tax collector, blacksmith, and other townspeople in period dress demonstrating their profession and selling baskets and cloth. The lifelike tour culminates with a stop at the inn. Inside its adjoining stable, you'll find some familiar faces, and a few friendly animals keeping watch over the manger. The free event is hosted by Montalba Baptist Church.
It's not Christmas without seeing a show at the renowned Texas Theatre, the crown jewel of downtown Palestine. The Spanish Colonial structure originally opened in 1930 as a cinema house, and after enduring two fires and several openings and reopenings, it has served as a premier venue in East Texas for live theater.
The second weekend in December, the Texas Theatre invites you to enjoy the humorous holiday play, The Man Who Wanted to Be Santa Claus, about a man who shows up in a small town acting an awful lot like Kris Kringle. The wacky comedy was written by Houston playwright Pat Cook.
To wrap up, nothing says Christmas like twinkling lights! Palestine's annual Christmas Walk of Lights turns East Texas into a bright wonderland. Held throughout the holiday season, the Walk of Lights is a free, self-guided experience that takes families and friends along 2 ½ acres of illuminated landscape. Enjoy scores of light displays, as well as holly, jolly inflatables featuring your favorite Christmas characters. The event also includes a chance to chat and pose with Santa. For dates and times, go to www.visitpalestine.com/walkoflights.
Warm, welcoming, and full of holiday merriment, Palestine is full of engaging activities that will make anyone feel like a kid again at Christmas. This relaxed and inviting Texas community features a wide variety of hotels, inns, and RV parks to fit your lodging needs. Grab your friends or loved ones and plan a holiday getaway in beautiful, festive Palestine, Texas.
---
---
---