---

6 Ways to Celebrate Summer in Fredericksburg, TX
By Alexandra Dedovitch
Summer has finally arrived in beautiful Texas Hill Country! The perfect summer trip awaits in Fredericksburg, TX with breathtaking natural sites, interesting historic museums, and plenty of delicious wine to sip and savor on your vacation. If you're ready to indulge in the fun, check out these six ways to celebrate summer in Fredericksburg.
---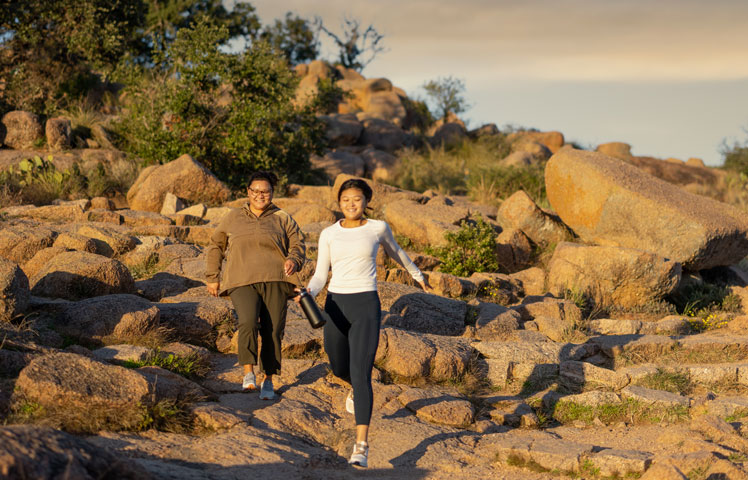 1. Explore Enchanted Rock State Natural Area
With nearly nine miles of majestic hiking trails, traverse the landscape of this mesmerizing Texas nature preserve in Fredericksburg. Enchanted Rock State Natural Area is a colossal pink granite monolith, giving hikers who reach the top outstanding views of the surrounding Texas Hill Country. Visitors are invited to hike, camp, birdwatch, rock climb, picnic, and geocache during the day or stargaze at night. Be sure to plan ahead of time by making reservations and bringing plenty of water along with you.
---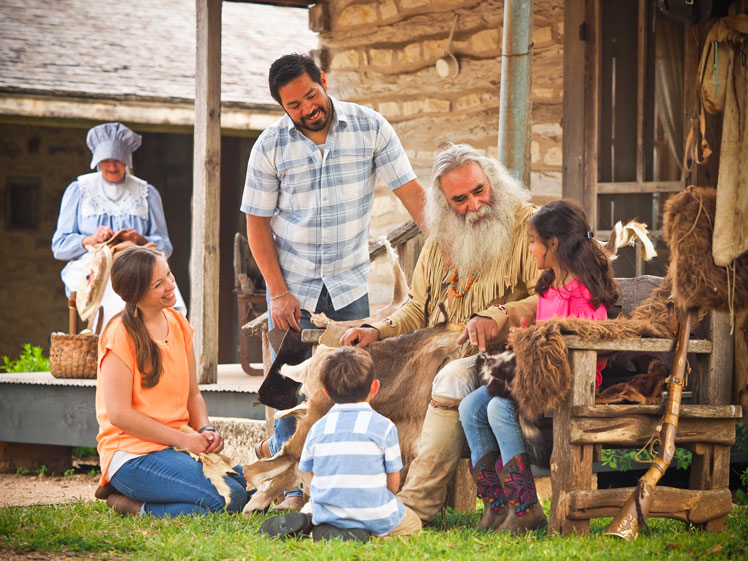 2. Experience Rich Germany Heritage at the Pioneer Museum
Over 175 years of German heritage in Gillespie County is showcased in Fredericksburg at the Pioneer Museum. Take a trip back in time on a self-guided tour to witness rich examples of early German structures, artifacts, and representations of early pioneers. This 3.5-acre historic museum complex offers nine historic buildings to explore. Check out their calendar for special events to learn from guides in period dress and to participate in unique workshops such as rope making, soap making, and sheep shearing held throughout the year.
---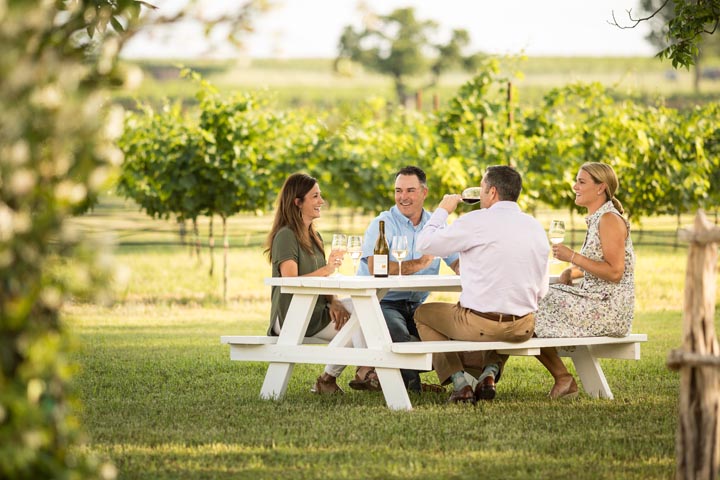 3. Taste Award-winning Texas Wines
If you're a wine aficionado or simply in the mood to taste award-winning Texas wines on your trip, you've come to the right place! Fredericksburg has over 50 remarkable wineries, vineyards, and wine tasting rooms. A time-honored tradition, wine production in Fredericksburg goes as far back as early settlers and the native mustang grape. No matter your flavor, you will find the perfect wine to suit your taste. Leave the planning and driving to someone else and take a wine tour or plan ahead to attend a special wine event.
---

4. Attend a Special Fredericksburg Event
Fredericksburg is home to more than 400 special events every year and the summer is no exception. Plan your visit around these great events that provide fun for all ages. The 62nd Stonewall Peach JAMboree and Rodeo honors the peach crop.
The weekend includes a rodeo, live music, the crowning of the Peach Queen and much more. Fredericksburg's Fourth of July celebration provides plenty of patriotic fun. Attend the parade, patriotic program and then watch the beautiful fireworks display. The state's oldest, continuous county fair returns each August. Take part in carnival favorites, watch livestock judging, attend the horse races and dance the night away to great live music.
---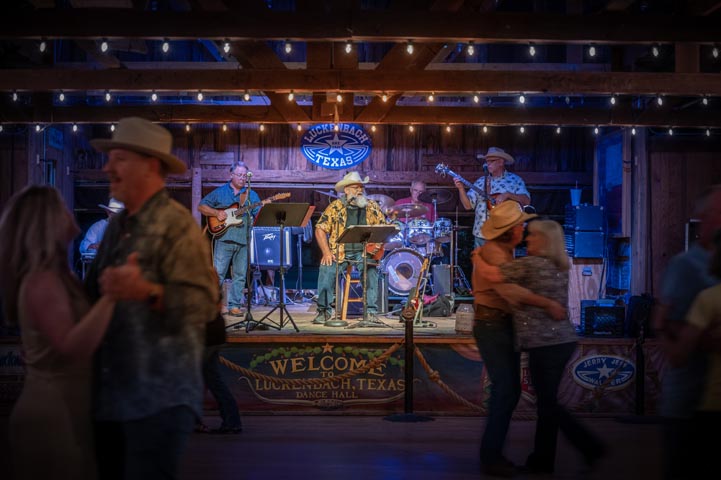 5. Make Your Way to Historic Luckenbach
Situated just outside of Fredericksburg, the tiny historic town of Luckenbach brings visitors to its wooden front door every year for a sneak peek into early pioneer days, even if it's just to snag a commemorative Luckenbach t-shirt! Relax among 500-year-old giant oak trees, explore the present-day functioning trading post established in 1849, grab a drink and get in some steps at the Luckenbach dance hall and bar, or simply hang out and take in the historic sites. As the famous town slogan goes, "Everybody's Somebody in Luckenbach!"
---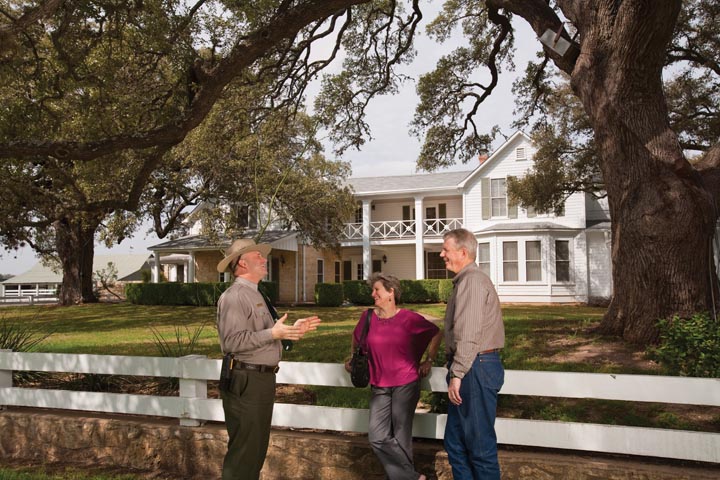 6. Get the Presidential Treatment at Lyndon B. Johnson National Historical Park
Only 20 minutes outside of Fredericksburg, make your way to the beautiful ranch and historic park once owned by the 36th President of the United States, Lyndon B. Johnson. Lyndon B. Johnson National Historical Park guides visitors on a chronological tour through the President's life, beginning from his ancestry until his final parting on his beloved LBJ Ranch.
Experience an intimate and in-depth look into a former President's life. Access to the park includes the LBJ Ranch, Texas White House, LBJ birthplace, Johnson family cemetery, and several other historic landmarks. Its spacious, serene, and secluded surroundings landed the Lyndon B. Johnson National Historical Park an International Dark Sky Park designation as well.
If you're ready to make the summer trip to visit Fredericksburg, this special Texas Hill Country town offers unique and versatile lodging for weekend trippers and extended stay vacations. Be sure to plan your visit midweek for the best adventure possible.
---
About the Author: Alexandra is the Head Writer and Digital Content Creator for Tour Texas. She is an avid traveler, lover of the arts, and enthusiast of all things Texas!
---
---