---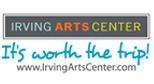 4 Reasons to Visit Irving Arts Center this Fall
By Maggie Heyn Richardson
The blazing Texas heat might have had you feeling stuck indoors this summer, but now's the time to break free for fresh adventures. Revive your sensibilities this fall with inspiring arts and culture experiences in a single location in the heart of the Dallas-Fort Worth metroplex. Irving Arts Center features everything from live theater and music to acclaimed painting, photography, and outdoor sculpture. This fall's line-up is packed with new exhibits and performers you won't want to miss.
---

Photography: Time Travel to the Old West in this Exhibit on Vaqueros
You can't say Texas without thinking about cowboys, but did you know that cowboy history is inextricably linked to the vaqueros? Vaqueros were rugged cattle herders from Mexico who performed backbreaking duties on horseback. Get to know their culture and legacy through the photographic exhibit Vaquero: Genesis of the Texas Cowboy (Photographs by Bill Wittliff).
Wittliff's work documents vaqueros on a ranch in northern Mexico during the 1970s where Wittliff was given rare access to chronicle the grueling daily routines of these individuals as they moved cattle using centuries-old techniques. Accompanying the exhibition are bilingual narratives that reveal the muscle, sweat, and mystery surrounding a life that now exists only in memory and art.
Vaquero: Genesis of the Texas Cowboy (Photographs by Bill Wittliff) is open in Irving Arts Center's Dupree Lobby Gallery from September 9 - November 4, 2023. This exhibit is free during gallery hours, Tuesday through Saturday from noon to 5 pm.
---

Performing Arts: From Folk Music to Broadway Tunes, See a Live Show This Fall
Dim the lights and raise the curtain! Every year, the Irving Arts Center attracts incredible live music, theater, comedy and other forms of performing arts. October marks the beginning of two of the institution's phenomenal series, the return of the annual Celebration Series, and the launch of the new Storyteller Sessions. Each series starts in October and will continue throughout the 2023-2024 season.
Catch Barricade Boys: Stars from the West End Cast of Les Misérables on October 6, 2023. The first event in the Celebration Series, Barricade Boys features four world-renowned performers who deliver an electrifying mash-up of familiar tunes that'll have you singing along. From the heart-wrenching ballads of Les Misérables and Wicked to the toe-tapping harmonies of Jersey Boys and Billy Elliott, Barricade Boys will take you on a musical journey complete with jaw-dropping vocals, sensational dance routines, and high energy fun. Throw in pop, rock swing, and Motown hits and you'll have a phenomenal night of showstopping talent.
Then, on October 19, 2023, soak in the universal tradition of songwriting with the first of three shows from Irving Arts Center's new Storyteller Sessions series. Held in the intimate Dupree Theatre, the inaugural event features acclaimed singer, songwriter, multi-instrumentalist, and producer Royal Wood.
The Toronto-based Wood was named Songwriter of the Year by iTunes in 2010, has earned multiple Juno awards, and is a five-time Canadian Folk Music Award-nominee whose songs have been heard on Grey's Anatomy and Private Practice. He's also shared the stage with greats like Bonnie Raitt and David Gray. Not only will you hear Wood perform, but you'll also hear him share his songwriting process. The series continues with other featured artists in January and April 2024.
---

Visual Art: Immerse Yourself in Transcendent Landscapes
This fall, two phenomenal fine art shows will transport you with works that explore the concept of landscapes. Marking Space / Holding Time are on display September 16 through November 11, 2023 in Irving Arts Center's Main Gallery. It is a group exhibition featuring 13 women artists who claim deep Texas roots. You'll be mesmerized by the beauty of their diverse work, which includes drawing, painting, mixed media, and sculpture.
As you move through this exhibit, see how these artists interpret the concept of place, landscape, identity, and the passage of time. Their artistic processes present new ideas and, in effect, create new spaces for us to ponder.
Also this fall, don't miss Over, Beyond, Between: Landscape and The Transcendent (Paintings by Dawn Waters Baker) in Irving Arts Center's Dupree Lobby Gallery from September 9 through November 25, 2023. Born and raised in the Philippines, Baker moved to Dallas at age 19 to attend Dallas Baptist University. Her art focuses on capturing emotional and spiritual landscapes and translating our shared human story through the metaphor of nature. You'll fall in love with the way Baker's art conveys emotions through water, earth, atmosphere, and sky.
Both exhibits are are free during gallery hours: Tuesday through Saturday from noon to 5PM.
---

Sculpture: Beautiful Things "Grow" in Irving Arts Center's Outdoor Sculpture Garden
Beautiful artwork isn't only confined to Irving Art Center's interior spaces. Head outdoors to the two-acre sculpture garden for a truly remarkable experience. Take your time strolling through this magical oasis as you stop to ponder awesome pieces created by Texas and international artists.
Situated among tranquil fountains, a large reflecting pool, a waterfall, and vibrant greenspace, the works take the viewer on an unexpected journey of beauty and wonder. It's a terrific place to enjoy with a friend or family member, or by yourself with your journal.
Pause and reflect on contemporary pieces created using a variety of materials, including concrete, steel, and more. Many works were specifically commissioned for the garden, including Michael Manjarris' Benches?(1999), Jesus Moroles' Fountain Columns (1998), and James Surls' Star Flower?(2008). You'll love how these works are situated in or around water elements, creating a soothing experience.
Other permanent works include Francisco Mendoza's colorful wall mosaic,?Irving Centennial Mural, created with young artists from Irving, and '03 Politicized Democracy?by John Brough Miller. The sculpture garden is free to view during gallery hours: Tuesday through Saturday from noon to 5PM.
Irving Arts Center is filled with wonders. Plan a visit today to experience the new shows and exhibits on offer this fall.
---
About the Author: Maggie is a lover of Texas and an award-winning features writer covering the Gulf South. She's also the author of Hungry for Louisiana, An Omnivore's Journey.
---
---