---

6 Amazing Ways to Enjoy Some Time Outdoors in Denton
Perched on the north side of the Dallas and Fort Worth Area, Denton is its own kind of place. With a youthful vibe, an independent streak a mile wide, two major universities, and a thriving arts and music scene, it's a great place to visit any time of the year. Yet there's another reason to join the locals in Denton that you may not be aware of: the outdoors. Whether you're sipping craft beer on an outdoor patio or dipping your toes in a picturesque lake, you'll find all sorts of ways to get some fresh air here. Read on to find out more.
---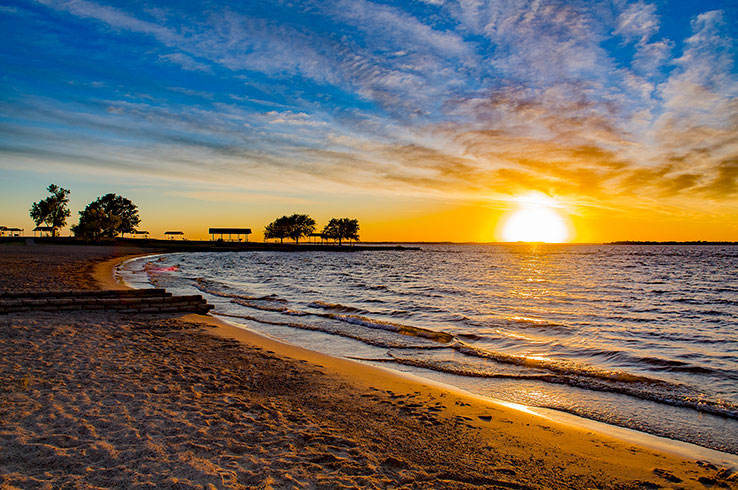 Get Outdoors at Ray Roberts Lake State Park
Hook a largemouth or white bass in one of Texas' best fishing lakes. Hike or ride your mountain bike on trails that wind and weave through woodlands and prairies. Explore a world of whimsy and wonder and cruise through North Texas' Horse Country. For a full day's worth of adventure, head to Ray Roberts Lake State Park. Home to a 29,000-acre lake of the same name, the park is a sprawling natural playground you can get lost in. Cast a line off the fishing pier or take your boat out to an isolated part of the lake to enjoy true solitude. Traverse the 20-mile Greenbelt Corridor all the way to Lake Lewisville, or meander along the trails in Johnson Branch or Isle du Bois. Once the sun sets, camp under the stars or book a room at the Lone Star Lodge & Marina.
For something a bit out of the ordinary, head to Chairy Orchard. As the name suggests, this unique attraction is an ever-expanding collection of old chairs started by two neighbors that call themselves the "chairy fairies." Visit and you'll see all sorts of seats from different eras. You can even donate a chair, if you're so inclined. Meanwhile, the bucolic countryside around Denton is well worth exploring, especially because it's home to one of the highest concentrations of horse farms in the country. Cruise on a driving tour and you'll pass more than 300 horse farms. You may even get to go horseback riding at one of these ranches.
Traveling with kids? Let them play the day away at the Eureka Playground at South Lakes Park. Appearing like an impressive wooden fort, your youngsters will have a ton of fun climbing the towers and zooming down the slides. Whether you're looking for an epic adventure or to bask in some sunshine, you'll be right where you belong in Denton.
---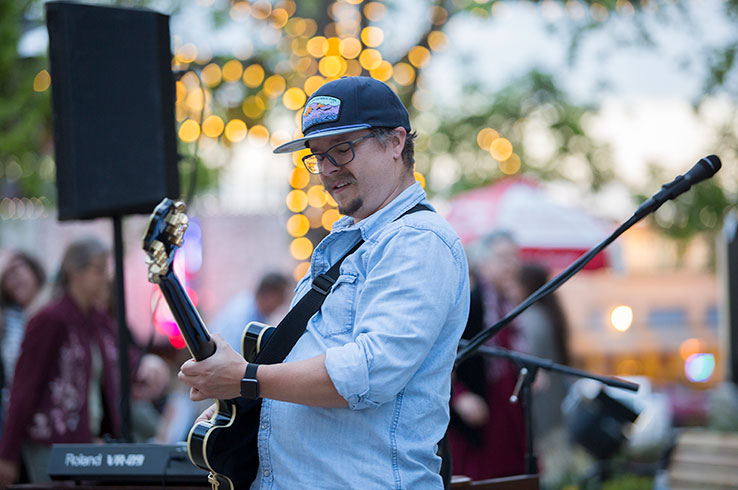 Experience Denton's Famous Live Music Scene
What's better than the soothing sounds of jazz or the tap-your-toes rhythms of rock and roll played by some of the best performers around? Listening to them while enjoying a cool evening at one of several outdoor venues in Denton. Order up a pizza and a few beers at J&J's Pizza, a downtown hangout where talented locals perform in what the restaurant calls the Ol' Dirty Basement. You can listen to more tunes on the lawn of the Denton County Courthouse-on-the-Square Museum lawn during Denton Main Street Association's free Twilight Tunes concert series (now streaming on Facebook due to COVID-19).
Denton has a full ensemble of indoor venues you've got to check out, as well. Sip wine and savor some jazz at Steve's Wine Bar, or pair live music with a delicious latte or a pint of beer at Golden Boy Coffee Company. While you can't go wrong at any of these places, there are far more music hotspots in Denton you need to check out.
---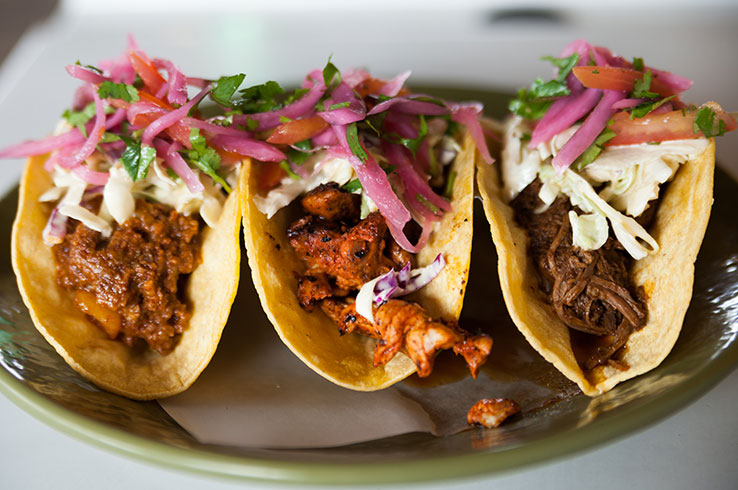 Pair Delicious Local Fare with Abundant Sunshine
From mouthwatering handcrafted burgers to delicious Latin street food and savory steaks, Denton's dining scene is as diverse and independent as the city itself. Better yet, you can enjoy much of the city's culinary offerings outdoors, as many of its restaurants have outdoor seating. Take in the view of the historic Denton County Courthouse while you're noshing on a creative and flavorful burger on the second-floor patio of LSA Burger Co.
For upscale comfort food, head to Hannah's Off the Square. Order a glass of wine and something hearty, like lamb meatloaf burger or cedar planked salmon, and relax on the puppy-friendly patio. You'll also find palate-pleasing fare at the Greenhouse Restaurant, which greets you with the aromas of cooked meats from its open-fire grill. Serving both American and Tex-Mex fare, Greenhouse has a bit of something for everyone. Still hungry? Look no farther than Boca 31, where you'll find a full menu of chef-inspired Latin creations that'll take you on a culinary journey.
These are just four of many examples of outdoor dining spots in Denton. Find more here.
---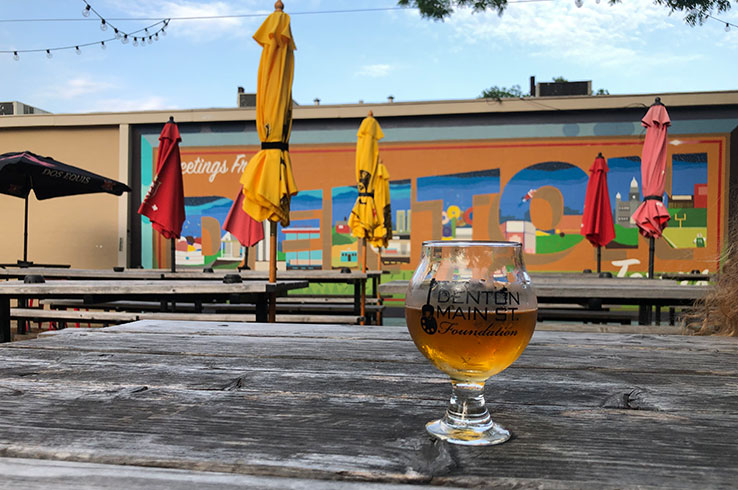 Savor Craft Beer on an Outdoor Patio
Denton's delightful year-round weather serves up the perfect conditions for one of the best things you can ever do: drink beer. Fortunately, Denton is full of places where you can pair amazing craft beer with warm sunshine, mapping out your very own pub crawl in the process. Start at Oak Street Drafthouse, where you can take your pick from more than 70 craft beers on tap and find a spot in the huge back patio (complete with a ping pong table). Then trek on over to Armadillo Ale Works or Denton County Brewing Co. for locally brewed beer and some fresh air. As afternoon turns to evening, stop in at Paschall Bar for delicious cocktails and the upscale speakeasy style atmosphere.
There are even more places to enjoy a drink outdoors in the downtown area, meaning that no two pub crawls are ever the same. Click here to see a full list.
---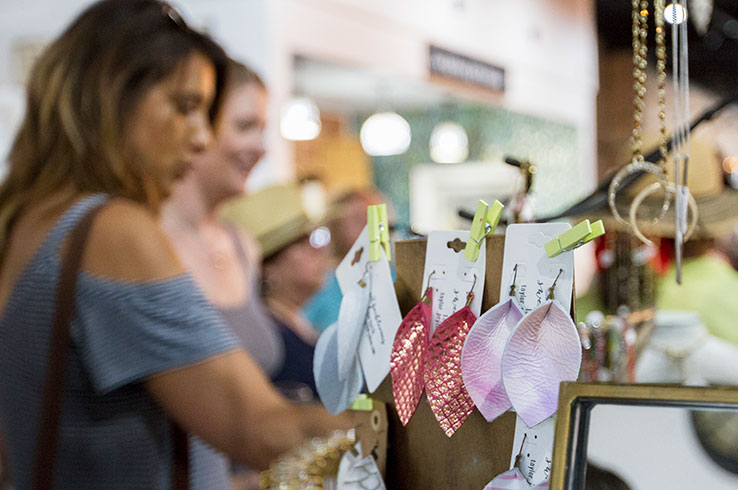 Shop for One-of-a-Kind Treasures in Downtown Denton
Beyond its bars, coffee shops, and restaurants, downtown Denton is full of unexpected finds you'll want to browse for. Peruse the fun and quirky collection of jewelry, handmade crafts, Denton-themed t-shirts, and one-of-a-kind pieces of art at Sleeping Lizzards, located a few blocks north of the downtown square. Then stop by the DIME Store to see all the handcrafted wares made by more than 50 local artisans, including everything from plant-based skin care products to metal jewelry and whimsical stationary. For high-end fashion, step on over to J.T. Clothiers, a premium retailer of men's and women's apparel that has been a Denton institution for more than 50 years.
Want a taste of North Texas? Get yourself some Denton and Texas mementos at the Discover Denton Welcome Center, and visit the Denton Community Market, where you shop locally sourced fruits and vegetables, honey, meats, eggs, and other goodies. While you are out shopping, tune in to DentonRadio.com for the latest news and updates, as well as local live music.
---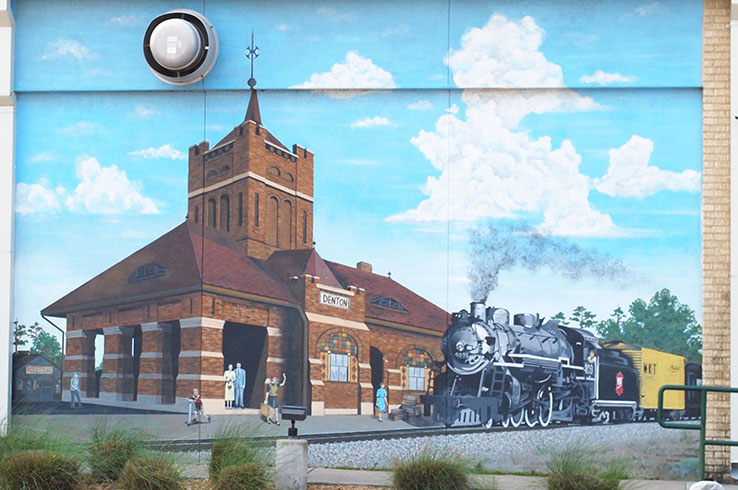 Discover Denton's Arts Scene
With its abundance of sculptors, painters, and galleries, it's no stretch to say Denton is an arts town. Experience it for yourself by going on your own tour of all the colorful murals throughout the downtown area. Hop in your car, roll down the windows, and cruise through town, stopping at any that catch your eye for a few photos or the obligatory vacation selfie. Use this guide so you don't miss anything while you're here.
To see art on a smaller, but no less impressive, scale, check out A Creative Art Studio and the Greater Denton Arts Council. A Creative Art Studio boasts a collection of fine art and handmade crafts created by artists from in and around Denton that you can take home with you. If you're up for a virtual tour, check out the Greater Denton Arts Council's online exhibits and streaming art lessons. No matter where you go or what you do, you'll find there's an endless amount of fascinating art to admire.
Already planning your next getaway to Denton? Visit Discover Denton to learn more about what this North Texas town has to offer and start planning your trip today.
About the Author: James Waterson is the head writer and content specialist for Tour Texas. When he isn't writing about the many great places in the state of Texas, he's planning his next epic adventure in the Lone Star State.
---
---