---

10 of the Coolest Places You Can Enjoy Craft Beer in Denton
By James Waterson
The craft beer craze is sweeping across Texas, with new microbreweries opening seemingly every day. Yet there aren't many places in the Lone Star State that have embraced beer culture quite like Denton. This North Texas town is so serious about its craft beer that it has its own radio show about it, and even its wine bars have brews on tap. Not only is Denton home to two of its own breweries, it has numerous other one-of-a-kind bars and pubs that, together, offer hundreds of beers on draught. So whether you prefer hoppy IPAs, rich and savory stouts, or something in between, you'll find more than you can imagine in Lil' d. Check out the following craft beer spots and you'll be champing at the bit to plan your next beercation to Denton.
---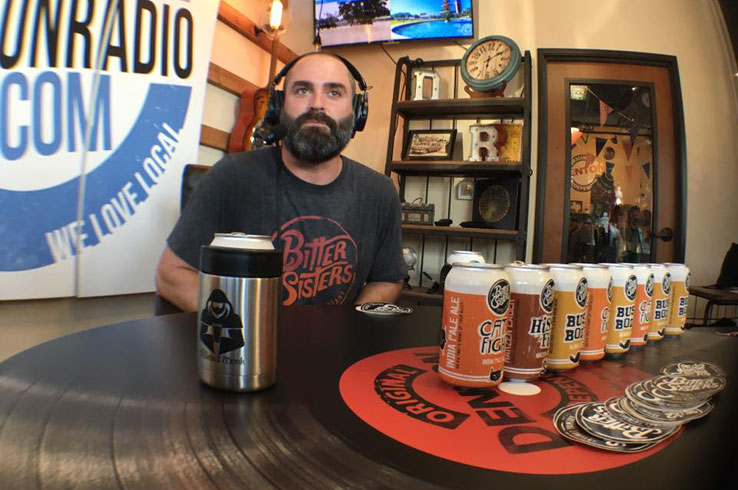 Free Beer Friday
Why You Should Go: Was the word "free" not enough for you?
If you love craft brews, there are no words sweeter than "Free Beer Friday." Held every Friday from 7 to 9 p.m. at the Discover Denton Welcome Center, Free Beer Friday is the perfect opportunity for you to sample the wares of brewers from Texas and beyond. It all kicks off when the guest brewers share their stories and talk about their beers in the DentonRadio.com studio. That's right; Denton even has its own radio show dedicated to craft beer, and you can listen to it on either iTunes or Google Play. Try the array of brews and learn where you can find them, then head over to the Bearded Monk for a full pint of your favorite.
This weekly celebration of all things beer is more than a tasting session. It's also a great starting point for your time in Denton, where you can discover Denton's culture and get suggestions for shops, restaurants, and bars to visit while you're in town.
Check the website for current events and updates to this listing.
---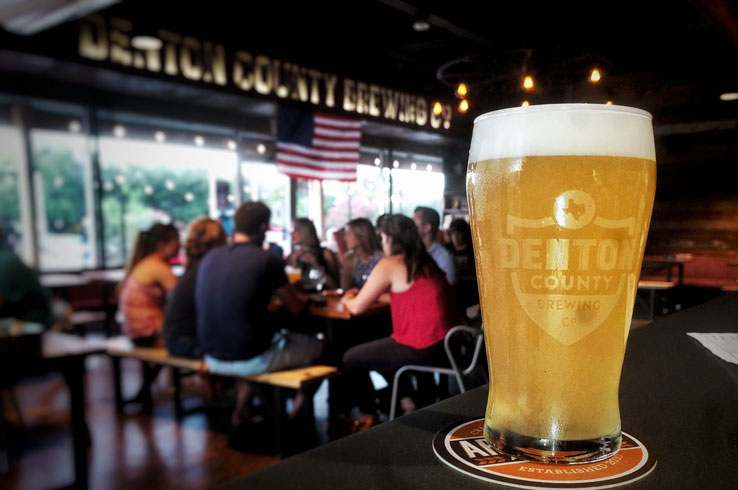 Denton County Brewing Company
Why You Should Go: House-made beers and 24 others on tap.
When you're looking to try a local brew but still want to be able to choose something from further afield, roll on over to Denton County Brewing Company. Located just northeast of the downtown square, this town hangout pours six of its own creative beers, including the creamy and fruity Bikini Bottom Pineapple Milkshake IPA. Denton County also has other beers from as far away as Belgium that you can try. Order your drink of choice, find a seat on the cozy outdoor patio, and admire the beer-themed mural splashed across the wall next door.
---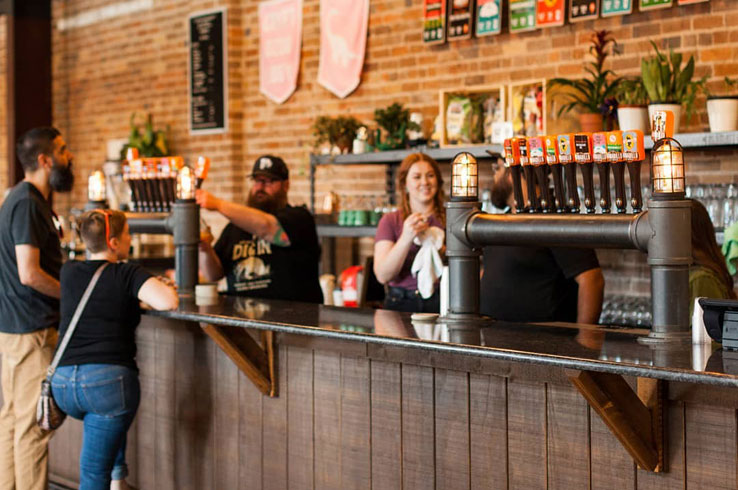 Armadillo Ale Works
Why You Should Go: Award-winning brews served at Denton's newest craft brewery.
With its industrial-rustic charm, long wooden benches and stage purpose-built for live music, Armadillo Ale Works is a hangout spot with plenty to offer. Factor in all of the delicious and award-winning beer, and you'll probably be here for a while. Although it opened in May of 2018, Armadillo Ale Works has been racking up awards for its beers for years. Among them is the sweet and sessionable Honey Please Mesquite Bean Blonde Ale, a well-balanced brew that tastes of honey and a touch of cinnamon. The brewery's other beers run the spectrum of light and dark, from the aromatic and hop-forward Land Yacht IPA to the coffee, chocolate, roasted nuts, and oats-flavored Quakertown Stout.
Need a pick-me-up? Armadillo Ale Works is also home to Cryptozoology, a local coffee joint that serves up drip coffees, espresso shots, and tea.
Photo Credit: Kelly Sparks
---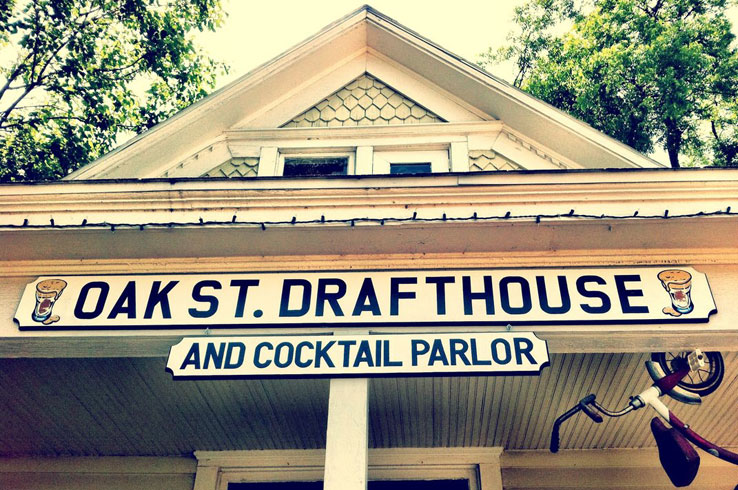 Oak St. Drafthouse and Cocktail Parlor
Why You Should Go: One of the coolest outdoor patios in town. Oh, and the more than 70 beers on tap.
From the outside, Oak Street Drafthouse and Cocktail Parlor looks like the kind of house you'd see on a historic homes tour. Yet outer appearances can be deceiving, my beer-loving friend. Step inside and you'll find yourself in a wonderland of craft beer, where more than 70 brews (24 from Texas) flow from the taps.
While the always-rotating selection is undoubtedly the star of the show, Oak Street has far more going on than its palate-pleasing pours. After all, sometimes the joy of imbibing in craft beer is just as much about where you do it as what you're drinking. Oak Street sits within one of the oldest remaining houses in Denton, meaning you can park up on the wrap-around porch or find a spot inside. Yet you'll definitely want to spend some time on the sprawling back patio complete with a colorful "Greetings from Denton" mural covering the side wall.
Soak up some sunshine, play a game or two of ping pong, and enjoy an afternoon with great beer and even better company.
---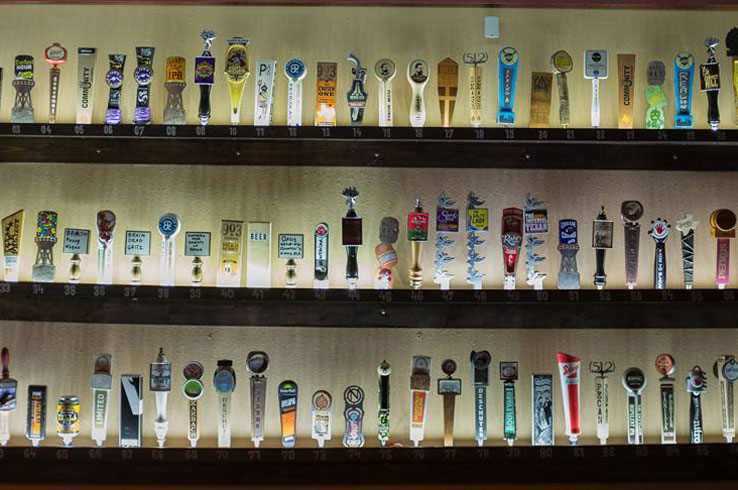 East Side Denton
Why You Should Go: The selection of 80 beers on tap, including 60 from Texas.
For you patriotic Texans out there, East Side Denton is one of the best spots in town to get craft beer made in the Lone Star State. With 60 Texas craft beers on tap, East Side Denton has one of the best selections in town. Take your brew of choice outdoors to the dog-friendly beer garden, or hang out inside and watch local sports on any of the TVs. Stay here long enough and your appetite is bound to catch up with you. Fortunately, East Side Denton sits right next to the Austin Street Truck Stop, Denton's home for food trucks. Order something creative and delicious, then come back for another round.
---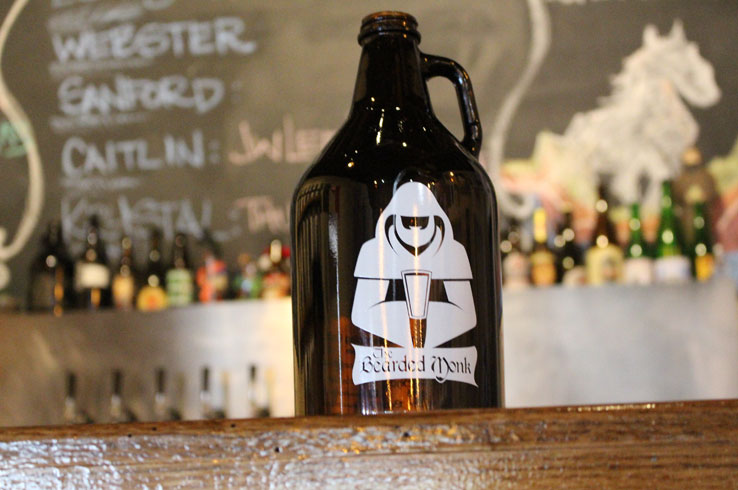 The Bearded Monk
Why You Should Go: If the more than 1,000 craft beers don't convince you, we don't know what will.
As the Shakespeare-inspired saying goes: "Too much of a good thing can be a bad thing." Not so at The Bearded Monk, where the vast selection of craft beer will leave you stumped. Needless to say, this is not the kind of joint you walk in and out of. If all the variety wasn't enough, The Bearded Monk also has more than 20 beers on tap, so you can work on a pint as you try to decide what you're going to take home with you.
You can even fill up a growler and take it to any of the upcoming events in Denton's downtown entertainment district, such as Arts & Autos, Mean Green Game Day, Fall Twilight Tunes, Geezerpalooza, and Denton Day of the Dead. Just remember to not open your growler outside the Arts and Entertainment District; that's a no-no in these parts.
---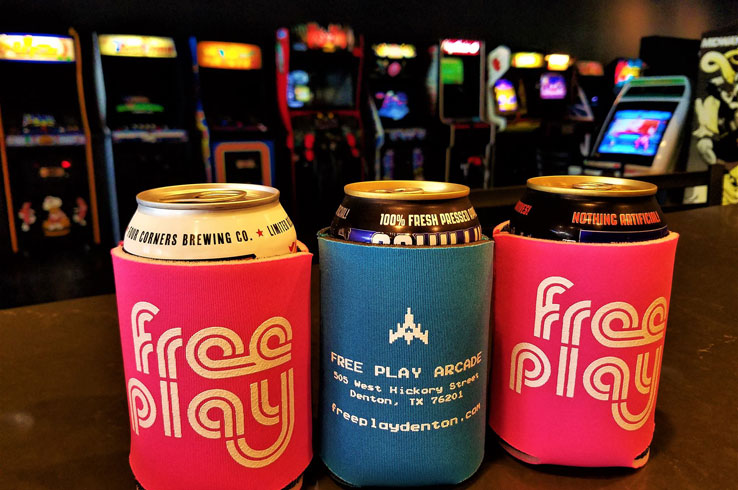 Free Play Denton
Why You Should Go: More than 50 beers and ciders on tap, plus all the retro arcade and pinball gaming you can handle.
Pair your favorite craft beer with the ultimate nostalgia trip at Free Play Denton, home to vintage arcade games and a ton of different brews. Take on more than 50 pinball machines and classic quarter eaters like Galaga, Ms. Pac-Man, NBA JAM, and even Teenage Mutant Ninja Turtles: Turtles in Time as you savor your favorite style of beer or cider. All these games are set to free play, although you still need to pay a $5 entry fee at the door.
Believe it or not, Free Play Denton isn't the only bar with arcade games you can play. Game Changers also has games from the 70's, 80's, and 90's and an array of beers on tap. Since it's less than a mile away, you can do some serious gaming and beer drinking right here in Denton.
---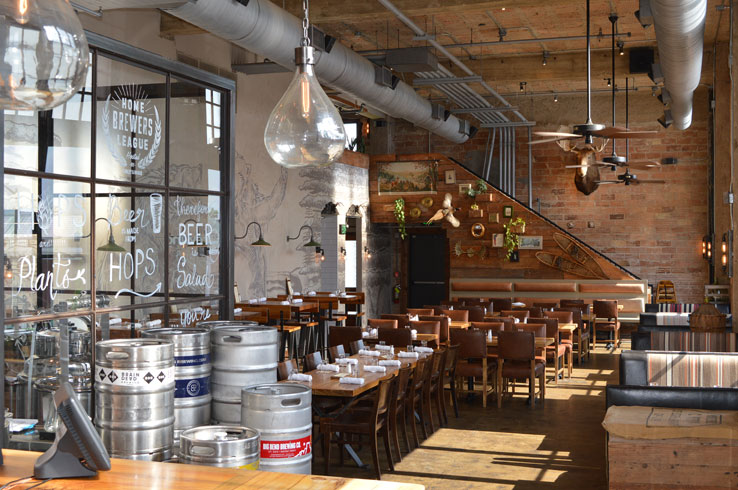 Barley & Board
Why You Should Go: Inventive brews from Denton's Home Brewers League, plus all of the delectable New American-style cuisine.
In some ways, Barley & Board is where Denton's craft beer scene goes to let its hair down and express itself. Beyond its 36 beers on tap and mouthwatering dishes like its pecan-crusted trout and brazen two-faced quail, this upscale bar and restaurant showcases the best beers made by Denton's own home brewers. At the end of each month, the local Home Brewers League meets at Barley & Board to showcase a variety of inventive beers, many of which you can try. One is selected to be a part of the restaurant's selection until it runs out. Whether you make it for the event or you visit at any other time, you'll have the chance to drink a beer you really won't find anywhere else.
---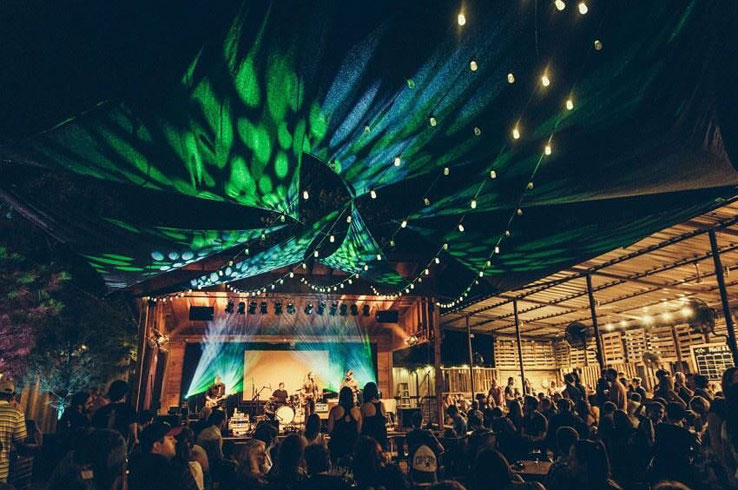 Harvest House
Why You Should Go: A bar, beer garden, live music venue, and coffee shop rolled into one place.
Denton is famous for its live music scene, and Harvest House is one of its top venues. Take in a performance by a local, regional, and touring band as you sip on your pick from the 48 domestic and international craft lagers, pale ales, IPAs, porters, and stouts from around the country on draught. Harvest House also has kombucha and cold-brew coffee on tap, as well as a full cocktail bar and more. When a band isn't playing, play a game of darts or pool in the indoor bar area or kick your feet up in the all-season outdoor patio that has heaters and fire pits for when it gets cold outside. Come for the craft beer and stay for the live music and you'll have a great night out here in Denton.
---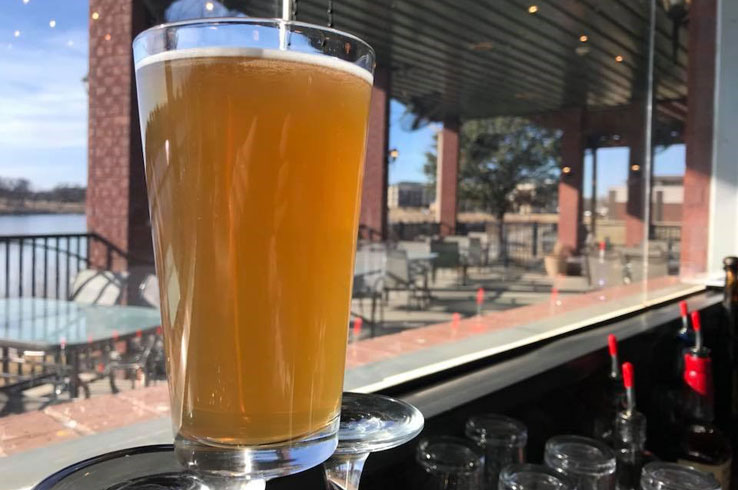 Lakeside Craft Kitchen
Why You Should Go: Because of the lakeside views. And all of the craft beer, of course.
Sometimes, all you need is a tall glass of beer, a cool breeze, and a nice view. Unlike most of the other bars and breweries mentioned here, Lakeside Craft Kitchen is located outside of Downtown Denton on the bank of a lake on the south end of town. Order from the more than 50 craft beers on tap from such brewers as Lakewood Brewing Company and Real Ale Brewing Company and find a spot on the patio that overlooks the lake. Pair your brew of choice with a fresh salad, a juicy burger, or something from the grill. Given its upscale charm, Lakeside Craft Kitchen is an ideal date night spot for beer enthusiasts.
---
With its one-of-a-kind bars and abundance of ales and lagers on draught, Denton is a must visit if you love craft beer. Yet it's just one of many reasons to come here. After all, Denton's live music scene, fun-for-all-ages events, first-rate restaurants, and vibrant youthful vibe make this North Texas town perfect for a weekend getaway. So, what are you waiting for? Plan your visit here.
---
---