---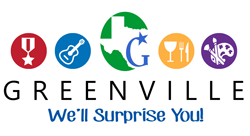 7 Reasons Why You Should Visit Greenville this Fall
Take in a bustling street festival, vote for your favorite bedecked bra in an arts contest like no other, and enjoy all the other wonders of fall in North Texas when you visit Greenville. Set among rolling hills just 35 miles northeast of Dallas, Greenville is an idyllic small-town getaway within a stone's throw of the big city. Autumn brings epic bike rides, festivals, and a host of other ways to savor the season beyond browsing its boutique shops and indulging at its locally owned restaurants. Read on to see why you should discover Greenville this fall.
---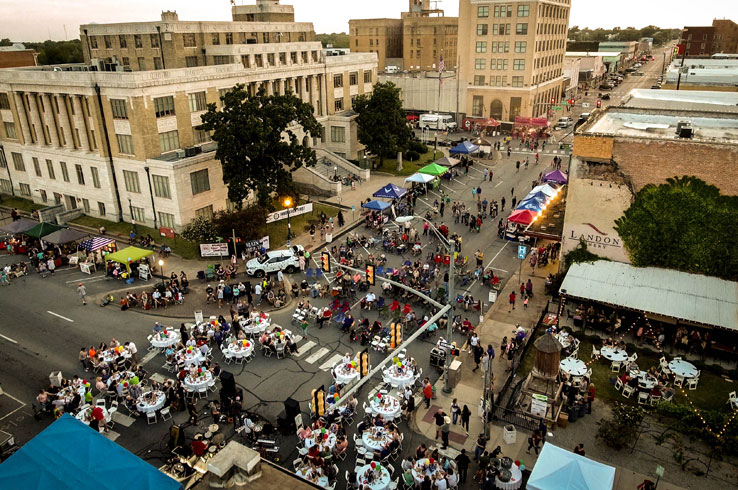 Live Music & Family Fun at Rally Round Greenville
Watch as tight ropers and stilt walkers stroll by, try your hand in a high-stakes cornhole tournament, and dig into delicious food truck fare. This is all part of the fun at the once-a-year Rally Round Greenville (Sept. 14). Starting in the late afternoon, Greenville's historic Courthouse Square becomes a sprawling street festival. Laugh at the antics of street performers, browse the wares of various vendors, and sample the entries from the Chili Appreciation Society International chili cook-off. Four bands, including popular headliners Emerald City Band, serve up a backdrop of live music on the event's Main Stage.
Rally Round Greenville is free to attend, but you can purchase VIP tables at the stage that includes seating for eight and a taste of local barbecue provided by Soulman's Bar-B-Que, Ernies Pit BBQ, Tamolly's Rib Crib, and Sweetwater Grill.
---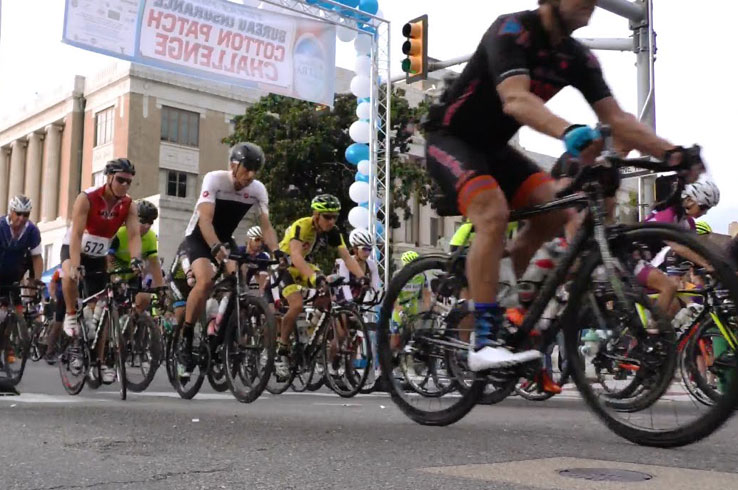 The Cotton Patch Challenge Bicycle Rally
Inflate your tires, dust off your cycling jersey, and get ready for the Cotton Patch Challenge (Sept. 15), one of the coolest biking events in Texas. Starting in downtown Greenville, the rally takes you through miles of scenic North Texas terrain on a ride that's friendly for the whole family. From a short 12-mile jaunt to an endurance-testing 74 miles, with the two longer routes taking you to the quad-burning "Bowman's Mountain" and beautiful Lake Tawakoni. Roll back into downtown Greenville and you'll be rewarded with a free fruit smoothie just past the finish line, a well-earned treat after a day's worth of riding.
---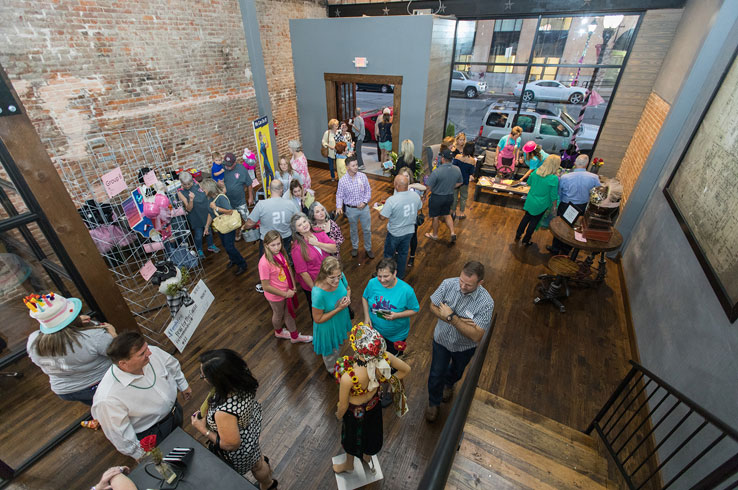 Bras for the Cause, an Uplifting Experience
From paintings and sculptures to dance and theater, art in all its forms is inspiring. Yet there's nothing quite like what's on display during Bras for the Cause (Oct. 11), which is definitely not your typical art show. Wander through downtown Greenville and you'll come across more than 150 elaborately decorated bras on display. We're talking everything from bedazzled brassieres to the truly whimsical.
The annual competition is serious business here in Greenville, as local companies and townsfolk young and old all vie for bragging rights and help raise awareness of breast cancer. The winners are determined by vote via tickets you get after you make a donation, with all funds going to support Hunt Regional Healthcare. Don't miss out on your chance to get in on the fun and help make a difference in Greenville this fall.
---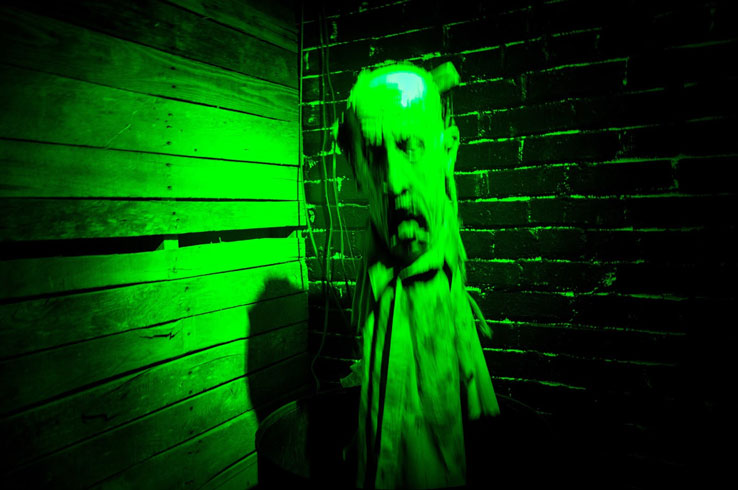 Spooky Adventures at The Haunted Landmark
Fall is Halloween season, and what better way to celebrate this time of year than by scaring the dickens out of yourself? Descend down the 13 steps into a maze of horrors at The Haunted Landmark, located in the basement of Greenville's old city post office. Put one hesitant foot in front of the other as you step down narrow hallways and through shadowy rooms, where you'll get up close and personal with a deranged doctor, scary clowns, and other things to that go bump in the night. The Haunted Landmark is open every weekend during October and on Halloween night. Just remember, enter at your own risk.
---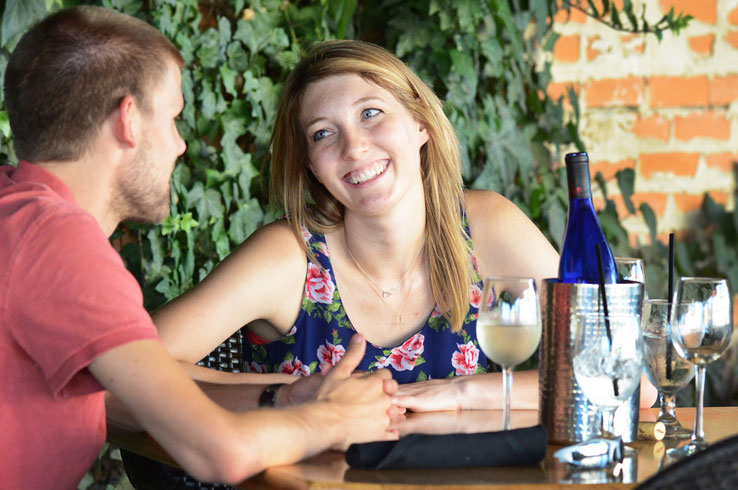 Cool Fall Air & Award-Winning Wine
Is there anything better than savoring a glass of wine and a cheese plate as you soak up the brisk autumn air? If you answered yes (and who wouldn't?), then you owe yourself a trip to Landon Winery. Sample the award-winning reds and whites made on site and go on the Barrel Room Tour, a two-hour behind-the-scenes tour held the first Saturday of the month that is led by one of Landon Winery's passionate winemakers. Once the tour ends, order up a glass of your favorite wine and relax on the outdoor patio that affords a stellar view of downtown Greenville. Does it get any better than this? We don't think so.
---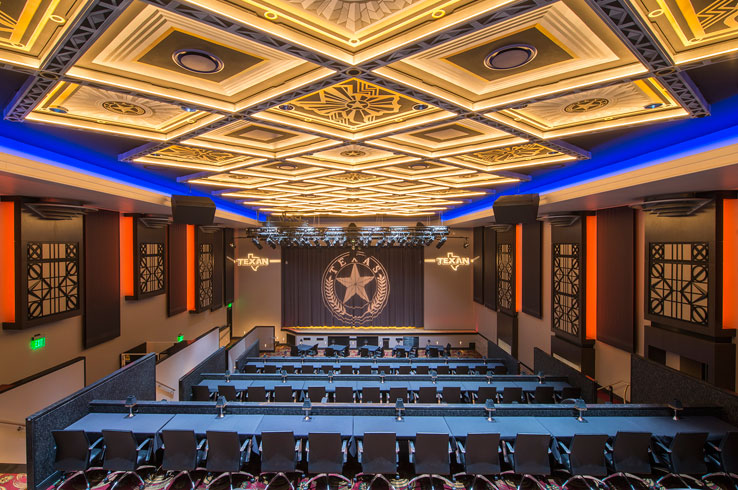 Luxury Entertainment at its Finest at the Texan Theater
When it's time for a dinner and a show, it's hard to beat Greenville's Texan Theater. This beautifully renovated venue offers intimate shows along with full four-course dinners perfect for a date night. The Texan Theater frequently hosts touring bands that play everything from country to rock and roll, as well as plays and other performances in its cozy auditorium that has space for nearly 120 people. Upcoming performances include country musician Radney Foster (Oct. 26), perhaps best known for the single Nobody Wins, and the Austin-based Wood & Wire (Nov. 16). Tickets are available on the Texan Theater's website.
---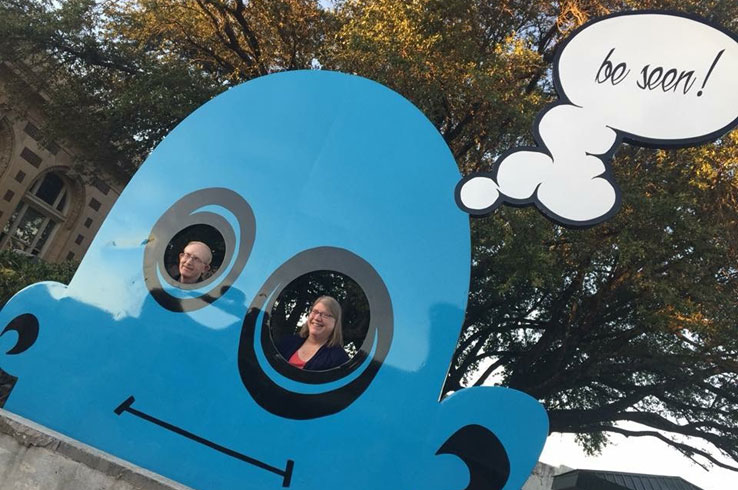 Murals & Public Art in Downtown Greenville
They're big, colorful, and all over Downtown Greenville. What are they? Greenville's spectacular murals and other works of art, of course. Mostly located along Lee Street and Washington Street, these murals are best seen on your own self-guided walking tour. Check out the High Cotton mural that celebrates the town's rich agricultural history, then take a photo at Be Seen, a 12-foot-tall sculpture designed to "reflect the blank expression of humanity."
Let the sun set before you admire Spectrum, a multi-medium art work that features a colorful mural, a life-size sculpture of a local citizen, and a metal sculpture that is backlit at night. All told, there are eight public art pieces to behold in Downtown Greenville, and there's no better season for your very own art walk than autumn.
---
As you can see, there are many reasons you should travel to Greenville this fall. Located just an hour northeast of Dallas, it's just far enough away to keep its small-town charm while being close to all the action of the DFW Metroplex. Discover everything else Greenville has to offer and plan your visit today.
About the Author: James Waterson is the head writer and content specialist for Tour Texas. When he isn't writing about the many great places in the state of Texas, he's planning his next epic adventure in the Lone Star State.
---
---