---

Bullock Texas State History Museum Hours & Admission Prices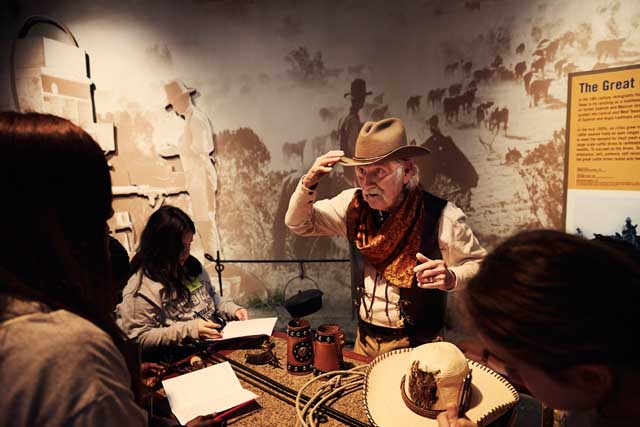 No visit to Austin is complete without stopping by the Bullock Texas State History Museum.
Conveniently located between the state capitol building and the University of Texas campus, Bullock Museum offers a huge collection of Texas artifacts, photos and films, rare documents, and re-creations.
With two theaters, including an IMAX screen; an in-house café; gift store; and a jam-packed events calendar, there is something for everyone, from the youngest student to the most distinguished Texas history scholar.
---
Bullock Texas State History Museum Hours
Monday - Sunday: 10 AM – 5 PM
The Museum is closed on select holidays. Check the website for more information. The IMAX Theatre and Texas Spirit Theater are open during normal museum hours and select holidays and evenings.
---
Bullock Texas State History Museum Admission Prices
Members: Free
Children Younger than Three: Free
Children (4 - 17): $9
Adults (18 - 64): $13
Sr. Citizens (65+): $11
College Students: $11
Military: $11
Chaperones: $12
---
Bullock Texas State History Museum Tours
Guided group tours are available for adults between June and March. With advance notice (at least 10 business days), groups of more than 20 receive special benefits, including customized tours, discounted admissions to films and exhibits, and discounts at the Story of Texas Café.
---
Bullock Texas State History Museum Field Trips
Bullock Museum is the perfect place to teach young students about history, science, the arts, and more. Educators are invited to visit the museum for a pre-field trip visit at no charge. Simply show your ID badge at the ticket counter. An education staff member can also help you plan a class trip based on your topics of interest.
Visit the museum's special exhibitions page for more on what you can find at Bullock Museum.
---
Hours and pricing are subject to change. Please visit the Bullock Texas State History Museum's website for the most up-to-date information before visiting.
---
---