---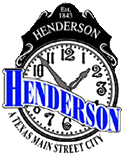 Driving Tours:
Enjoy the rolling hills, pine trees and scenic views of East Texas!
Historic Black Gold Oilfield Driving Tour - Revisit the oilfield of the 1930's when Rusk County was the largest oilfield in the world. Visit the London Museum and learn why odor is inserted into natural gas. View Adolph Hitler's telegram and Walter Cronkite's report.

Wildflower Driving Tour


April 15 - May 31st - Wildflower Driving Tour. Enjoy the self driving wildflower tour with 3 itineraries within Rusk County. Driving maps are available upon request or may be down loaded at www.hendersontx.us. Contact info: Tourism Department 866.650.5529 Ext.

Recreation
Outdoor fun at its best: Equine events, city parks, ball fields, golf course, lakes and camping.
Rusk County Expo Complex - The covered Expo is one of the finest facilities of its kind in the state. The complex has 100,000 square feet with a capacity of 4,700. Located on Hwy 13 West adjacent to the Rusk County Airport. Equine events are held weekly.
Henderson Sport Complex - Located on Hwy 259 South just past the city limits sign. The complex is home to the Henderson Boys Baseball Assn, Henderson Girls Softball Assoc and the Henderson Soccer Assn.
Lake Forest Park - A 34 acre city park with lake. Includes a gazebo for fishing, playground equipment, picnic tables and the new Civic Center which opened March 2010 with 20,000 sq ft of meeting space.
Fair Park (Fitness park) - The historic Fair Park located on Fair Park St. was revitalized in the fall 2009. A new 2 mile ADA
Fair Park

acceptable concrete walking/jogging trail was built along with a new splash park, playground and skate board park. The tennis courts have been restored.
Martin Creek Lake State Park - Located just minutes from Henderson on TX Hwy 43. A 5,000 acre lake filled with black bass, white bass, crappie and catfish with a scenic wooded island accessible by footbridge for picnics. Relax in one of the 60 multi use campsites including: 21 Screened cabins, 12 primitive camp sites, and a swimming beach.

Lake Striker - Located 20 miles south of Henderson. Enjoy fishing the 1,863 acres filled with spotted bass, crappie and catfish. Ski boats and jet skies are also seen on the lake. For more information call: Striker Lakeside Restaurant & Marina 903-854-2404.
Fine Dinning:
Henderson offers whatever your taste buds are craving. Family owned restaurants cater to: Italian, Chinese, seafood, bar-b-que and hamburgers. Major chain restaurants are also abundant. For a complete list of restaurants download Henderson brochure www.visithendersontx.com. Choose and enjoy!!
---
---