---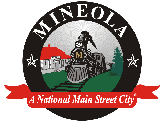 Things To Do in Mineola
Ride the Amtrak Texas Eagle
Amtrak Texas Eagle, stops at Mineola TX twice daily. Originating from Chicago, all the way to San Antonio, then it will connect with another train that goes all the way to Los Angeles. Yes, you may board it at downtown Mineola depot station 7 days a week; from east to west and west to east! Take a day trip to Dallas or east to Longview and be back by dinner. There's free parking for anyone wanting to leave their vehicle overnight or longer. The City of Mineola has security cameras inside and outside our Depot.
---
Attend a Festival
The Mineola Chamber of Commerce hosts 2 festivals a year. The Iron Horse Heritage Festival (4th Saturday in September), and May Fiesta Days (first Saturday in May). Both are in historic Downtown Mineola and feature live entertainment, unique foods, craft vendors and local businesses and organizations. There are many other small craft events, car shows, art displays and pub crawls that pop up each month.
---
Mineola Main Street Wine Train
Each spring (late March or early April), Mineola Main Street hosts its very popular annual Wine Train event. Attendees board the Amtrak Texas Eagle on Saturday and head west tasting Texas Wines on the train along with entertainment and snacks. The route ends at Union Station in Downtown Fort Worth. You'll then stay eat dinner where you'd like and stay the night in a hotel there. Spend the following day shopping, etc. and be back on the train around 2:00 to head back east to Mineola. Tickets are limited and sell out each year!
---
Mineola Fire Department Rodeo
A 58 year tradition and counting. This UPRA, CPRA, and CRAA sanctioned rodeo brings professional rodeo cowboys and cowgirls to town for 3 nights every second weekend in July. Bull riding, barrel racing, broncs, steer wrestling, and roping bring attendees to their feet as well as the calf scramble which is a rite of passage for local youngsters. Proceeds benefit the Mineola Fire department.
---
Chirstmas Parade and Downtown Holiday Lights
Downtown Mineola's annual Christmas parade is the first Saturday in December each year at 5:30 p.m. Shops stay open late and the Main Street board makes sure that the halls have been decked with lights and holiday cheer all the way to the Gazebo on Johnson Street. Santa has been known to have made an appearance after the parade in years past. The lights continue through the holiday season.
---
Take in a Movie or Play at the historic Select Theater.
The Select Theater is the oldest continuously running movie theater in Texas and is home to the Lake Country Playhouse. First opening its doors as a movie house in 1920, The Select has kept up with the times and ever changing technology, continuing to show first run movies while retaining its style. The Lake Country Playhouse, a live theatre group, also performs 4 plays (one for each season) there each year. The most popular ones being the summer musical and Christmas play.
---
---