---

Navasota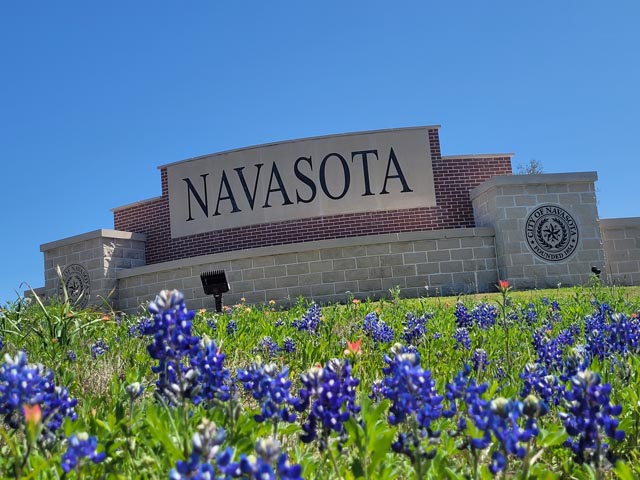 With a population of 8,000 and growing, Navasota is an ideal location for businesses and families alike. Navasota is a located in the heart of the "Texas Triangle" near the Bryan-College Station and Houston metropolitan areas. Navasota takes pride as a clean, relaxing, safe community with a growing suburban area where commercial development and residential communities come to grow and prosper.
In 1822, Francis Holland purchased land located on a bend of the Navasota River in southeastern Grimes County. The site of present-day Navasota was named Hollandale in honor of its original settler. More settlers followed Holland to the area. In 1831, Daniel Arnold, a Georgia planter, applied for and received a land grant along the Navasota River. Soon after, Daniel Tyler received a land grant in the same vicinity. Navasota was built on sections of these two Montgomery County land grants. The county was divided in 1846, and Navasota became part of Grimes County.
Navasota is a growing community of 8.37 square miles located in southwestern Grimes County, east of the Navasota River. While it is a small town that retains its rural character and high quality of life, Navasota is the perfect distance to many metropolitan areas with convenient access to several means of transportation, making it a key location for economic development. Navasota has a thriving business community, with over 1,500 working at major industries alone. There are many development sites available, local workforce office, a live community theatre, large number of city-owned parks for outdoor entertainment, golfing at Pecan Lakes Golf Course, downtown shopping & city hall plaza, live music venues, and a variety of dining options. Navasota was awarded Train Town USA designation by Union Pacific Railroad and is certified by the Texas Department of Agriculture as a GO TEXAN Certified Retirement Community. Navasota is the world headquarters for Heat Transfer Research, Inc. (HTRI) and boasts as having the largest drill stem manufacturer in the world located here. The Texas legislature designated Navasota as "The Blues Capital of Texas", as Navasota is where famed blues songster Mance Lipscomb was born and lived. Bronze statues of Lipscomb, along with famous French explorer LaSalle and Texas Ranger Frank Hamer, who was city marshal who led the search and demise of Bonnie & Clyde, stand throughout the city.
---
---