---

Things to Do in Bee Cave
Stand among stunning sculptures, spend a sunny afternoon window shopping, and enjoy the outdoors at some of the Texas Hill Country's most iconic creeks, lakes, and swimming holes. All these experiences are on your doorstep when you stay in Bee Cave. Located less than 20 miles west of Austin, this buzzworthy city is the ideal launchpad to exploring much of what makes the region great. Yet there is an abundance of ways to enjoy your time in town as well, whether you're seeking delicious food or a relaxing day at the spa. Plan your visit here by checking out these fantastic things to do in Bee Cave.
---
Enjoy the Outdoors at Bee Cave Central Park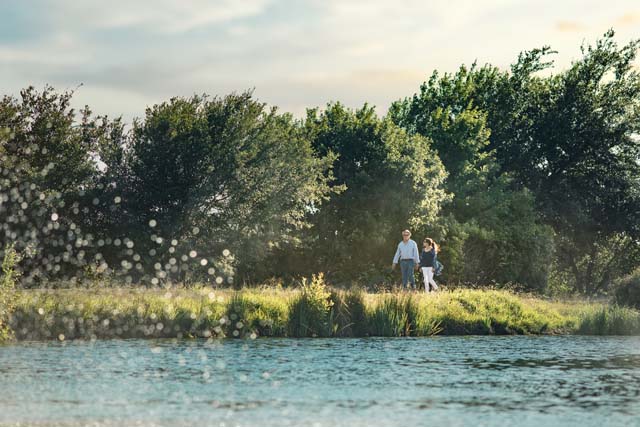 If you're searching for your next picnic spot, look no further than Bee Cave Central Park. Stately live oak trees and sweeping grasslands make up this 50-acre oasis that's located just a stone's throw away from the bustling Hill Country Galleria. Stroll along the concrete path until you find that perfect tree to unwind under, with the trail eventually leading to the City of Bee Cave Dog Park.
When you aren't lounging the day away, let your kids run wild at the playscape or get a pickup game going on the basketball court. Sometimes the best thing you can do is slow down, and Bee Cave Central Park is just the place to do that.
---
Explore a Stunning Sculpture Garden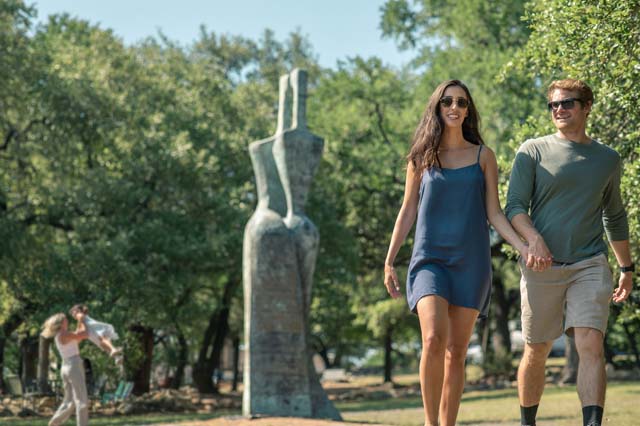 Majestic trees and a nearby spring-fed pond provide a scenic backdrop for the Bee Cave Sculpture Park, an outdoor art gallery with more than its fair share of surprises.
Meander along the pebble trail as you admire as many as 30 permanent and rotating sculptures made by first-rate Hill Country artists. All the while, you're surrounded by more than 20 native plant species.
Pause for a while and you may even spot some of the local wildlife, as well. A unique interactive experience, the garden is a great place to visit for travelers of all ages.
---
Shop & Dine at the Hill Country Galleria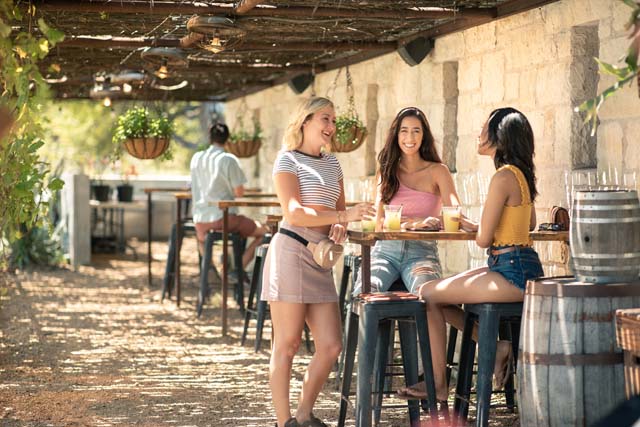 For those of you who take shopping seriously, find your way to the Hill Country Galleria. Home to men's and women's clothing, jewelry, and health and beauty retailers like White House Black Market, Gatsby's Clothier, and James Avery Artisan Jewelry, the galleria has more than enough for window shoppers. But we're just getting started. After all, the Hill Country Galleria is just as much of a dining destination. From barbecue and pizza to Thai cuisine and a steakhouse, the galleria has just what you're craving. Don't leave without trying a tantalizing beer at Vista Brewing's pop-up beer garden or a handmade cocktail at the one-of-a-kind Jules Design Bar.
No matter what brings you to the Hill Country Galleria, you'll leave happy.
---
Savor Bee Cave's Dining Scene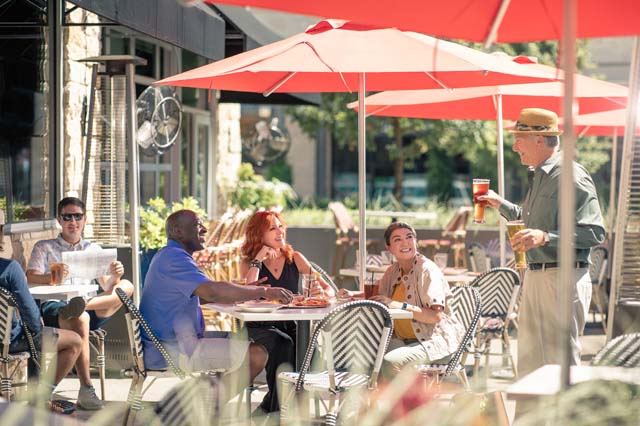 From perfectly flaky empanadas stuffed with ground beef or albacore tuna to mouthwatering barbecue and delectable breakfast tacos, you can have it all in Bee Cave. In fact, you could design an entire trip around enjoying the city's culinary delights and you still won't get through the entire menu. Not only can you try Argentinian, Italian, Japanese, Mediterranean, and Vietnamese fare, Bee Cave's restaurants range from casual and family-friendly to refined enough for a romantic night out. Start your day right with a cup of coffee from a local outfit like Greater Good Coffee Roasting Co., then treat yourself to dessert at popular Austin joint Amy's Ice Creams.
Hungry yet? Check out this list of places to eat in Bee Cave.
---
Experience Goat Yoga
They're small, furry, and if you're lucky, one might hop on your back mid-downward dog. Yoga is already a proven way to relax and unwind. Add some goats into the mix and you've got everything you need for a great time in Bee Cave. Experience goat yoga for yourself at Yoga & Goga, a local studio that offers "goga" sessions from its location in the Hill Country Galleria. Work through each pose in the 45-minute Vinyasa yoga class while baby pygmy Nigerian dwarf goats scamper around. Get low and you may even get a kiss, too. Looking for a more traditional yoga experience? Yoga & Goga has standard yoga classes as well.
---
Indulge in Delicious Craft Beer & More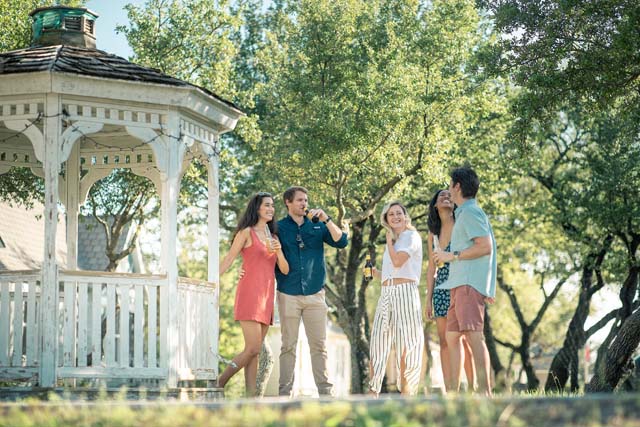 Along with its abundance of mouthwatering barbecue, the Hill Country is known for its one-of-a-kind craft breweries, distilleries, and wineries. When you want to taste some of the best this part of the Lone Star State has, Bee Cave is the perfect place to start. Long known as one of the state's finest purveyors of craft beer, Jester King Brewery is ideal for those who prefer their brews on the sour side. Order a Belgian-style farmhouse ale made with currants, cherries, or Texas Lomanto grapes. For more traditional pale ales, porters, and stouts, stop by either Beerburg Brewing or Last Stand Brewing Company, both of which are within one mile of Jester King.
If you prefer cocktails over ales and lagers, you have a plethora of options as well. Find your way to the nearby tasting room of Deep Eddy Vodka, a well-known Texas distillery that crafts vodkas infused with cranberry, lemon, lime, ruby red grapefruit, and more. Craving whiskey? Treaty Oak Distilling crafts an array of award-winning spirits, including its Ghost Hill bourbon that won a double gold medal at the 2019 Sip Awards. Bee Cave is a short drive from an array of wineries as well, with spots like Spicewood Vineyards, El Gaucho Winery, and Hamilton Pool Vineyards & Farms an easy trip away.
No matter which style of beverage you enjoy, you'll find plenty to savor right on Bee Cave's doorstep.
---
Visit Some of the Hill Country's Best Outdoor Destinations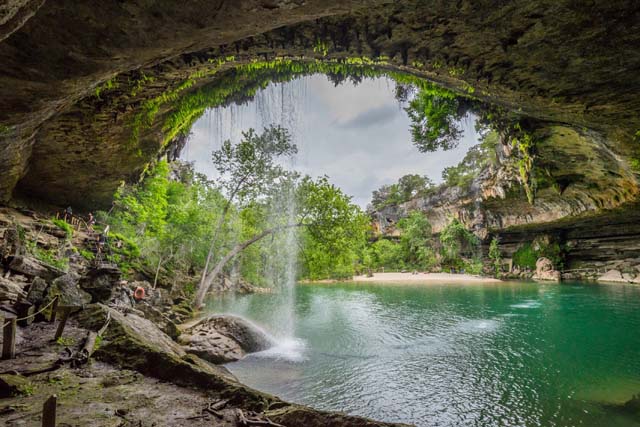 Dip your toes into the clear and cool water of a pool fed by a 50-foot waterfall, soar over limestone cliffs and a sprawling lake, and get in some outdoor rock climbing. All these adventures await when you stay in Bee Cave. Head 10 miles west and you'll find yourself at Hamilton Pool Preserve, home to one of the top swimming holes in Texas. Set within a collapsed canyon, the pool is an exceedingly popular spot to beat the summer heat (which is why you need to make a reservation in advance).
Just before you reach the preserve, you'll probably see signs for Milton Reimers Ranch Park. This 2,427-acre park of woodland hiking trails, exposed limestone bluffs, and the trickling waters of Hamilton Creek is a natural wonder. With more than 300 routes, the park is a great place to go rock climbing in Austin. When you aren't scaling cliffs, traverse the hiking and horseback riding trails or work on your tan on the swimming beach. There are many ways to savor all the beauty of the Hill Country, but none compare to the rush of adrenaline you'll get at Lake Travis Zipline Adventures. Admire the view of the lake as you zoom along five ziplines, one of which is the longest and fastest line in the state.
Of course, there are many more Hill Country adventures you can have when you stay in Bee Cave.
---
---