---

Attractions in Cedar Hill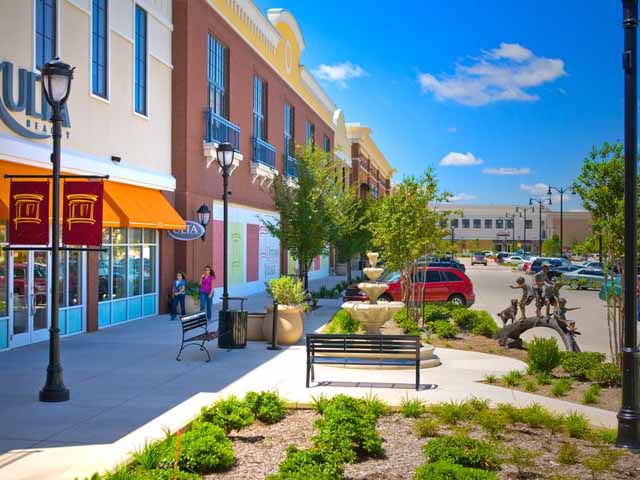 Dust the dirt off your hiking boots, check the air in your bike tires, and clear your schedule because Cedar Hill is calling your name.
Cedar Hill is a great destination for several reasons: it's conveniently located minutes away from the Dallas and Fort Worth Metroplex but still retains its laid-back charm, it's an extremely walkable town, and it offers an abundance of outdoor recreation.
This city makes open space a priority with 32 parks, a system of greenbelts covering about 2,480 acres, and more than 36 miles of trails.
You'll find a number of attractions in Cedar Hill that provide ample opportunities to reconnect with nature. Take a hike at Cedar Hill State Park, go swimming in Joe Pool Lake, and check some birds off your list at Dogwood Canyon Audubon Center. Be sure to download The Trails of Cedar Hill app so you don't miss any of the great spots while you're in town. In addition to its parks and outdoor spots, Cedar Hill boasts numerous historic sites and homes worth visiting. Below are some must-experience Cedar Hill attractions to check out.
---
Cedar Hill Museum of History
They say the Cedar Hill Museum of History is "where the past meets the present." You'll find that to be true as you peruse the museum's collections and exhibits that reflect decades of Cedar Hill history. Step into a world of stories and learn all about things like the 1856 tornado that wiped out all but two buildings in town, the largest fossil creature ever found in Dallas County, and the 1932 bank robbery by Raymond Hamilton, a sidekick of Bonnie and Clyde.
607 Cedar Street
Cedar Hill, Texas 75104
(972) 293-3806
---
Cedar Hill State Park
Just 20 miles from downtown Dallas, Cedar Hill State Park is a true oasis for nature lovers. Pack a picnic lunch and your bathing suit for some fun in the sun, or bring your gear and enjoy all the fishing, boating, hiking, biking, and camping you can do here. Learn about Texas farming history at the Penn Farm Agriculture Center and participate in fun events like Dutch oven demonstrations, butter churning, and full moon hikes.
1570 West FM 1382
Cedar Hill, TX 75104
(972) 291-3900
---
Cedar Mountain Nature Preserve
The rolling hills of blackland prairies converge with a rugged limestone escarpment to create a habitat for plants and animals typically found in east, west, and central Texas at the 110-acre Cedar Mountain Nature Preserve. Meander along the hiking trails and climb to some of the highest elevations in the Dallas County when you visit the park, located adjacent to the Dogwood Canyon Audubon Center.
1300 West FM 1382
Cedar Hill, TX 75104
---
Dogwood Canyon Audubon Center
Explore hiking trails and keep an eye out for all the flora and fauna at Dogwood Canyon Audubon Center, named after the flowering dogwood on location. The rich vegetation provides an ideal habitat for migrating and nesting birds, including orioles, hummingbirds, warblers, and woodpeckers. Be sure to check out the events they host throughout the year like guided hikes, summer camp, and Stars and S'mores.
1206 West FM 1382
Cedar Hill, TX 75104
(469) 526-1980
---
Hillside Village
Shop to your heart's content at Hillside Village, Cedar Hill's major outdoor mall. You'll find everything you need here, from a great mystery at Barnes & Noble Booksellers and some fabulous new shoes at Dillard's to new workout gear at Dick's Sporting Goods.
305 West FM 1382
Cedar Hill, TX 75104
(972) 637-6300
---
Historic Downtown Cedar Hill
One thing Texas has no shortage of is beautiful historic downtowns, and Cedar Hill is no exception. Visit Historic Downtown Cedar Hill and take the self-guided walking tour by beautifully-kept historic homes, churches, and other buildings while enjoying some antique shopping and a bite to eat along the way.
600 Cedar Street
Cedar Hill, TX 75104
---
International Museum of Cultures
Discover the cultures, heritage, and challenges faced by indigenous peoples around the world at the International Museum of Cultures, located just three miles north of Cedar Hill. Exhibits include an overview of the languages and people of Mexico, drums from around the world, and the Yi ethnic group of China, Vietnam, and Thailand.
411 U.S. Highway 67 Frontage Road
Duncanville, TX 75137
(972) 572-0462 | Spanish: (972) 708-7406
---
Joe Pool Lake
Joe Pool Lake is the crowning glory of Cedar Hill State Park with its marina, fishing piers, boat ramps, and camp sites. These tranquil waters offer plenty of great kayaking and swimming, as well as an idyllic getaway from the hustle and bustle demands of a work week.
1570 West FM 1382
Cedar Hill, TX 75104
(972) 291-3900
---
Penn Farm Agricultural History Center
The Penn Farm Agricultural History Center is a great place to learn about historic Penn Farm, owned by John Wesley Penn and his descendants, and the many middle-class farmsteads that once surrounded the area. You'll also learn how machines gradually replaced the horse and plow. This history center is part of Cedar Hill State Park, another one of the must-see attractions in Cedar Hill.
1570 West FM 1382
Cedar Hill, TX 75104
(972) 291-5940
---
Tangle Ridge Golf Club
Enjoy a round of golf at one of the best municipal courses in Texas: Tangle Ridge Golf Club. Voted as one of the state's top courses by the Dallas Morning News in 2007, Tangle Ridge provides 18 holes of challenging play that will make you use every club in your bag. Verdant fairways and finely cut greens are your respite from the sand traps and water hazards placed throughout the course. Along with the course itself, Tangle Ridge has practice facilities, golf pros who can help improve your game, and a full-service restaurant and bar.
818 Tangle Ridge Drive
Grand Prairie, TX 75052
(972) 299-6837
---
Visual Expressions: Art School, Gallery, & Custom Framing
Get in touch with your creative side at Visual Expressions in Cedar Hill, where you can take workshops on subjects like digital photography, pottery, printmaking, and painting, or send the kiddos to an art camp. If you're with a group, plan an arty party. During this special get together, you'll work with your friends to complete an art project while enjoying food and drinks. Be sure to stop by and browse the art gallery that showcases some truly remarkable pieces.
1425 North Highway 67
Cedar Hill, TX 75104
(972) 293-1117
---
---