---
Attractions in Cleveland
Sometimes you want to get a taste of the heartland of America, where folks still know their neighbors and it's the simple pleasures that carry the most satisfaction. Cleveland is just such a small town, where you can catch a matinee at an old-timey movie house, watch a professional rodeo, and take a break from the hustle and bustle of the big city. Below are a few of the top attractions in Cleveland for enjoying all these activities and more.
Civic Center
One of Cleveland's most popular event venues, the Civic Center houses among its 20,000 square feet an 8,600-square-foot, dividable ballroom, two conference rooms, a boardroom, and a kitchen. In December, the Center hosts the city's annual Hometown Christmas event.
210 Peach Avenue
Cleveland, TX 77327
(281) 592-2395
---
Cleveland Historical Museum
Photos and artifacts tell the story of the city and the surrounding area at the Cleveland Historical Museum, located inside the old City Hall building. The Cleveland Historical Society holds their meetings here, providing a great chance to get an oral history lesson from the people who have spent their lives here.
203 East Booth Street
Cleveland, TX 77327
(281) 659-2200
---
Double Lake Recreation Area
Since its creation in 1937, the Double Lake Recreation Area and Campground has served as one of Texans' favorite places for all things camping and outdoors. Named for the adjacent 23-acre Double Lake, the area has a boat ramp, fishing piers, and boat rentals for heading out onto the stocked lake. There are also picnic facilities, a 22-mile mountain bike trail, a five-mile hiking trail, and a sandy beach for swimmers. Primitive and RV campsites are the main lodging options, although there is a lodge for group events available for rent.
301 FM 2025 Road
Coldspring, TX 77331
(936) 653-3448
---
Grand Oaks Reserve
Just north of metropolitan Houston, nestled amongst the trees of Cleveland, Texas, you will find the best destination to plant your roots and create a solid foundation built on value and prestige.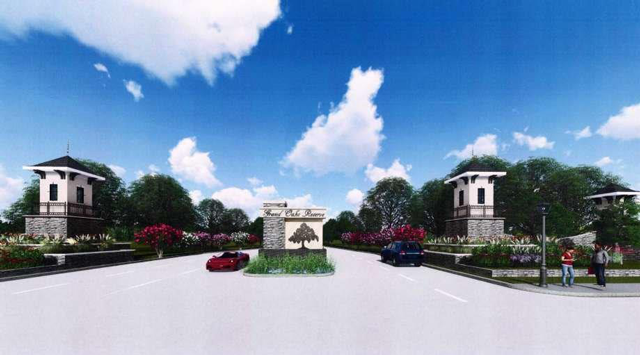 Golf Course community with homes starting in the 200's.
Access to US 59
256 Condos
972 Single Family Homes
Community Center with Grand Ballroom, Conference Room, and Golf Pro Shop. The Community Center will also feature an open concept bistro-style restaurant.
Shopping, dining and lifestyle services.
---
Municipal Park
If you've got the equipment and the urge for a pick-up, Municipal Park is the place. Its five fields include room for T-ball, baseball and softball, soccer, and football, with two of the fields sporting lights for night games. Other amenities include restrooms, covered bleachers, and parking.
26350 SH 321
Cleveland, TX 77327
(281) 592-2395
---
Stancil Park
This Cleveland park houses the Stancil Expo Center and the city's biggest event of the year, Livestock Show and Dairy Day. The various picnic tables and shelters, pavilions, livestock areas, and grill make it the chosen venue for a wide variety of events, from concerts to corporate gatherings.
211 Peach Avenue
Cleveland, TX 77327
(281) 592-2395
---
Texan Theater
You'd be hard-pressed to find a more iconic landmark in Cleveland than the Texan Theater. Built in 1939 as the "Texas Theater," the imperiled movie house was saved from destruction in 1994 and restored with new seats, sound system, and projector. Today it serves as the city's only movie theater, a charming place to catch a flick at a great price.
102 East Houston Street
Cleveland, TX 77327
(281) 592-6464
---
The Retreat at Artesian Lakes
Formerly known as Chain-O-Lakes Resort, The Retreat at Artesian Lakes is Cleveland's premier vacation destination. Nestled in 500 acres of pine forest on the edge of the Big Thicket National Preserve, the retreat features upscale cabins, a chic pool (complete with waterfalls), biking trails, and a lake where you can go canoeing, fishing, and swimming. Treat yourself to a soothing massage from spa services or enjoy a fine dining experience in the famous Hilltop Restaurant.
235 Chain-O-Lakes Resort
Cleveland, TX 77327
(832) 397-4008
---
---