---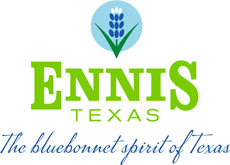 Things to Do in Ennis
What's your pleasure: fast-paced action or relaxing country drive? Fun in the sun or a refreshing drink on the patio? No matter how you unwind, you'll find a captivating combination of exciting and rejuvenating things to do in Ennis, Texas. Read on to see what this North Texas destination has to offer, then plan your next getaway here.
---
Follow the Bluebonnets
Ennis is the "Official Bluebonnet City of Texas," and every spring, Ellis County comes alive with the vibrant beauty of Texas' lovely state flower. Armed with your camera and a map from the Ennis Welcome Center, hit the road and follow the famous Bluebonnet Trails, 40-odd miles of wildflower-laden scenery. For the ultimate experience, check out the Ennis Bluebonnet Trails Festival in April. The festival greets visiting bluebonnet hunters with three days of live music, food, arts and crafts, kids' activities, and more. If you're planning to visit Ennis during bluebonnet season, keep in mind that peak time is generally in the third week of April.
---
Enjoy Bardwell Lake
Whether you're looking to make some waves with your boat, land a trophy bass, or cool off with a refreshing swim, Bardwell Lake is the place to be. The 3,500-acre lake has a swim beach, campsites, picnic areas, fishing piers, a marina and boat ramps, covered pavilion, and more. Stage your day of fun from the adjacent High View Park on the western shore of the lake, which provides a nice mix of both sun and shade for picnicking, camping, and wildlife watching.
---
Put the Pedal to the Metal
For the intoxicating aroma of burning rubber and gasoline and all the fast-paced excitement of racing, Ennis is the place to be. Watch stock cars race around the oval dirt track from March through October at Big O Speedway, the oldest racing facility in Ellis County. If pulse-pounding, blow-your-hat-off racing is what you're after, head to Texas Motorplex, the National Hot Rod Association's first-ever "super track" and world-renowned drag racing facility. Watch hot rods race at speeds of more than 300 mph during one of the many events hosted at the track, including the annual NHRA Fall Nationals that feature some of the biggest names in drag racing.
---
Catch a Drive-In Movie
Forget about crowded theaters and sky-high ticket prices. The best way to see a movie in Ennis is from the comfort of your own car at the Galaxy Drive-In. Seven nights a week, "rain or stars," you and the family can catch a double feature at a great price. Choose from one of more than seven screens showing the latest Hollywood films, order a hamburger and some nachos from the concession's menu, and enjoy the show. Not only is the Galaxy one of the last drive-in theaters you'll find anywhere, it may be one of the only ones in the world that screens 3D movies outdoors. That alone should have you planning your trip to this unique attraction.
---
Dance the Polka
Ennis was strongly influenced by its German, Czech, and Polish settlers, and you can still see their impact today every time someone breaks out an accordion. The city hosts two authentic polka festivals during the year, with the Ennis Czech Music Festival kicking things off in February and the long-running National Polka Festival rocking the town for three days in May on Memorial Day Weekend. Be on-hand for either event and you'll have an unforgettably good time with music, dance, food, and fun.
---
See a Show
Fans of the theater will find lots to enjoy in Ennis, with two troupes of local actors offering year-round performances. One such group is the Ennis Public Theatre, which is well-known in the Dallas and Fort Worth area for its lively and entertaining shows. The group conducts six performances every year with a different show every other month, so you'll always see something new every time you visit. Meanwhile, Theatre Rocks! puts on high-quality productions of classics like The Importance of Being Earnest and Snow White, and newer hits like "Texas tragicomedy" Cabin Fever. Look at each theater company's website for a full schedule and to purchase tickets.
---
Raise a Glass
Texas is becoming one of the largest wine producing regions in the world, and the Sugar Ridge Winery in Ennis is very much a part of that trend. Opened in 2011, the winery is known for its sweet wines made primarily from grapes grown in Texas and New Mexico. Visit on a weekend and you're likely to catch a live band providing the soundtrack for a laid-back afternoon of sampling wine and making new friends.
---
---