---

Attractions in Fort Davis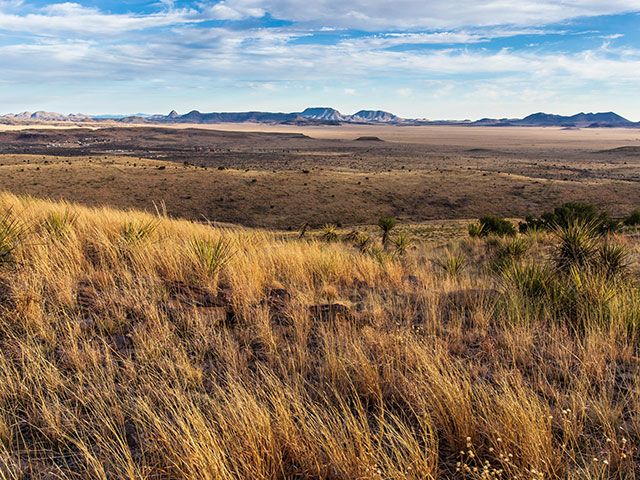 Hike among majestic mountains, take in all the stars of the night sky in a world-class observatory, and enjoy the beauty of the Chihuahuan Desert.
These are just some of the experiences you'll have at the many attractions in Fort Davis.
Located high in the beautiful Davis Mountains, Fort Davis is a place for lovers of history and the outdoors, as well as an idyllic retreat for anyone looking for an easygoing escape.
Check out the following attractions and plan your next trip to Fort Davis.
---
Chihuahuan Desert Nature Center
The Chihuahuan Desert Nature Center offers stunning views, magnificent hikes, and interactive learning for you to discover one of North America's great deserts. Pick up an interpretive guidebook and keep your eyes peeled for hummingbirds, butterflies, and lizards as you explore scenic trails. Stroll through botanical gardens and the cactus and succulent greenhouse for an up-close look at the flora of the region.
43869 Highway 118
Fort Davis, TX 79734
(432) 364-2499
---
Davis Mountain State Park
Davis Mountains State Park is known for its wild beauty, cool weather, and central location within the Big Bend Region. This popular state park in Texas is full of hiking and biking trails and plenty of space for backpacking, camping, geocaching, and stargazing.
TX-118 North, Park Road 3
Fort Davis, TX 79734
(432) 426-3337
---
Fort Davis National Historic Site
Established in 1854 as part of a long line of forts that stretched from San Antonio to El Paso, the Fort Davis National Historic Site is one of the oldest yet best-preserved military installations from the 19th century in Texas. An introductory video brings the stories of this historic site alive before you take a self-guided tour of the grounds. Interpreters in period costume are onsite during certain summer and spring break hours.
101 Lt. Flipper Drive #1379
Fort Davis, TX 79734
(432) 426-3224
---
McDonald Observatory
Head out to McDonald Observatory do some stargazing under certified dark skies. Not only is McDonald Observatory a top attraction in the Big Bend Region, it's truly a Texas highlight. The observatory operates one of the largest optical telescopes in the world, along with other giant telescopes. Don't miss the observatory's star parties, twilight programs, daytime tours, and solar viewings.
3640 Dark Sky Drive
McDonald Observatory, TX 79734
(432) 426-3640
---
Nature Conservancy's Davis Mountain Preserve
The Nature Conservancy's Davis Mountain Preserve works to preserve more than 102,000 acres of the Davis Mountains and the diverse and rare plant and animal species it contains. These treasures include ponderosa pine trees, alligator juniper, fringed paintbrush, mountain lions, black bears, several species of hummingbirds, golden eagles, Montezuma quail, and dusky-capped flycatchers. This is your chance to see flora and fauna you won't find anywhere else in the state. The preserve is only open to the public at certain times, so check its website before you visit.
Davis Mountains
(432) 426-2390
---
Prude Ranch
Prude Ranch has been a favorite getaway since it was established in 1897. Stay here for pure fun with group activities, campfires, picnics, horseback riding, swimming, challenge courses, and more.
201 Prude Guest Ranch Road
Fort Davis, TX 79734
(432) 426-3201
---
---