---

Fort Stockton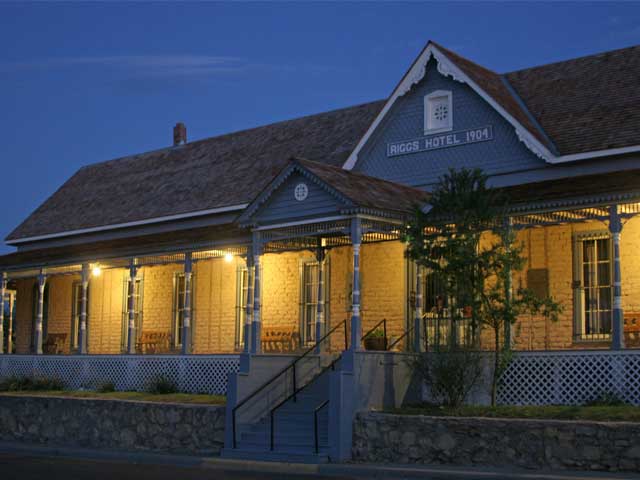 YES, THERE IS A FORT IN FORT STOCKTON! Historic Fort Stockton is located on the east side of town at the intersection of Fifth and Rooney streets. Today the site includes three buildings from the original Officer's Row (one is a private residence), the original limestone Guard House, two reconstructed Enlisted Men's Barracks and Kitchens, and the original parade ground.
Military presence began here with the establishment of Camp Stockton in 1858 by troops from the 1st and 8th Infantry, US Army. This first site was southwest of the present location, near the Pecos County Courthouse.
The post protected travelers and settlers on the numerous roads and trails (including the stage lines) heading west to Mexico and California from San Antonio. The abundant water supply of Comanche Springs made Fort Stockton a regular stop on these frontier crossroads, and it was here that these trails intersected the Comanche War Trail.
The Us Army withdrew from Texas during the Civil War and abandoned Camp Stockton in 1861. Confederate troops briefly occupied the site until they too, withdrew. By the end of the war little remained of this first post.
In July 1867, Colonel Edward Hatch, Commancder of the 9th Cavalry, re-established Fort Stockton at its present location. The new fort was garrisoned by four companies of the 9th calvalry, one of the new regiments created for the black men known as "Buffalo Soldiers" who sought security in the US Army after the Civil War. The post-war fort was occupied for nineteen years (1867-1886). The fort's 960 acres were leased from civilian landowners. An Additional 25 acres on Comanche Creek were leased for the fort's garden. By the early 1880's the "Indian menace" was no longer a threat, and the future of the fort was limited. It was finally abandoned in 1886 as the frontier moved west.
The fort consisted of about 35 buildings, two of them the Guard House and Powder Magazine were built of locally quarried limestone from surrounding mesas, and the remainders were constructed of adobe brick with limestone foundations. Of the original buildings, only four remain: the Guard House, and three of the eight Officers' Quarters.
The two Enlisted Men's Barracks and Kitchens were reconstructed from original blueprints, following extensive archaeological excavations.
---
---