---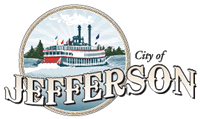 Jefferson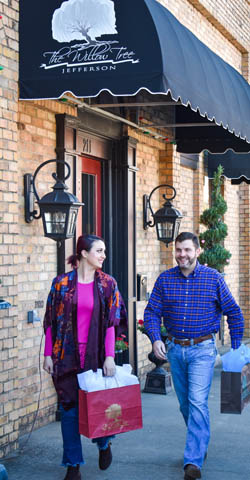 Historic Jefferson has been hosting getaways since the 1830s. This quaint town is renowned for its array of award-winning bed and breakfast lodgings, lovely Piney Woods scenery, and rich heritage, making it an ideal spot for a truly unforgettable stay.
Founded in the early 1840's, Jefferson is the fifth-oldest city in the state of Texas. Known as the "Queen of the Bayou," the city was - for a time - the westernmost destination steamboats from New Orleans could travel, thanks to the local port. This traffic helped make Jefferson into one of the largest cities in Texas by 1870, and gave it enough "colorful" characters to fill the many taverns, brothels, and gambling parlors peppered throughout town.
Jefferson offers over 20 award-winning bed and breakfasts, top-ranked restaurants, a diversity of nature, recreational adventures, and a one-of-a-kind shopping experience.
The impact of history can be felt and experienced all over Jefferson today. The Jefferson Historical Museum is full of incredible pieces of history from bygone days in Marion County. Along with Jefferson's four museums, you will also find hundreds of historic landmarks, an original Carnegie Library, and the famous "Howe Truss" train trestle.
You might find yourself face to face with one of Jefferson's earliest residents as you tour The Grove, also known as "the most haunted place in Texas."
If you're looking to spend a day in the great outdoors, take a trip to one of the two beautiful lakes located within a 20-minute drive of Jefferson: Lake O' the Pines and Caddo Lake. Lake O' the Pines is an excellent fishing spot where you can go boating, water skiing, and camping. Caddo Lake, Texas' only natural lake, is a favorite with birders and wildlife photographers.
Whatever your interest, Jefferson has something interesting to do or experience – from motorcycle rallies and car shows to historic home tours. Or how about savoring a wine tasting at a local vintner on the Piney Woods Wine Trail?
Looking for a unique venue to host your next event? Jefferson's Convention & Visitors Center located in historic downtown Jefferson has all you need.
Jefferson is truly a great year-round destination for romantic weekend getaways, family outings, and a wide variety of entertainment and events…from Mardi Gras to a picture-perfect Christmas.
---
---