---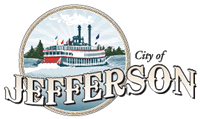 Things to Do in Jefferson
In Jefferson, life moves a little bit more slowly than it does in the big city. Visitors come to get away from it all in one of the charming bed and breakfasts in town, and to take their time hunting for that perfect treasure from one of the antique shops to use as decoration at home. Listening to the waves lap against the boat on a leisurely float down the bayou, or the steady clip-clop of a Clydesdale's hooves on the brick streets of downtown Jefferson are the music that fills the air. Of course, the thrill of water sports or a winning poker hand are never far away, but the best things to do in Jefferson require a stopping-and-smelling-the-roses mentality. Below are just a few of those top activities.
---
Take a Tour
Jefferson has so many fun tours, if you don't stay long enough you might not even have a chance to do them all! Perhaps the most famous tour happens at The Grove, one of the top attractions in Texas for fans of the paranormal. Walk the grounds of "the most haunted house in Texas" and see the very spots where the Lady in White and other apparitions have appeared to dozens of people over the years.
If you want to really take in Jefferson in style, a horse-drawn carriage ride from Lone Star Carriage Company might be just the ticket. You'll pass Jefferson's historic homes and churches while a knowledgeable driver gives you the inside scoop on what you're seeing. To hear the history of the bayou and the area around Jefferson, a boat trip with Turning Basin Riverboat Tours or a ride on the Historic Jefferson Railway are great ways to spend an hour or two.
---
Stay Like Royalty
There's a reason Jefferson is known as the "Bed and Breakfast Capital of East Texas." It's the perfect place to unwind with a special someone thanks to the city's slew of charming bed and breakfasts and boutique hotels, including Texas landmarks that have hosted some of the most famous men and women in the world. Mr. and Mrs. George W. Bush have laid their heads at the luxurious House of the Seasons, a Victorian-style home built in 1872. The presidential Excelsior House Hotel has welcomed its share of notable figures, including Ulysses S. Grant and Rutherford B. Hayes, since its creation in the late 1850's. A stay at the historic Claiborne House is truly a step back in time to the mid-19th century, thanks to its antique furnishings and Greek Revival design. If you're looking for a truly unique getaway, it's hard to beat Jefferson's wealth of one-of-a-kind inns and hotels.
---
Play at the Lake
Jefferson is situated between two large East Texas lakes that you can reach in 20 minutes or less. Travel west to reach the picturesque Lake O' the Pines, a nearly 17,000-acre lake surrounded by the stately trees that give it its name. The lake area includes seven well-maintained parks and four full-featured campground areas for tent and RV camping. More than a dozen boat ramps make it easy to get on the water and enjoy boating, skiing, or fishing for largemouth bass, catfish, crappie, and other species.
Caddo Lake, located east of Jefferson, is an excellent fishing destination in its own right. It also offers a fantastic environment for canoeing, hiking, and world-class birding for great yellow-crowned night herons, blue herons, wood storks, white ibis, and more. The beautiful wildlife and incredible scenery here make it a favorite spot for photographers. If camping is not your thing, Caddo Lake State Park offers a number of cabins with electricity, running water, and other niceties to make you comfortable while still getting the "camping" experience.
---
Visit a Museum
In a place as dedicated to preserving its heritage as Jefferson, it's no wonder the city is home to several intriguing museums. Start at the Jefferson Historical Museum located within the former federal courthouse building construction in 1890. Inside, you'll find displays of Civil War relics, Caddo Indian artifacts, tools and implements from the early pioneer days, and many more pieces of the region's history. Behind the museum, a replica early 1900's train depot houses an intricate scale model of the Texas & Pacific Railway that was over 30 years in the making.
For something a bit more eclectic, try Scarlett O'Hardy's Gone with the Wind Museum. Super fan and owner Bobbie Hardy has spent decades assembling the autographs, lithographs, dolls and figurines, movie posters, and copies of the famous book now on display in the museum. Or for another private-collection-turned-museum, check out the Museum of Measurement and Time, where friendly owners Edith and Johnny Ingram share their love of American clocks, historic surveying tools, and salt and pepper shakers.
---
---