---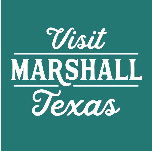 Things To Do in Marshall
Set among the lush pine forests of East Texas, Marshall offers something for outdoor adventurers, fans of history, and anyone looking for a one-of-a-kind weekend getaway. Take in one of Texas' most impressive historic courthouses, explore endless paddling trails, savor seriously good barbecue, and admire the works of one of the early 20th century's most prominent artists. There's a whole world of things to do in Marshall; all you need to experience it all for yourself is to come here. Located just 150 miles east of Dallas and 40 west of Shreveport, that couldn't be any easier.
---
Admire the Historic 1901 Harrison County Courthouse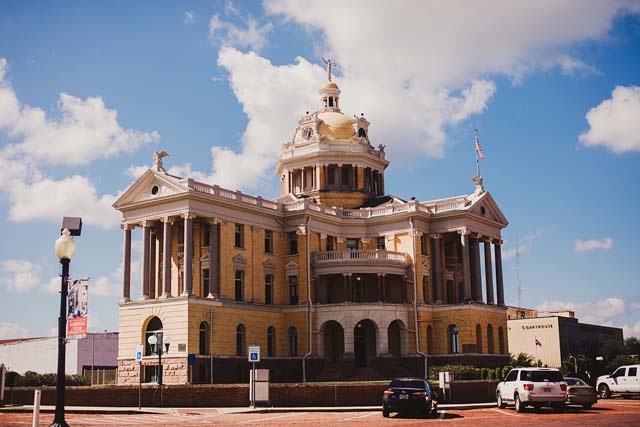 Towering over historic downtown Marshall, the old Harrison County Courthouse is an architectural marvel. A yellow brick façade is framed by magnificent pink granite columns topped by pediments, porches, and the four-story structure is adorned with a massive dome.
Completed in 1901, this neo-classical, beaux arts-style courthouse is known as one of the most remarkable buildings in Texas. As eye-catching as the exterior is, the inside is just as much of a marvel. Stand in the atrium and take in the stained-glass cupola and all the ornamental plaster and painting.
Want to see it all for yourself? Harrison County Courthouse tours are available Tuesday through Friday mornings and in the early afternoons on Saturdays.
---
Visit the Starr Family Home State Historic Site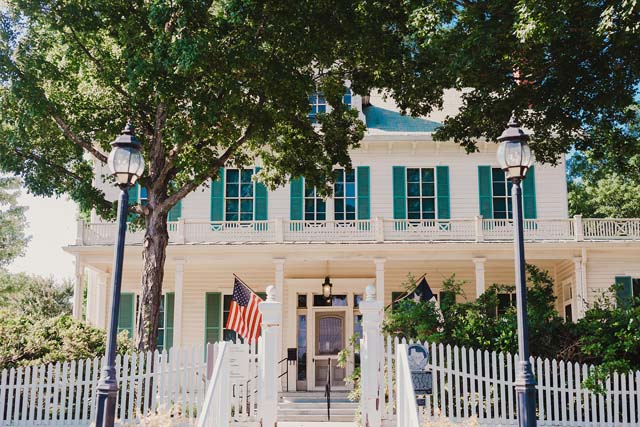 Back in the earliest days of Texas, the Starr clan was a big deal. After all, it was this family that helped settle one third of the territory that would eventually become the Lone Star State. The Starrs set down their roots in Marshall, building an elegant home in the 1870's that is today the main attraction at the Starr Family Home State Historic Site. Located near Marshall's museums, the mansion (named Maplecroft) provides a step back in time. Each room is furnished with Starr family heirlooms from when four generations lived here. After you tour Maplecroft, wander around the sprawling gardens, where blooms of azaleas, roses, and more wash the area in a kaleidoscope of color.
---
Experience Christmas in a Wonderland of Lights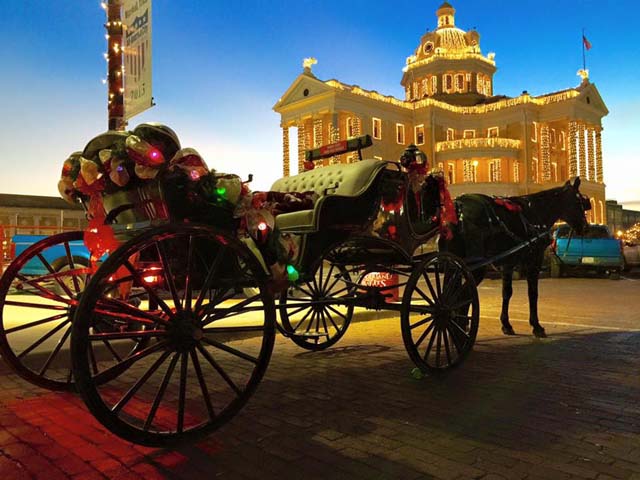 Marshall's magnificent courthouse illuminated by thousands of white lights. Carriages pulled by trotting horses rolling through the downtown square. A host of folks bundled up for winter gingerly skating on an outdoor ice rink. If you've ever wanted to enjoy the holiday season on the set of a Hallmark movie, come to Marshall for Wonderland of Lights. Starting in late November and running through December, this annual tradition affords a multitude of ways to feel all the yuletide joy of the season. Take your kids over to Santa's Village to meet the big guy himself, let them ride on a restored 1948 Herschel carousel, step into an array of tiny homes that have their own unique activity, and check out performances by local musicians and church groups in nearby Telegraph Park.
With so much to see and do, Wonderland of Lights is one of the top Christmas celebrations in East Texas.
---
Get Outdoors in Caddo Lake State Park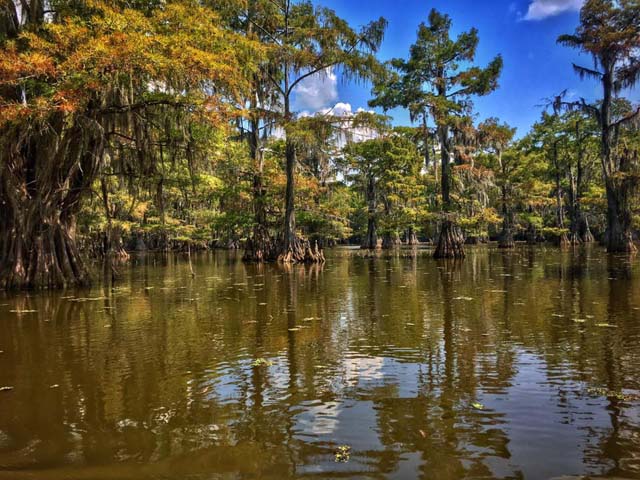 Paddle across still waters shaded by gigantic bald cypress trees past wading herons and egrets and floating crocodiles. There's nowhere in Texas like Caddo Lake State Park, home to a vast lake that sprawls on both sides of the Texas and Louisiana border. Traverse more than 50 miles of paddling trails, or fish for bass, crappie, catfish, sunfish, and chain pickerel. Then listen to distant woodpeckers and watch for a stunning array of birds as you wander along 2.1 miles of trails through the dense forest.
At the end of the day, pitch a tent in one of the park's campsites and watch as the night sky fills with a seemingly infinite number of shining stars. Get your rest, as there's even more to see and do here tomorrow.
---
Browse the Michelson Museum of Art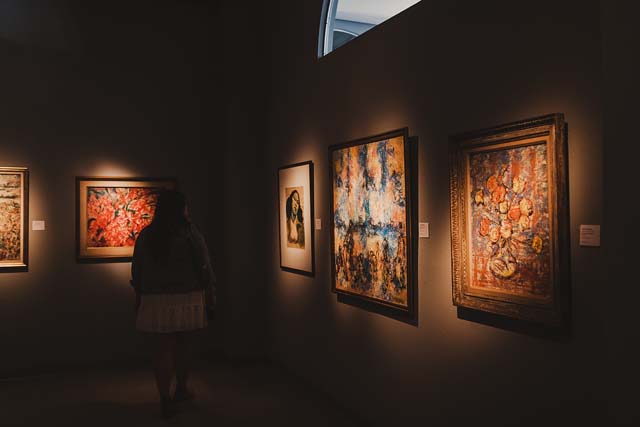 Known for his paintings, prints, and sculptures, Latvian American artist Leo Michelson was one of the early 20th century's most prominent artists. His works were shown throughout Europe and the United States, and before World War II he was a member of the world-renowned École de Paris. Michelson's many inspiring creations can be found from San Diego to Riga, Latvia, yet the main collection of more than 1,000 of his paintings, illustrations, and letters is housed at the Michelson Museum of Art in Marshall.
Explore the 11,000-square-foot facility to get to know Michelson through his art, then admire the works of many other artists whose works make up the Gloria and Bernard Kronenberg Collection and the Ramona and Jay Ward Collection of African Masks and Chinese Opera Puppets.
With its vast collections that showcase the talents of some of the globe's leading artists, the Michelson Museum of Art is one of the best art museums in Texas.
---
Savor World-Class Smoked Meats at Bear Creek Smokehouse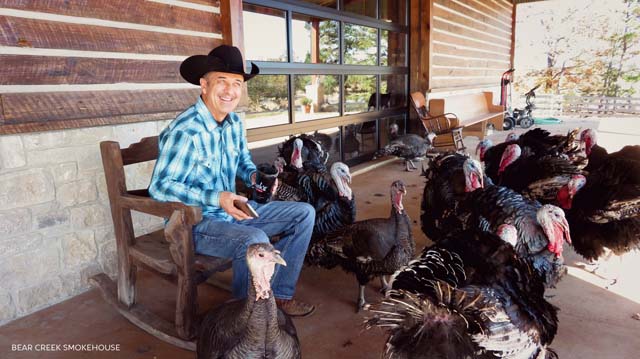 Brisket, chicken, sausage, and turkey, all smoked to perfection. Hungry yet? If so, bring your appetite over to Bear Creek Smokehouse. A family-run operation for more than 70 years, Bear Creek started as a local smokehouse and now ships its products around the world. Get a taste of what they're cooking at Bear Creek's main location in Marshall.
Sink your teeth into a pulled pork, turkey, ham, or beef barbecue sandwich, then browse the general store for its cookbooks, soup kits, jarred goods, desserts, and gifts. Whatever you get, you'll leave with a full belly and some inspiration for your next home-cooked meal.
---
Catch a Performance at Memorial City Hall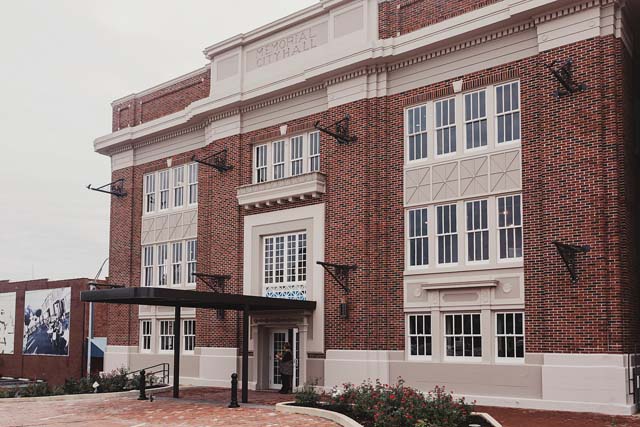 Full of vintage charm and featuring a full slate of compelling performances, the Memorial City Hall Performance Center is both a mecca for the performing arts and a living piece of Marshall history. Built in 1907 as the Marshall City Hall, the structure was renamed as Memorial City Hall in 1927 to honor the county's soldiers who died in World Wars I and II. Although it wasn't a venue for the performing arts until after a recent multimillion-dollar restoration, the hall has always been a local cornerstone in downtown Marshall. Memorial City Hall's performance season starts in October and ends in April, and it typically features everything from concerts to musicals.
To experience it all for yourself, visit the hall's website to see a list of upcoming shows and to get your tickets.
---
---